Every custom installer has a wiring horror story, a time when they walked into a job and immediately canceled their dinner plans and prepared to work overtime. This is because, all too often, homeowners think they can handle the setup and cable management of their home.
In fact, there's a whole Facebook group dedicated to showing off the results of these poor excuses for home installs.
We've compiled a slideshow of some of the most atrocious rack installations and nests of wires spotted in the field by keen industry folks who were too shocked to look away.
It isn't clear in some of these pictures if the tech was installed by an actual integrator or a homeowner who wanted to save some cash. But either way, all of these images illustrate an immense need for a qualified installer.
Good wiring sets up a home for a better user experience. Residential integrators know poor A/V wiring and cabling isn't limited to the residential world, either. Here's a good example of some seriously terrible restaurant A/V installs from our sister publication Commercial Integrator.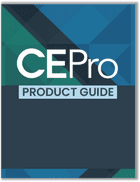 CE Pro's 2022 Product Guide showcases some of the latest and innovative solutions from manufacturers serving the custom electronics industry in a cross-section of categories.
Download the guide now!
No matter the situation, a lot can be learned by examining these photographs. While it's definitely easier to leave a messy but otherwise functional rack alone, a certain amount of personal pride should come into play for a reputable integrator.
Either way, pointing out these disasters is both fun and a little bit scary.
Thanks to the contributors over on the AV Install Nightmares Facebook group for these photos.