Shure is one of the classic names in microphone technology. As time has passed, they've broadened their lineup of offerings to include all sorts of microphone products suited for specific applications. In the past 5 years, they've developed the MXA series of conference microphones with an assortment of related products that certainly define the state of the art. That series featured table or ceiling mounted options with multiple microphone elements and serious Digital Signal Processing (DSP) horsepower onboard.
Unfortunately, not every application has a Fortune 500 budget to outfit the conference room. The arrival of the pandemic turbocharged the web-based conference market, and Zoom became a thing that most everybody was familiar with. Shure is now offering a series of conference room microphones by its wholly-owned subsidiary Stem Audio, and it's absolutely a great option for many applications.
Features and Product Options
Here are some of the basics that you need to know about the lineup in general. First, Shure offers a slightly bigger than a cereal bowl-shaped table microphone with speaker called "Table". It's got 9 microphone elements. There's a ceiling-mounted option, which can go into a 2×2 drop tile grid, or suspend by a cable (think a chandelier) from the ceiling. This unit has 100 microphone elements, and it's called "Ceiling". Shure also offers a wall-mounted option that looks much like a soundbar that features 15 microphone elements as well as speakers. It's called the "Wall".
There's a connecting device called the "Hub" that allows installers to use more than one device in a room. Users can deploy a pair of Ceilings for a job, a Wall and a Table, or any number of other combinations depending on form factor, and the desirability of permanent or temporary installations. There's a panel that allows you to set the unit up called the "Control", although you can also set the system up with your "Laptop" if you wish.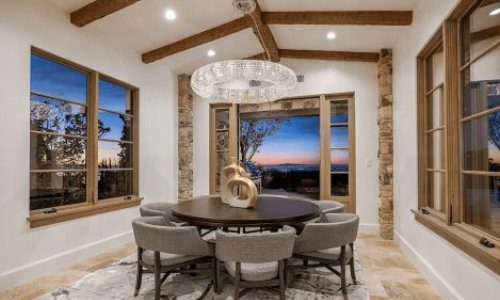 As a custom integrator, lighting is in demand. Effective communication, education and showcasing the value proposition of LED light fixtures in conjunction with integrative control systems are the keys to overcoming challenges and closing sales in this specialized market. Join us as we discuss the future of digital lighting and control with David Warfel from Light Can Help You and Patrick Laidlaw and Mark Moody from AiSPIRE.
Register Now! 
Clearly, the folks here understand that simple names are great. I'll give Stem points for that. But there's so much more than a bunch of cool names here.
First off, by using multiple microphone elements, the engineers at Stem allow the luxury of having a focused pickup pointed where they need it. They refer to it as beamforming, and part of the secret sauce in the lineup is how they manage to achieve having the microphone elements focus on the person (or people) talking.
By using proprietary DSP, they have managed to configure the elements so that only the ones that need to be active are "on". That cuts down on things that impact intelligibility, including ambient noise, random paper shuffling sounds and the other things that take the professionalism out of work from home conference calls.
Performance and Final Thoughts
So here's how it all works. I had a Table at my house for several weeks. I plugged it into a POE adaptor and my network switch, and ran a USB cable from my Laptop to the USB B port. Pretty straightforward so far. If I wanted to have multiple devices in the same room, I could easily run those by having the same POE connections attached to a switch, and having the Hub connected to the same switch, and running the USB cable to the computer.
I didn't have a Control, so I will say that it's designed to seamlessly integrate your Stem system with your video conferencing software. No more having to look for the microphone mute/unmute button on whichever platform you're using.
I use Zoom, Go to Meeting, and Microsoft Teams for conference calls far more than I ever imagined. Each is slightly different on setup, but you'll want to go into setup on whichever format you're working with and let it know that's the microphone it should listen to.
Do Shure Stem Products Work?
Yes. The table worked great. I put the laptop on my dining room table with all the relevant connections made and did a Zoom call. I connected to the Zoom meeting and started talking. I pushed the microphone-shaped button on the top and it muted, and the LED ring on the top of the microphone started pulsing red. I pushed mute again, and as I talked, the ring went blue on the side closest to where I was talking. As I walked around the table, the blue lights traveled, following me.
The lights will tell you mute or not, error, booting up status, restarting status, and when the device is being pinged by the computer. Strong recommendation: Set this up and test it out for a couple of minutes before you have an important meeting.
Other attributes I noticed: even though Table has a speaker, it points downwards and reflects out. The microphone elements are on the opposite side, and I was unable to generate feedback from those elements picking up the speaker. Since not everyone talks at the same volume level, the Automatic Gain Control (AGC) feature worked nicely, adjusting up and down as I lowered and raised my voice on the call. The person on the other end of the call reported that sound quality was uniformly very good, and didn't get overwhelmed when loud vehicles passed by on the road outside.
Other important Stem by Shure attributes to note: the company has really easy-to-understand documentation, and its website is remarkably helpful. There are videos showing hookup and commissioning steps, as well as separate reference designs that allow you to get a responsible idea of how a certain sized room will work with one or more devices.
Summing up, if you're looking for a large upgrade over the cheesy microphone on your USB camera, this is clearly the option for you. It's designed for conference room applications, and it works well. Note that it is marketed on the Shure website so end users can buy the product, but an installer can still have a profitable sale if they're involved in the transaction.
---
Fred Harding is in sales and technical support at Industry Tech Sales in Mendota Heights. He is a frequent contributor to CE Pro, writing hands-on product reviews and technical tips.
If you enjoyed this article and want to receive more valuable industry content like this, click here to sign up for our digital newsletters!