Poly, an audio and video collaboration equipment manufacturer, has released results of a study it commissioned that examines today's hybrid workplace.
The newly announced Recruit, Retain and Grow study from the collaboration company takes a look work policies, culture and wellness through the opinions of more than 2,500 global business decision makers. Poly says the study highlights the post-pandemic attitudes and expectations of today's workforce and where employers' hybrid workplace policies are now and where they possibly could be heading in the future.
"At Poly, we believe that being able to enable a hybrid working environment is not the endgame, but a starting point for the competitive organizations today. Our latest research validates Poly's point of view," says John Goodwin, senior vice president of public affairs at Poly.
"We found that employees are supportive of companies that take a holistic approach to defining their culture, offer flexibility in where and how they work, and are provided with the right tools to succeed."
Modern Workforce Prioritizes Hybrid Workplace Environments
Among the findings in the study from Poly include that well over half (56%) of all organizations acknowledge that if they don't address their hybrid work processes and plans they will lose staff and be unable to attract new employees.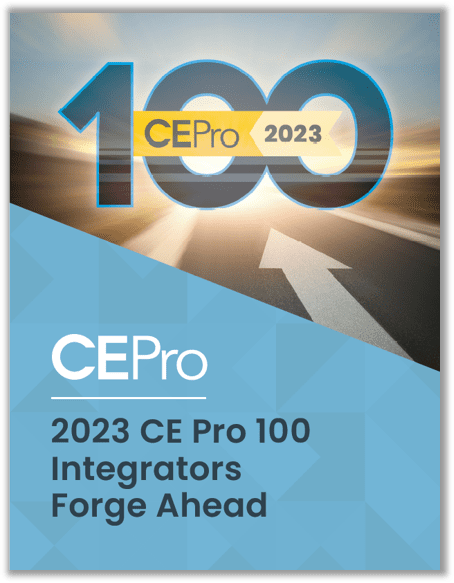 Which companies in the custom integration market made CE Pro's 24th annual CE Pro 100 list?
Underscoring today's shifting workplace, Poly points out that its study reveals that 58% of those who participated in the study are experiencing an increased turnover in staff since the start of the pandemic. Just under half of the respondents (48%) report their organizations are prepared for hybrid workplace options, while 37% state their employers are only prepared for short-term hybrid employment.
More news from Poly: Poly Room Solutions for Microsoft Teams Rooms Updated
Interestingly, 52% respondents of the study indicate that hybrid work is temporary for the short term.
Validating other studies, Poly's research also finds that 72% of the surveyed companies found an increase in employee productivity as a result to their shift to a hybrid workplace with an average global increase of 27%. The possible downside to this productivity according to the study, is that 56% of the American companies that took part in the research theorize that if employees aren't in the office they won't build relationships that could help their careers.
Other hybrid work concerns that came up include:
49% worry about the development of an unhealthy work culture
51% have concerns about people feeling like they need to be "on" all the time
74% note that remote work could make fostering and maintaining work culture difficult
Going forward, Poly's study exposes the fact that 64% admit that technology and experiences are the face of their companies and not the office space by itself, and building upon the quotient of workplace spaces, rather than simply defining whether a workplace is virtual, offsite, remote or hybrid will help employers develop their workplace strategies.
Additionally, Poly states that its study finds that 92% of companies are investing in software and hardware with cloud capabilities, and collaboration software. Other technologies companies are investing include 89% are spending on headsets, 86% are spending on cameras, and 83% are spending on speakerphones.
Moreover, 77% of the companies that took part in the study are redesigning their office spaces with more open plan areas, collaboration spaces, quiet zones and areas to socialize.
If you enjoyed this article and want to receive more valuable industry content like this, click here to sign up for our digital newsletters!