Every integrator knows that electric vehicles are coming on the scene in a big way and the integration of EV Chargers will likely become a growing element of business opportunity… even if you don't have an electrical license. At the same time, everyone is aware the current electrical grid cannot support the influx of electrical vehicles. Now, Marc Hofer, former CEO of iRoom, is bringing a potential solution to integrators from his new company World4Solar that will enable dealers to get onboard the alternative energy bandwagon in a unique way: solar carports with built-in EV charging stations.
World4Solar provides a holistic, pre-assembled, pre-configured, easy-to-install solar carport that creates an independent and sustainable energy source for all electric vehicles. Voltwing is a scalable, modular system for single parking spaces or multiple units in a row next to each other. World4Solar products are manufactured in the U.S.A. Voltwing's target market as well as the installation and configuration process cater to the CI installation channel. The company is expanding its U.S. installer network for solar carports with built-in EV charging stations ideal for residential housing, retail parking lots, schools, medical facilities/hospitals, and public parking areas.
"As the EV market sales grow, charging conveniences are at an all-time high for every touch point –work, retail, medical, schools, parking facilities and at home. CI integrators can now expand their offerings and reach even further, says Hofer, CEO of World4Solar. "Our contemporary décor design fits in with all environments and its solar covered roof provides sun and rain protection for vehicles and their owners.
Seeing Potential in the Growing Field of Commercial Solar Infrastructure
For installers, World4Solar provides full-service from planning, obtaining all necessary permits, laying the foundation, installing, setting up the unit, and maintenance. The approximate set-up time per Voltwing is 6 hours for the foundation and another 6 hours for installing and configuring the unit.
The solar carport systems can be connected to the local power grid to get compensated for generating energy or operate stand-alone with built-in battery packs to store solar energy to up to 25kWh or up to 100kWh with an external battery module. Two Level 2 chargers per unit work with all electric vehicles and add 25 miles average of range per hour of charging.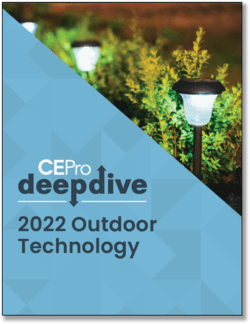 The 2023 CE Pro Outdoor Technology Deep Dive reveals unique set of impediments, including explaining pricing and interacting with outdoor-centric trades.
Get your copy now to take a "deep dive" into the trends and challenges of outdoor technology.
Download the report now!
Built-in ambient lighting illuminates the parking space(s) triggered by proximity sensors, green and light LED lights indicate if the parking spot is available and serve as a parking guidance system.
Voltwing is a robust, durable construction with an average 20-year life span. The solar car port system comes with a 3-Year Warranty. The system qualifies for federal tax credit of up to 30% of the amount spent. State tax credits are available in several states.
The niche market for solar carports sounds similar to the smart pergola market from companies like StruXure that some integrators have discovered. To learn more about becoming a U.S. installing dealer of solar carports, CE pros can contact: office@world4solar.com to begin offering the latest modern power conveniences for your client's.