There are many mistakes that can be made when designing the dream nighttime landscape lighting experience for your clients. As a lighting design expert, you should concentrate on creating a cohesive, functional and aesthetically pleasing design that your clients will enjoy for years to come.
"So many of their designs feel really flat to me there's no depth. There's no dimension… there's no intrigue. There are a few different ways that you can go about creating that," says Ryan Jaso, founder of Lighting BOSS.
Here are seven tips for creating compelling landscape lighting design.
1. Mix Up Your Color Temperatures
"Mixing up your color temperatures as well as the different color that's coming out of your LED lamp helps bring out certain materials. We want a tree to look at night the way that it's supposed to look during the day. If you take a Japanese maple, for example, you may not want to hit that Japanese maple with the exact same color temperature that you're hitting the house with. You want to bring those reds out, so you might do something with a little bit higher CRI. That will bring out the foliage to add a layer of depth and dimension to create some pop in your lighting design," says Jaso of Lighting Boss.
2. Change the Beam Spread
"Along the same vein we see way too many people just picking one beam spread, whether it's 30, 40 or 60 degrees, and just putting it everywhere. You're not going to use the same beam spread on a low-lying tree that you are on a tall column, but I see it done. Make sure you are mixing up your beam spreads. That will create depth and dimension in your project.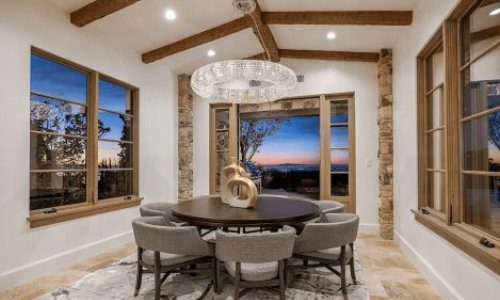 As a custom integrator, lighting is in demand. Effective communication, education and showcasing the value proposition of LED light fixtures in conjunction with integrative control systems are the keys to overcoming challenges and closing sales in this specialized market. Join us as we discuss the future of digital lighting and control with David Warfel from Light Can Help You and Patrick Laidlaw and Mark Moody from AiSPIRE.
Register Now! 
3. Alter the Lumen Outputs
"Stop using the same lumen outputs. I see it all the time. Integrators who are just getting started will just use one lumen output, such as 5 or 60 degrees. For the exact same reasons you want to mix up beam spreads, you want to mix up lumen outputs. You want to create layering. You can't do that if everything is the same level of intensity. You have to mix up your intensities," advises Jaso.
4. Create 3 Layers of Light
The rule of thumb is to create three layers in every scene, explains Jaso. "You've got a background, mid-ground and foreground. The background is always the brightest and your mid-ground is always the softest. That's a really great way to create depth and drama throughout the property… making it pop at night, making it something really special for the clients," he says.
5. Eradicate Glare and Hot Spots
Jaso says another common mishap in landscape lighting design is that dealers create hot spots and glare.
"I see it time and time again on projects. Try and use more fixtures with lower lumen outputs and proper shielding to prevent this from happening on your installations," he advises.
6. Eliminate Black Holes
"You can't have light without dark, but by the same token you can't have big black holes, because big black holes in your design will cause confusion. It draws the mind's eye into something. It shouldn't be seen, and it just throws people off. So, what you want to do is sort of eliminate those black holes in order to create a feeling of cohesion and a feeling of security throughout the entire property," says Jaso.
7. Hide the Source
"See the light, not the source. Hiding your light sources makes your overall design much cleaner. Big and obvious fixtures should be the exception, not the rule," clarifies Jaso.
There are a couple of different ways to hide fixtures, such as using the proper fixture with the proper glare shield. The shroud needs to be just the right length. You can also put in hex louvers, which are little square looking louvers inside the lenses that help minimize some glare Placement is Key – Often, landscape lighting designers do not use enough fixtures, trying to light two or three different features in a yard with a single fixture.
"That's not what you want to do. You want to use more fixtures, shoot them more straight up, and angle them so that they're not glaring," he adds.
If you enjoyed this article and want to receive more valuable industry content like this, click here to sign up for our digital newsletters!