The outdoor technology market certainly got a boost during the pandemic as customers looked to the custom installation community to upgrade their outdoor audio, video, security, lighting and networking gear. But what will 2022 look like?
CE Pro is once again trying to gauge what the outdoor market will look like 2022 as part of our 2022 Outdoor Technology Deep Dive Survey that is slated for the April 2022 edition. The survey looks at the average number of outdoor installations, average price points, and types of equipment, including audio, video, security/surveillance, landscape lighting, awnings/shades, wireless networks and more.
Within each of those categories, the data will analyze the usage of individual audio components such as buried cable, in-ground speakers, under-eave speakers, rock speakers, planter speakers and more. From the video standpoint, the survey will explore outdoor displays, mounts, projectors, satellite dishes and more. Looking at outdoor lighting, the survey will ask respondents to provide their usage on lighting for pathways, wall-washes, landscape/foliage accent illumination, staircase lighting and more.
Other key areas in the survey look at niche products such as irrigation controls, weather stations, pool and spa controls, cell signal boosters and other gear.
Please take a few minutes to respond to this CE Pro survey asking about your outlook for outdoor projects in 2022. Respondents will be eligible for an Amazon gift card. Results are presented only in aggregate in the March issue of CE Pro. Thank you.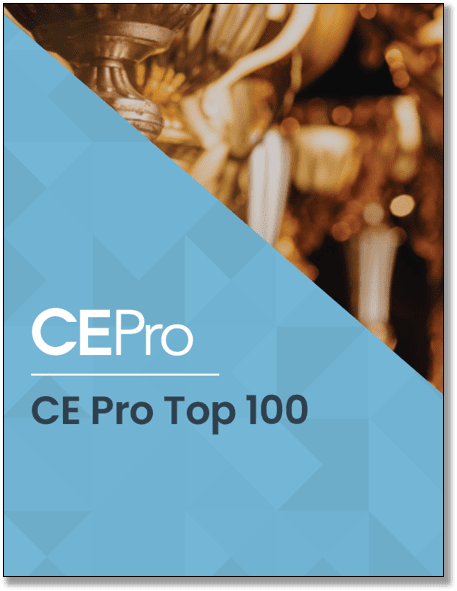 No matter how you slice it, 2021 was sweet music to the ears for the members of the CE Pro 100. The annual list of the largest custom integration companies had "record"-breaking growth last year.
Download your copy today!