National homebuilder KB Home has made a huge investment into the wellness market over the past several years, so the trend is not new to the Los Angeles-based company. However, wellness technologies and the benefits of biophilia are new to most homebuyers, and KB Home's commitment to the category will only grow as consumers become more educated on the topic.
Dan Bridleman, senior vice president of sustainability, technology and strategic sourcing, KB Home, says that next to the use of non-volatile organic compounds (VOCs), wellness is quickly becoming an increasingly important part of the amenities the company offers homebuyers.
Through KB Home's commitment to using products with little or no VOCs, as well as providing more wellness solutions and more environmentally friendly products, today's KB Homes are Energy Star certified so they benefit people and the planet, Bridleman says.
Partnerships Underscore Commitment to Category

Recently, KB Home announced it joined the Well Living Lab Alliance, becoming the first homebuilder to do so. This group, headed by a collaboration between Delos and the Mayo Clinic, is dedicated to the transformation of indoor environments that improve human health and wellbeing.
The Well Living Lab, which is located in a building adjacent to Mayo Clinic in Rochester, Minn., features 7,500 square feet of research space.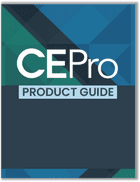 CE Pro's 2022 Product Guide showcases some of the latest and innovative solutions from manufacturers serving the custom electronics industry in a cross-section of categories.
Download the guide now!
"In joining the Well Living Lab Alliance, KB Home will support the advancement of science to generate evidence-based findings that can be used to benefit our customers in the future," states Jeff Mezger, chairman, president, KB Home. "KB Home is actively engaged in developing cutting-edge solutions that can elevate the health and comfort of our homebuyers."
Bridleman adds the commitment to wellness is designed to improve its customers' overall homeownership experience.
"If you think about it, fresh air and low-to-zero VOC [volatile organic com- pounds] products are things that make the quality of air better, so we felt we had to take it another step further. As a builder we have partnered with Delos, and we introduced a platform [of theirs] called DARWIN," Bridleman says, referring to the Home Wellness Intelligence Network.
"It's a system that monitors and calibrates the home environment. There are sensors in the room, the light, the air quality, the water quality. It's in the background adjusting these things for better health. Health comes in a number of ways, the circadian rhythms of your home. We want to make sure you have options in your house."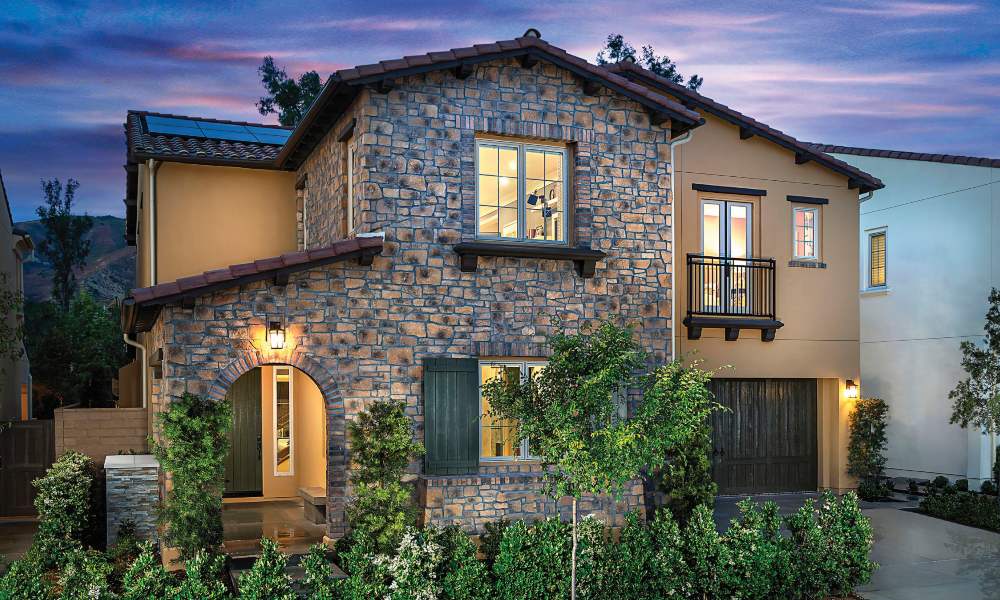 KB Home, which built 11,871 new homes in 2019, incorporates products from manufacturers such as Lutron, Google, Carrier and others to further fuel its effort to provide smart home technologies and wellness solutions.
Over the next few years, Bridleman expects a major change in the technologies that KB Home installs into its homes. He foresees innovative companies such as Lutron eliminating the cost and complexities of wiring by using Bluetooth and other wireless technologies, for example.
"Through technology you can reduce the cost of wiring, and technology will be the enabler to offering smart solutions. Because you can talk to home systems, you can run circadian rhythms and technologies can integrate the lifestyle you like to have," Bridleman theorizes.
"The components will allow these systems to be more integrated. The next three to five years we'll see an explosion of smart devices. Today, if you want a smart device, you need to plug a smart device in whether it's an 'i' device or Ecobee, and you can connect them. They work with Google, Amazon, Siri. We will get to the point it won't be a plugin."
DARWIN Offers Glimpse of Future
Back in January 2019, KB Home announced a partnership with Delos, allowing the builder to offer the pioneering DARWIN platform to its customers.
The system achieves its wellness capabilities through a proprietary sensor monitoring platform that works across a home's air filtration, water purification, circadian light and comfort features, Delos explains.
"From years of experience and extensive research, we know that our indoor environments can impact physical, emotional and cognitive health outcomes," says Paul Scialla, CEO and founder, Delos. "Our collaboration with KB Home helps make DARWIN even more accessible and provides an incredible opportunity to help improve the health and wellbeing of everyday Americans."
Bridleman says that unlike many homebuilders that construct homes with the hope that people buy their products, KB Home lets people pick the amenities they want.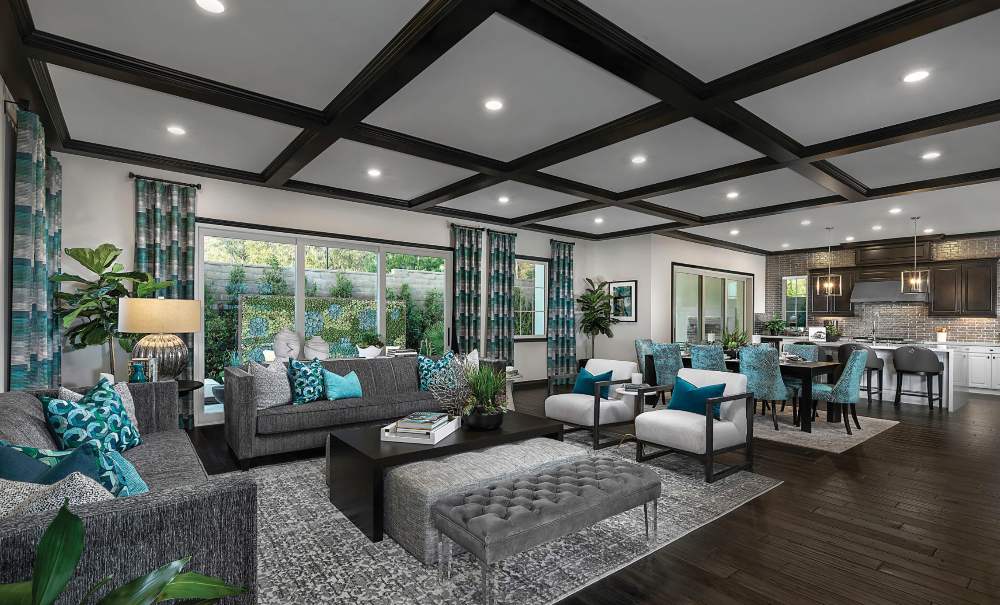 KB Home's Design Studio provides a means to let people choose home options such as specific countertops, smart appliances, smart thermostats, and, in California, the DARWIN system. The Design Studio also allows buyers to choose smart locks, as well as an array of Google products such as Nest, and a selection of home lighting solutions.
The builder forged a partnership with Dish to support KB Home's selection of smart home products, connecting these devices and services together once buyers choose what they want.
"We are a Google partner and people are choosing Google to manage their doorbells with Hello Nest doorbells. Doors, doorbells, thermostats, lighting and appliances are things people are selecting in our studios. We don't pick and choose that for our customers. That is what people are choosing in their homes," says Bridleman.
"As you pick your smart technologies, we can tell our subcontractors how to install them. Then Dish will come to the house, they will connect everything through a single integration, so you don't have 500 sign-ins and passwords. Google does it for you and you have access from now until eternity. Simplicity is a key. You get to pick and choose … we will integrate those products and you call Dish and they sit down with the customer. They get it to work and make it easy for the customer."
Given the rising popularity of smart home products, and that people are increasingly learning about the benefits of home wellness, Bridleman predicts that soon such amenities could become standard from KB Home.
"Over time things become expected. The fact that we have studios that people tell us what they want — once the rate gets above 50% or 75%, it becomes standard. It becomes base cost and we have a good way to tell once we cross that bridge," he explains.
He believes broadband is vital and in particular fiber-to-the-home.
"Having fiber to the house allows for many things," he says. "We'll see how 5G affects things, but bandwidth and getting good infrastructure is easy for a homebuilder. Those things will foster technology in the home."