Stealth Acoustics will be using next month's Integrated Systems Europe (ISE) show, being held Feb. 11-14 in Amsterdam, to launch its new StingRay 83 outdoor speaker for the European market.
The 3-way StingRay 83 features a 30mm (1.18-inch) midrange, 25mm (.98-inch) tweeter and 8-inch cone woofer, plus Stealth's Fidelity Glass Advanced flat-front radiating surface within a hermetically sealed enclosure.
"The result is an attractive, sleek-looking speaker that delivers a smooth and silky sound quality in the mid and high regions with a solid, rich bass extension," the company states.
"Designed with outdoor theater audio in mind, and the impressive peak power handling of over 300 watts allows the device to become much more than simply a background music speaker."
Built for Home & Marine Environments
Stealth Acoustics says the StingRay 83 is sealed off from the elements, employing UV-protected fiberglass and marine-grade, fiber-infused ASA plastics.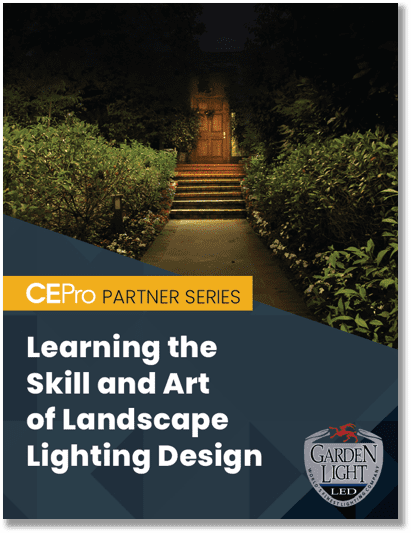 Experts recommend landscape lighting design as an entry point for integrators into the revenue opportunity of home lighting. Check out our new resource for tips and best practices. Download "
Learning the Skill and Art of Landscape Lighting Design
" today!.
The speaker is IP68 rated to withstand moisture, salt, sun and other influences whether installed in a backyard or applications like yachts, the company says.
The StingRay 83 comes in standard black and white, or with a "custom graphic wrap" finish. Look for a demo of the addition to Stealth's StingRay line at Entrance C of the RAI Amsterdam.
Showing Invisible Speakers at ISE Too
Stealth will also highlight invisible speakers and subwoofers from its LRG and LRX lines at stand 5-R96 of the RAI.
The booth will enlist the LRx83 and LRx85, which have advanced carbon fiber materials, new lamination processes, and enhanced driver sets.
The two-panel system replaces a segment of a wall or ceiling with a "paintable, non-penetrable flat front speaker system," Stealth describes.
Models employ five midrange/high-frequency drivers mounted in a dual-D'Appolito alignment. Stealth says this produces "noticeable improvement in left/right panoramas and depth of sound stage."
Stealth will show products from its LRg family of invisible speakers including the LR6g, SLR8g, LR8g and LR3g.
For bottom end that won't impede room aesthetics, the company will have on hand its B22g and B30g subs that Stealth says extend down to 20Hz.