Ask any die-hard sports fan and they will tell you: When it comes to fast-paced sports like basketball, watching on high-end AV equipment can make a world of a difference. Really, the only way to better the experience is to watch the sport while relaxing in the beautiful weather of a Virginia autumn, which is where local integrator Livewire comes in. 
When the homeowners' son made his college basketball team, the couple knew they wanted to update their existing outdoor kitchen and patio area with a higher quality outdoor TV so that they could watch their son's games while also enjoying their backyard. So, the couple consulted with Livewire's Andre Saunders, who after thorough consideration and planning ended up recommending a Veranda Series SunBriteTV.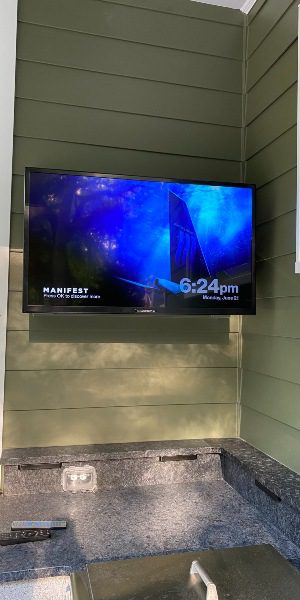 According to Saunders, he ultimately recommended SunBriteTV because he knew it the company's TVs would be able to withstand the harsh Virginia summer heat as well as the cold, wet, icy winters thanks to its powder-coated aluminum exterior that is designed to withstand both the elements and the test of time.
"The structural renovation of the outdoor kitchen and patio was nearly done when we were called in, and there was only one space where a TV could go. The SunBriteTV 43-inch Veranda was the perfect size to fit in this smaller space, while still providing big entertainment," says Saunders. "The TV is on an articulating bracket so the family can pull it out and swivel the screen toward the seating area, and then tuck it away when it's not in use."
For the shaded patio, the installed Veranda Series 4K HDR UHD TV offers an upgraded viewing experience with high brightness and clear image quality. The display has been installed on a recessed wall with all cabling, video sources and vital components kept indoors or in weatherproof boxes to ensure all equipment is protected.
From sporting events and news broadcasts to movie nights and outdoor workout classes, the TV should provide up to three times the brightness of many indoor TVs, enabling families like these Virginia sports fanatics to enjoy reduced-glare, outdoor entertainment all year long.
"Not only can the family now watch their son's games when they aren't able to make it in-person, but they also have a brand-new, outdoor living room and entertaining area to enjoy for years to come," says Saunders.
If you enjoyed this article and want to receive more valuable industry content like this, click here to sign up for our digital newsletters!