Training as a Service Receives Positive Reviews at Launch
Cookie-cutter training solutions will not work to meet the needs of today's employers.
Sponsored Content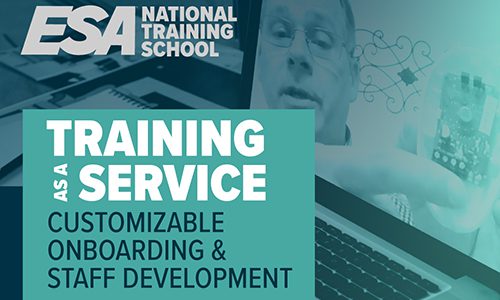 By Steven Calhoun
With a tight labor market making retention a priority, proper onboarding and training programs could be the difference between making 2020 a fantastic year or a flop from a staffing perspective. For this reason, ESA created and launched its Training as a Service (TaaS) program, which is the electronic security industry's first customizable, in-house employee onboarding and staff development program.
Tier 1 TaaS courses are designed for employees with 0 to 6 months of employment and include technical training, safety skills, communication skills and topical industry trends. The initial grouping of companies enrolled in TaaS have given positive reviews of both its content and its customizable nature.
For each company, specialists from ESA's National Training School (NTS) work with training managers to select courses so that the company can fast-track the success of their new and experienced employees based on their needs, such as licensing requirements and skills. Thus far, participants have seen the advantages of this customized training solution.
Dorian Kruse, sales manager at Capital Fire & Security, says his employees praised the contents of the courses for their timeliness and the variety of ways there are to interact with the lessons.
"The new guys are enthusiastic about it and they've liked the communications courses," says Kruse. "Our more experienced employees have said that they are learning solid electronics concepts. The curriculum is good and overall very strong … they're getting what they need."
Scott Triolo, service manager at Complete Security Systems, appreciates the customizable nature of TaaS, the support he received from NTS and the fact that he could see the progress of employees going through the training.
"The ESA team was extremely helpful, and they were able to make any changes needed to the program," says Triolo. "I feel that this will help employees that have little to no experience in the field … The fact that it's customizable will be helpful for those that already had specific training, especially those with OSHA 10."
Tier 1 of the program is now available to all ESA Members. It is designed for employees with 0 to 6 months of employment and includes 69 hours of training. Upon completion, participants will have earned the ESA Systems Technician Completion Certificate, Level I Certified Alarm Technician Certification and the OSHA 10 Hour Certification.Tier 2 is designed for employees with 6 to 18 months of employment and will include more technical training as well as electives. Tier 2 will be made available during first quarter 2020.
The team behind TaaS is consistently updating the program as it rolls out to more participants, each with their own unique requirements and preferences. More information is available at esaweb.org/taas.
A volunteer Task Force of industry professionals helped to develop the TaaS program over the course of the past year, including:
Tommy Whisnant, CPI Security Systems
Robert Grove, Select Security
Angela White, Central 1 Security
Bob Boland, Custom Alarm
Scott Triolo, Complete Security Systems
Without their insight and knowledge, this program would not have been possible.