CEDIA Expo Announces Design Connection for Design and Technology Collaboration and Integration
CEDIA Expo brings together more than 20,000 home tech pros and 500+ exhibitors to the leading event in smart and home technology. And in 2018, CEDIA Expo is launching the Design Connection to support cross-industry collaboration in residential technology. CEDIA Expo, the platform where disruptors, innovators and integrators in the connected built environment collaborate.
Content from our Sponsor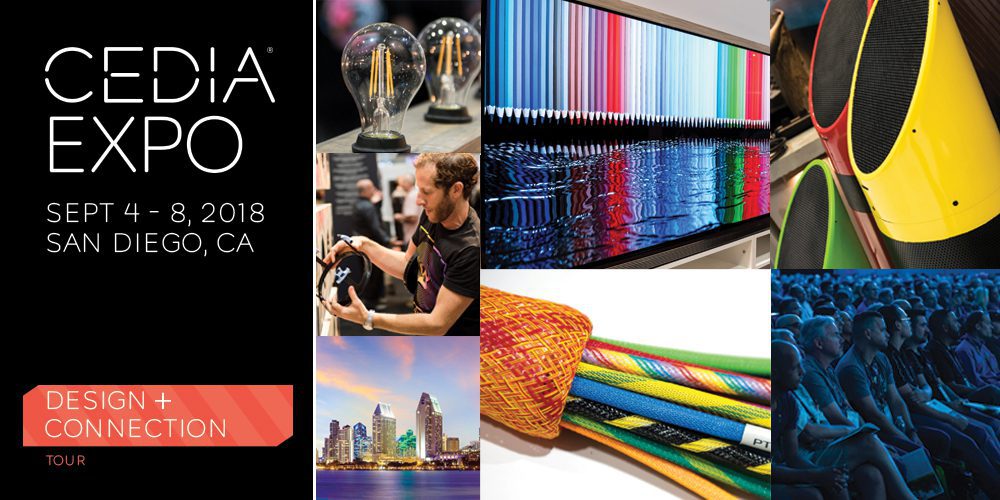 Today, CEDIA Expo, the leading event in connected technology, announces Design Connection, which will unite technology integrators with design and construction professionals in order to create further collaborations and partnerships. The new platform will feature multiple programs and networking opportunities throughout CEDIA Expo 2018, which will take place September 4-8 at the San Diego Convention Center.
Design and technology collaboration opportunities include viewing products in the Design Connection Pavilion, participation in the Design Connection Tour Series and the Bourbon and Brownies networking event.
Endorsed by the National Kitchen and Bath Association (NKBA), the Design Connection Pavilion is an area on the show floor specifically designed to allow brands additional exposure to architects, builders, and designers. The 30' x 30' space is a gallery concept located in Hall C and will feature technology products specifically suited to compliment design and construction integration.
The Design Connection Tours, held on September 6 and 7, will mutually benefit designers and integrators alike as the tours serve the purpose of creating a professional dialogue about the intelligently built connected environment. The tours will be led and curated by two technology integrators and will lead 10-15 certified designers around select exhibitor booths. The tour will also feature a stop at the Design Connection Pavilion.
There will be ten exhibitors chosen for each tour, eight selected by the expert tour guides and two sponsorship opportunities. All 2018 CEDIA Expo exhibitors are invited to apply. Two members of the press will also be invited to attend.
Both tours will feature a complimentary lunch for all participants as well as an invitation to "Bourbon and Brownies," a cocktail hour and networking session which is open to all CEDIA Expo attendees as well as tour participants.
"Design Connection will create multiple learning opportunities for designers, architects and builders to gather knowledge from integrators, the connected technology experts," says Brian Pagel, senior vice president, Emerald Expositions." Integrator and designer relationships are vital to achieve the modern customer's goals— beautifully designed space with seamless smart technology integration."
"One of the key initiatives outlined in CEDIA's three-year strategy is to build awareness and create demand for CEDIA members' services with architects, builders, and designers. CEDIA sees this as the most effective way to move the needle for the industry and for CEDIA members, the fact that Emerald is so aligned with us on this goal will only amplify this message to our industry partners," said Tabatha O'Connor, CEDIA president and CEO.
"Having an area on the show floor dedicated to technology and design integration will spark needed conversations between the two professional groups," says Suzie Williford, NKBA's executive vice president of industry relations & CSO. "Kitchen and bath designers are hungry for products that will move the needle on technology integration in intelligently built environments."
Learn More about How to Get Involved in the Design Connection at CEDIA Expo here.
CEDIA Expo 2018 will run from September 6 to 8 at the San Diego Convention Center.