CEDIA Expo Announces List of Designers for Design Connection Tours
CEDIA Expo brings together more than 20,000 home tech pros and 500+ exhibitors to the leading event in smart and home technology. And in 2018, CEDIA Expo is launching two brand new programs to an area of the show floor called the Smart Stage. CEDIA Expo, the platform where disruptors, innovators and integrators in the connected built environment collaborate.
Content from our Sponsor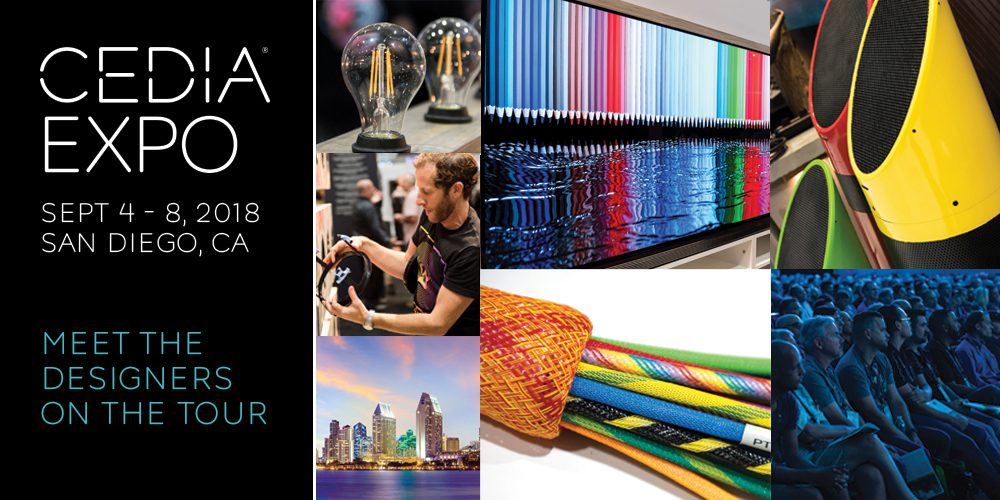 CEDIA Expo announces the design and construction professionals chosen to participate in the first-ever Design Connection Tour series. On September 6 and 7, designers, architects and construction pros will follow integrator tour guides David VanWert and Joe Whitaker to select exhibitor booths and will attend the Bourbon and Brownies networking event. The 2018 CEDIA Expo runs September 6-8 at the San Diego Convention Center.
The following design professionals will participate in the Design Connection program:
Bob Borson, Malone Maxwell Borson Architects
Christina Drogata, product design specialist, Monogram Appliances
Dean Larkin, principal, Dean Larkin Design
Jamie Gold, certified kitchen designer, Certified Aging in Place Specialist
Jeanne Chung, proprietor of Cozy•Stylish•Chic Design Lab
Joel Fraley, principal, Fraley + Company
Kelly Finley, principal and owner, Joy Street Design
Kelly Morisseau, certified master kitchen & bath designer, Certified Interior Designer
Lori Gilder, founder and principal, Interior Makeovers Inc.
Michelle Youell, principle, Natural Domain Interiors
Molly Switzer, principal and owner, Molly N Switzer Designs, LLC
Robin Rigby Fisher, principal designer, Robin Rigby Fisher Design
Toni Sabatino, owner, Toni Sabatino Style, NKBA Manhattan Chapter President
Dawn Deluca, Founder and Principal, Dawn DeLuca On Design
Sherrié Pantalon, certified master kitchen & bath designer, San Diego NKBA Programs Chair
Read the full designer bios here.
Ten exhibitors will be chosen for each tour with eight selected by the expert tour guides. Each tour includes stops at 10 exhibitor booths where the designers and integrators can engage in conversation about product features and design considerations. A complimentary lunch will be provided and all participants will receive a ticket to "Bourbon and Brownies," an invitation-only cocktail hour and networking session.
"CEDIA Expo is thrilled to welcome design industry experts to the show, as designers and integrators alike are hungry for these type of partnerships," says Brian Pagel, senior vice president, Emerald Expositions. "These hand-picked design professionals and integrators are early adopters of this important conversation, and have the capability to forge a strong bond between the two industries."
Be part of the design connection pavilion