The Z-Wave Alliance's CEDIA Expo 2019 TechTalk covered a lot of ground in its 30-minute time slot. Mitchell Klein, executive director, Z-Wave Alliance, discussed how the company is making integrator lives easier with its Certified Installer Toolkit and took some time to highlight several new Z-Wave companies.
Alongside its Certified Installer Training, Z-Wave provides integrators with a toolkit that might mean fewer truck rolls. According to Klein, the Certified Installer Toolkit includes a device that connects to a Z-Wave system and provides tools to make sure devices are communicating properly.
In addition, it checks to make sure the mesh network has been pre-configured properly, as well as a number of other potential problems integrators can check before leaving a property.
The best part? Integrators can leave the device behind at the property and monitor if devices have been disconnected. And here's the cherry on top: The toolkit enables customers to add or change devices without needing a truck roll since integrators can go in and make a change remotely.
Z-Wave Alliance Co's to Watch
Klein also spent some of his TechTalk highlighting a few Z-Wave Alliance companies and new features that he feels integrators should examine and find ways to include in their projects.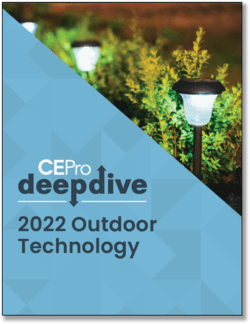 The 2023 CE Pro Outdoor Technology Deep Dive reveals unique set of impediments, including explaining pricing and interacting with outdoor-centric trades.
Get your copy now to take a "deep dive" into the trends and challenges of outdoor technology.
Download the report now!
Z-Wave Smart Start got some time in the CEDIA Expo limelight due to its promise of simplifying installations for integrators. The technology allows installers to scan the QR code of a product and have it automatically included in a system.
Integrators don't have to power things up and get them ready before scanning, so they can "pre-kit" their gear and scan all these products before arriving at a home, then put them in the right places, power them up and everything is ready to go. 
Intellithings showcased its new RoomMe automation platform during CEDIA Expo 2019. It allows integrators to personalize a room based on a specific person's preferences. It uses the homeowner's smartphone to sense when they enter the room and subsequently triggers their preferred settings.
Finally, Klein made sure to include some MDU talk with Parakeet, which builds a platform for MDU owners that can manage different units within a property. Building owners can monitor the occupation status of a unit (whether it's currently rented/sold or not) and keep doors locked or unlocked.
In addition, as the unit becomes occupied, this piece of control is transferred into the hands of the renter/homeowner.
"This is [an] opportunity that integrators should really be considering," says Klein. 
Klein adds that this could be a prime opportunity to expand the number of jobs an integrator has available each year. "If you can do high value, low margin [installs], you can do that kind of work and get thousands and thousands of projects a year. I think it's a huge opportunity."