Laying a Foundation for Your Conference Room Installs
Steven Rissi of CEDIA broke down the design concepts and equipment needed to install AV systems virtually anywhere during his "Introduction to Conference Room and Presentation Technologies" webinar.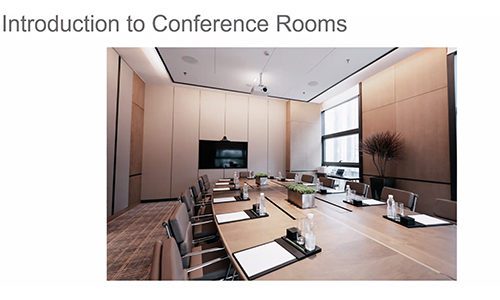 As the lines continue to blur between the residential and commercial electronics industry, CEDIA is providing its members with the education necessary to compete in both markets.
Kicking off day 2 of the CEDIA Expo Virtual 2020 event, Steven Rissi, director of technical training, CEDIA, led the trade group's "Introduction to Conference Room and Presentation Technologies" session. 
Over the course of his 50-minute presentation, Rissi outlined the most common types of conferencing spaces integrators will see in business environments, as well as the technologies that support users' collaboration efforts.
Rissi noted how conference rooms used to have big tables with flip charts in the corner, and possibly a phone located on the middle of the table. In 2020, however, the look and level of integrated technologies in business environments is much different.
"Fast forward to today and we are doing much more robust solutions," he emphasizes.
"You can share computer screens, audio, video such as what we are doing today on Zoom … then there's video and audio capture devices, and there's a lot that goes on in conference rooms with live capture."
Boiling down the collaboration market to four basic types of rooms, Rissi says the starting point is huddle spaces (one to four seats), then moving up in size there are small conference room (four to 10 seats). He adds that integrators can think about how huddle spaces work and can apply those concepts to a home environment to help support clients' work from home (WFH) aspirations.
As the spaces get bigger, Rissi says integrators will see boardrooms (10 to 30 seats), and training rooms (20 to 50+ seats).
How these rooms are used dictates the type of technologies installed there, he comments.
"The user experience in a business environment is different than a residential environment. There is a lot of turnover — change [with new employees using the systems] — so it has to be exponentially easier to use. Keep them as intuitive as possible," Rissi stresses.
"You want to keep these interfaces as simple as possible. It is really important to strip down the interface and make it as simple as possible."
Rissi cites microphones, speakers, displays, cameras and presentation systems as some of the most frequently used equipment integrators will utilize.
As these spaces get bigger, the types and amounts of microphones will range from wired and wireless products, to handheld and ceiling microphone array solutions, for instance.
In corporate settings, Rissi cautioned integrators to be aware of hardware-based systems with encoding and decoding technologies. Popular hardware solutions include products from Cisco, Zoom, Lifesize, and software products from Blue Jeans, Microsoft Teams and Zoom (Ring Central).
Rissi recommended that integrators work with the IT departments of its corporate clients to maximize the full capabilities of these solutions.
Another recommendation he made is to make sure the hardware solution works with web-based products. Having an understanding of bridging functions and solutions, he notes, will help ensure the connection.
Rissi says all-in-one systems such as Crestron Mercury, Polycom Studio, Harman AMX Ascendo, and Vaddio HuddleStation allow for streamlined systems that bundle in a lot of the most frequently used collaboration functions. These make system configuration easier for integrators, and make usage more approachable for end users.
"You will commonly see these in huddle spaces, because it is a quick, all-in-one connection."
Users must know where to go to select the right hardware," says Rissi.
"I think people are getting better at knowing where these settings are, but you have to check to see if you are using the right camera and microphone."
Rissi touched upon various display solutions integrators will use and AVIXA's PISCR standard that provides guidance.
Additionally, he addressed camera types, including webcams and pan/tilt/zoom (PTZ) cameras, before discussing audio processing, which he emphasized as an extremely important part of a conferencing system.