Geoff Meads of Presto AV Explains Home Recording Studios
Geoff Meads, a professional musician and long-time custom installation market member outlines what it takes to deliver home recording studios.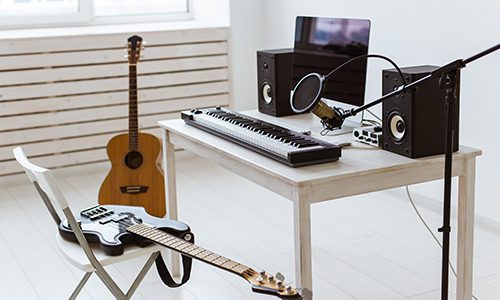 When he's not designing websites for his company Presto AV, Geoff Meads can usually be found on the stage or in his home recording studio.  
Meads explained during his "Need to Build Your Client a Home Recording Studio? Here's How to Start Like a Pro" CEDIA Expo Virtual day 1 webinar the growing opportunities for integrators to deliver high-performing home studios to clients that enjoy creating music.  
He notes there are many similarities between the concepts of theater design and recording studio design. The major difference between the room types, he says, is how they are used.
"You can get world-class recordings from bedroom home studios," Meads stresses. "The studio is a creative space and we need to understand that home theaters are recreative spaces."
According to Meads, the progression of technology, along with the evolution of the music industry now enables the production of Grammy-winning recordings like Billie Eilish's 2019 album "When We All Fall Asleep."
He points out several aspects that integrators need to do to effectively translate their home theater installation skills and deliver quality home studios.
One of Meads' major points of emphasis focused on how recording has transitioned from the traditional methods of mixing on a console to "in the box." Covering some of the things people will see in recording studios that starts with good acoustical designs, Meads notes visitors will often see multiple sets of studio monitors that are used for nearfield and full-range listening applications.
He says commercial studios' control rooms will also contain rack-mount gear that's populated with processing equipment that includes equalizers, compressors, delay and reverb units.
Over in commercial studios' live space areas, he says, these will have windows to allow people in the control room to see the performers, microphones, cabling, headphones, talk-back capabilities and gear such as pianos, drum kits; bass and guitar amplifiers.
Home studios differ in many cases by utilizing "dead rooms" for vocals, voice overs and other similar activities, he explains. These "nearly dead spaces" usually contain microphones, headphones, cabling, talk-back buttons to facilitate communications between the control room and recording area, and some sort of visual communications element that could either be a window for people to visually see one another or a computer monitor.
Because of the growing popularity of home studios and dead rooms, he says there are a number of "plugins" available from companies such as Universal Audio that provide recreations of commercial spaces such as the famous Ocean Way Studios.
Pointing out some of the physical requirements of home studios, Meads comments that if possible, choose a room with non-parallel surfaces (walls) as the basis for good acoustics. He says integrators also need address the room's power. Clean power is essential and battery backup uninterruptible power supplies (UPS) can save someone's work in the event of power failures, he adds.
Elaborating on the equipment, he says that because of modern interface products that enable computer-based recording DAWs (digital audio workstations), there is really no need for mixing consoles, but consoles can serve a purpose.
"A big mixer isn't always necessary, but they are good for the ego to look at," says Meads.
Also, don't shy away from adding aspects such as rest and recreational areas, which shouldn't be overlooked in their impact, Meads says. These areas, he notes, should have sofas, as well as bathrooms; a food and beverage area; and quiet spaces for songwriting and practicing.