Traditionally the CEDIA Expo has been the show to attend to see the latest audio, video and control products. 
As the market has grown in popularity, the number of products and services the custom installation industry has offered has expanded. Today, not only will attending integrators see the newest home theater, smart home, networking and whole-house entertainment, for example, attendees will see products and technologies that will impact the market in the coming years. 
Showcasing many of the technologies that will drive tomorrow's state-of-the-art technology-based homes, the CEDIA Expo 2021's Innovation Hub places the spotlight on emerging technologies.
Innovation Hub Previews the Future of Homes Impacted by COVID-19
During the annual trade event, which takes place in Indianapolis on Sept. 1-3, the Innovation Hub will feature some of the fastest developing home technologies. Some of those technologies include work from home (WFH), as well as resimercial, which are products and technologies that serve both residential and commercial applications. 
Some of the other new upcoming technologies and market outdoor living and security.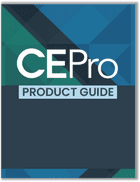 CE Pro's 2022 Product Guide showcases some of the latest and innovative solutions from manufacturers serving the custom electronics industry in a cross-section of categories.
Download the guide now!
Over the course of the show, the CEDIA Expo will run an entire schedule of "Innovational Hub" sessions that include:
Wednesday, September 1:
10:15 a.m. to 10:45 a.m. "Home Office Design Post COVID-19"
11 a.m. to 11:30 a.m. "All-in-One Outdoor Lighting"
11:30 a.m. to Noon "Improving Indoor Air Quality for Better Health: Key factors that Impact Air and How to Address Them"
Noon to 12:30 "OutWit Your Smart Home: The Intelligence of the Modern Design Team"
1 p.m. to 1:30 p.m. "Healthy Indoor Air Quality Needs More than Air Purifiers"
1:30 p.m. to 2 p.m. "Smart Home Technology Safety Trends in 2021"
2 p.m. to 2:30 p.m. "30 Years of Disruption"
2:30 p.m. to 3 p.m. "The Secret Weapon for Increasing Sales—Designing Today's Tech Spaces"
3:15 p.m. to 3:45 p.m. "The Home Studio—When It's More than Just Video Conferencing"
Thursday, September 2:
10:15 a.m. to 10:45 a.m. "Outdoor Lighting Puts Integrators in Position to Profit"
11 a.m. to 11:30 a.m. "The Importance of Vacuums to Air Quality"
11:30 a.m. to Noon: "Can you Hear Me Now—The 'One Size Doesn't Fit All' of Home Office Audio"
Noon to 12:30 a.m. "Health Starts at Home: Meet the Delos Wellness Extension on Crestron Home"
1 p.m. to 1:30 p.m. "You are Connected! But are you Secure? ReThink Cyber Security Protecting the Work from Home Environment"
1:30 p.m. to 2 p.m. "Winning Strategies for Boosting Outdoor Business"
2 p.m. to 2:30 p.m. "Commercial Attraction in Exterior Lighting"
2:30 p.m. to 3 p.m. "One Ecosystem—Creating a Home Office for The Advanced Enterprise
3:30 to 4 p.m. "Open Source in Home & Building Automation"
Friday September 3:
10:15 a.m. to 10:45 a.m. "Cyber Security Protection, another Income Stream in Home Network Protection"
11 a.m. to 11:30 a.m. "Benefits of System Integrators Working with Designers, Contractors & Medical Professionals"
11:30 a.m. to Noon "I can See Clearly Now—Selecting A Home Office Camera"
Noon to 12:25 p.m. "Central Vacuums—A Wellness Product for All Homeowners"
1 p.m. to 1:30 p.m. "Peace of Mind/Home Security"
1:30 p.m. to 2 p.m. "Preventing Home Office Burnout and/or Video Fatigue