URC has announced the launch of the MRX-12, an advanced network system controller delivering enhanced user experiences and easy installation for dealers.
The company's latest controller for its Total Control automation system is designed for medium to large residential and commercial installations. The URC MRX-12 delivers integration of automation, control, voice activation and audio capabilities. With a variety of outputs, this controller can scale easily for high-end residential and commercial installations.
Among the advanced features are:
Quick Connect network communication
Gigabit Ethernet Port RJ45
6 port IR Outputs and 2 Serial/RS-232 Outputs
Relays, 12 Volt Triggers and Sensor Ports for expandable capabilities
Right sized to fit racks with reduced depth (5.7 inches)
Seamlessly connects and manages the Total Control system
Continued industry-leading profit for dealer and value for end-users
When combined with URC's Total Control system, residential and commercial customers can take advantage of premium integration by controlling hundreds of devices throughout diverse environments. By adding the MRX-12, URC offers options from large installations with the MRX-30 to small, 4 room systems with the MRX-5
"By adding the MRX-12, URC provides customized system solutions that fit any residential or commercial environment" said Mr. Lars Granoe, URC Vice President of Product Development. "Our goal is to deliver residential and commercial experiences that elevate expectations for premium performance design and integration." URC recently announced the addition of the TKP-8600, an 8 inch in-wall touch screen with voice activation and its new offering, URC Lighting, including the dimmers, switches and Z-wave controller.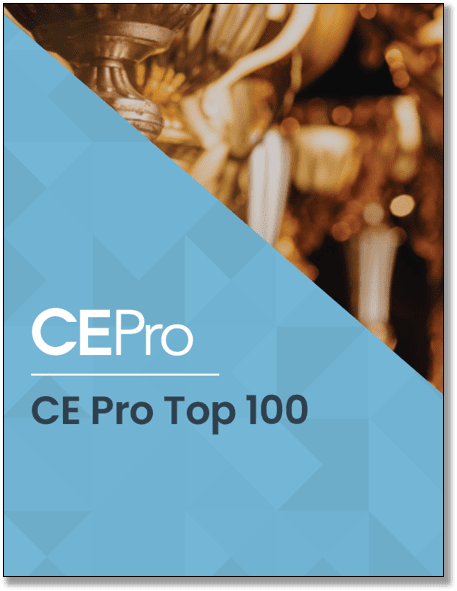 No matter how you slice it, 2021 was sweet music to the ears for the members of the CE Pro 100. The annual list of the largest custom integration companies had "record"-breaking growth last year.
Download your copy today!