A year into COVID-19 quarantining vaccinations are now available and people are optimistically looking ahead to a point where society returns to some level of normalcy. As part of that upcoming new normal will be the way home life is viewed. 
As a result of being stuck at home millions of people have reexamined their homes and how their homes complement their daily lives.
Ralf Elias, global VP of IoT and business development for Samsung SmartThings, says the world has changed, and due to the changes that have occurred over the past year, there is a growing emphasis on residential technologies. 
Elias says that because of what's happened with people blending their home and work environments there's a growing desire to increase the amount of technology within the home in order to enhance home activities and energy efficiency.
SmartThings Helping to Fuel Growth of Smart Home Market
According to Elias, there are several converging factors driving the appetite for smart home technologies that have been accelerated by the impact of COVID-19.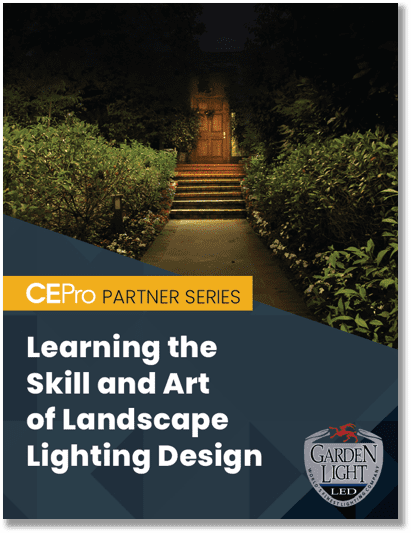 Experts recommend landscape lighting design as an entry point for integrators into the revenue opportunity of home lighting. Check out our new resource for tips and best practices. Download "
Learning the Skill and Art of Landscape Lighting Design
" today!.
We are now spending more time at home and we are engaging in a number of activities at home. With all that time at home Elias says people are now focusing on work from home (WFH), energy efficiency and wellness. An adjunct to these points of emphasis he notes is the digital relationships in which people are reaching out to friends, work colleagues and family as a means of staying connected without face-to-face meetings.
"The advent of doorstep delivery and then, what we also see is a trend towards augmented experiences so enhancing your home experience through digital products and services so on. In summary, staying at home has created more use of our utilities, for example [utilities] which may have spent most weekday days off [prior to people working from home] or at lower levels of heat or air conditioning," comments Elias.
"Connected homes allow for better visualization of energy costs and they make it easier for homeowners to participate in energy saving programs that come with smart devices. So, when combined with our appliances the savings are even greater. Because we've been spending so much time at home it also helps us to fully understand what tasks we can automate, even tasks like bathroom or kitchen. In summary, smart homes have become more relevant and more important for all your products and services."
Taking a different approach than many other companies when it comes to defining the smart home, Elias states Samsung SmartThings views the market as a constantly evolving entity that not only encompasses the traditional definition of smart home, but also elements that exist outside of the home.
SmartThings' objective is to connect a multitude of devices and services to enable a complete automated experience. This allows homeowners to focus on priorities that could be inside or outside of the home.
Underscoring SmartThings vision of a smart home Elias points out the recently announced SmartThings Cooking app, which is a service-based solution.
Previously these features were available via the company's Family Hub product. Expanding the accessibility of its smart home living capabilities, the new app will recommend recipes that fit users' dietary tastes and concerns to help form weekly meal plans. Samsung notes the app sends cooking instructions directly to synched Samsung kitchen products, which enables the system to order groceries, and the system can automatically preheat Samsung cooking ranges. The Samsung app will also guide homeowners through every step of the cooking process.
Another recently introduced IoT-based service from the company is SmartThings Find, which helps users locate their Samsung devices.
How these and other upcoming services translate to smart homes in 2021 is the company's ability to make connected solutions easy to use and easy to install. To facilitate the products' smart home adoption and the ability of dealers to integrate these products, SmartThings has worked over the past few years to develop SDKs and APIs to support the company's manufacturer partners.
Elias continues by noting in turn, SmartThings has also focused on making its products user friendly too.
SmartThings Incorporates a choice of tools that both property owners and integrators can access for comprehensive information that provides system insight. These tools provide information that includes insight into energy consumption to enable homeowners to visualize home energy costs and ways the homeowners can use these tools to help them save money.
As the world transitions from COVID home quarantining and back to some level of normalcy Elias estimates that technology will play a major role in how people view their home lives going forward.
More news from Samsung SmartThings: Aladdin Connect Works with SmartThings
"With every technology it is really important to give purpose to it … we want to give purpose to IoT and wellness is very important, but what I find more important is energy, and energy as a key value proposition," he estimates.
"We're going to spend a lot of time and effort in creating propositions which make sense to our consumers, and when I talk about energy and talk about a key value proposition. For consumers, they also want to build a better tomorrow, and they want to be a part of a greener agenda so that's one element of the value proposition. The other one is they can also save money and time so we're going to spend a lot of time [developing those propositions]. Overall, we see awareness and energy management driving adoption of smart products."
Moreover, he also forecasts the future for SmartThings' partners is smart homes as a business because it is easier to upsell a home as a premium solution because it is smarter.
"I am very excited about the future and I again I think what is really important for a company like Samsung is that we give purpose to technology and make it meaningful to consumers' everyday life."