Integrators looking to start adding motorized shading to residential installs have another control option to choose from. Somfy has recently announced that its latest solution, TaHoma, is built to enhance smart home shading for integrators. According to the company, TaHoma provides a single platform for Radio Technology Somfy (RTS) by using technology that is open while enabling homeowners to control the amount of natural or artificial light entering the home from any smartphone or tablet.
Radio Technology Somfy is Somfy's exclusive control platform that the company says enables users to adjust motorized interior window coverings and motorized exterior products such as awnings, rolling shutters, pergolas, and screens from virtually anywhere. The solution integrates with other smart home technologies such as Control4, Crestron, CrestronHome, Brilliant, Savant, Elan, URC and RTI.
"TaHoma is a strategic expansion of our product line to provide customized experiences to our valuable customers," says Yilmaz Ozturan, president and CEO of Somfy North America. "As a result of market demand, our team has created a solution that responds directly to our end customers' needs for more comfortable and personalized living."
The smart home technology market is estimated to reach $53 billion by 2022, and TaHoma addresses this growing market by offering customers a solution that is compatible with smart home platforms such as Amazon Alexa, Google Assistant, Philips Hue, IFTTT and Samsung SmartThings.
"We are excited to bring this evolution in smart shading technology to our customers. By providing intuitive control of both natural and artificial lighting, and the ability to interoperate your smart home via leading consumer platforms, TaHoma allows us to offer tailored experiences to our customers," says Alexandre Keichinger, product marketing director for Connected Solutions at Somfy.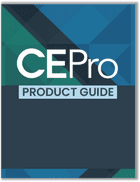 CE Pro's 2022 Product Guide showcases some of the latest and innovative solutions from manufacturers serving the custom electronics industry in a cross-section of categories.
Download the guide now!
Somfy will offer training and certification on TaHoma specification and programming to dealers, fabricators, and other companies exclusively through its Somfy MasterClass e-learning platform.