Over the last couple of years, SI has gone back to its roots by putting its commitment to the success of home systems integrators in the motorized shade and screen business at the heart of everything it does, manifesting in a slew of problem-solving new products.
"There is nothing more important to us at SI than the success of our dealer partners. Despite a rocky pandemic-ridden 2020, we never stopped listening to our integrators," says SI CEO Ryan Gustafson. "They are the reason we do what we do, and our top priority has always been to develop the types of projection screen and shade products they want. They tell us what we can do to improve, and their suggestions motivate and inspire us."
The intel that SI gathers from its integrator network guides the development of technologies, products, and systems that overcome common challenges in the field effectively and efficiently, while providing end-users with beautiful, convenient, and fun smart home environments.
Design-Friendly, Easy-Install Outdoor Shades
Take the company's latest shade offering, Zen 2, for example."Dealers wanted a designer outdoor shading solution that was easy to install," says Ryan. SI hit both those goals with this new offering. For one, Zen 2 is the first décor-minded motorized outdoor shading solution. It effortlessly transforms outdoor areas into comfortable, stylish living spaces, while seamlessly blending into the home design via a custom paintable, primed cassette option for a perfect color match. It also installs in half the time of other outdoor shading systems thanks to its unique snap-in tube, hidden bracket attachment, and hands-free installation process. Accommodating popular outdoor shading fabrics up to 25 feet wide and 16 feet tall, Zen 2 includes everything needed for a complete installation.
Affordable Power for Zigbee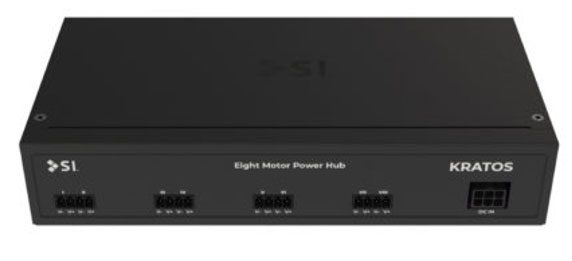 When Matt Uh, owner of Gulf Coast Shades & Blinds, out of Pensacola, approached Ryan about the need for an affordable power supply for Zigbee low-voltage shades and screens, SI immediately went to work, introducing Kratos just a few weeks later. Although dramatically less expensive than SI's flagship Janus power and control hub, Kratos sacrifices no build quality or operational performance. The durable steel chassis runs cool to the touch and is plenum-rated for in-wall, riser, and general plenum installations. Plus, each of Kratos's eight ports is protected against electrical shorts and miswiring. An ideal complement to SI's Zigbee 3.0 low-voltage motors, at a suggested retail price of $389, Kratos gives integrators a complete, turnkey low-voltage shading solution as an alternative to hardwired 485-based shading designs.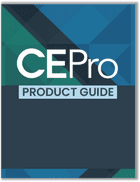 CE Pro's 2022 Product Guide showcases some of the latest and innovative solutions from manufacturers serving the custom electronics industry in a cross-section of categories.
Download the guide now!
"It's so refreshing to work with a manufacturer that's open to discussion and builds the types of products we need to do our job better. The entire team at SI really cares about our success, and, time and again, does whatever they can to help," says Uh.
Control for All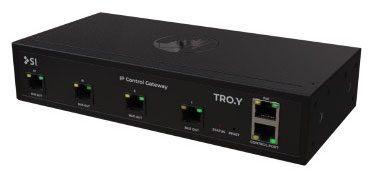 According to Ryan, "Dealers hate to be painted into a corner with control." That's why SI developed TRO.Y Gateway, which "opens all gates to all control systems. The TRO.Y IP Control Gateway enables integrators to program the movement of motorized shades and screens efficiently, simply, and affordably. A task that once took hours to accomplish on a dedicated windows PC, with multiple software applications for keypads, RF remotes, and motor configurations, now takes a few minutes from any standard web browser.
No More Huge Panels and Conduit for Multiple Shades/Screens
SI's new Janus Power and Control Hub also solves a very specific home technology integrator problem. In the past, integrators have had no choice but to mount huge panels or run conduit to deliver power and control multiple motorized screens or shades. SI's revolutionary Janus hub, however, can do the job at a fraction of the size of traditional panels, without the need for conduit. Janus is 75% smaller than its closest competitor, yet has the capacity to accommodate connections for as many as eight screens/shades and eight accessories, such as keypads.
It's this open line of communication with integrators that has helped SI move consistently up the ladder as a leader in the motorized shade and screen market. Recognized this year as a "Bullet Brand" in CE Pro's annual Brand Analysis Report, SI now commands second position in the motorized shade category and first in the motorized screen category.
Whether the integrator's wish involves design, installation, price, or beyond, SI is listening and is ready to engineer and design the ideal shade and screen solution. By catering to the specific needs of its integrators, SI provides them with meaningful products that make a real difference in their motorized shade and screen projects. To become part of the SI home technology integration family, visit www.screeninnovations.com/become-a-dealer/ today!