There's high-end… and then there is ultra-high-end. Shade manufacturer Hartmann & Forbes is a two-decade-old provider of hand-woven window coverings made from natural fibers and sustainable materials that definitely bring luxury to the window covering space.
Where else can an integrator find options like hand-stitched designs that mimic historical patterns, woven-to-size grass and papyrus weaves, or elegant shades made with obscure materials like arrow root, vetiver and ramie. Remarkably, the company even plants, grows and harvests all its own materials to construct the shade.
Indeed, Hartmann & Forbes' array of more than 500 different hand-crafted shade selections is not aimed at everyday projects, but is targeted for the top 5% of projects where integrator's clients want the ultimate aesthetic option.
"Our products don't have MSRPs because they are not sold to consumers at all," says Kristopher Grytten, automation specialist at Hartmann & Forbes. That also gives integrators pricing flexibility with their clients.
The Tualatin, Ore.-based company has primarily targeted the design community, but started targeting custom integrators about five or six years ago, according to Grytten. Today, the company has about 250 custom integration companies as regular clients.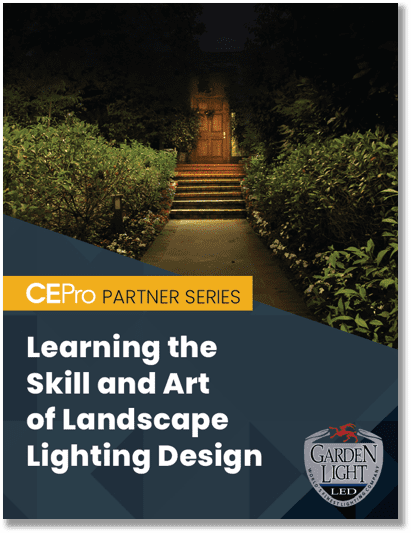 Experts recommend landscape lighting design as an entry point for integrators into the revenue opportunity of home lighting. Check out our new resource for tips and best practices. Download "
Learning the Skill and Art of Landscape Lighting Design
" today!.
Why Designers Like Hartmann & Forbes
It's pretty obvious as to why designers are attracted to the company's shades. Besides the high-quality materials, the hand-woven process allows the shades to be completely seamless up to a massive 180 inches wide. The shades are made-to-order.
"That's the longest width in the industry," claims Grytten. That means no more having to couple shade fabrics together to fill a large window or worrying about matching motor speeds on two adjacent shades. It also means fewer opportunities for light gaps between shades.
The company also makes standard materials used for darkening shades and other dual-shade applications. Dealers can order samples at no charge and the company offers a showcase kit for showrooms. Integrators also have access to Hartmann & Forbes' 23 design showrooms scattered across North America.
Hartmann & Forbes also has a designer rebate program that allows both integration companies and interior design firms to make an equitable amount on a project, no matter which trade was responsible for the referral.
Grytten describes other shade manufacturers' products as "functional," noting that in many cases they are made from plastic fibers.
"For 95% of dealers' projects, that is OK, but for our products, integrators can sell on weave and design," he adds.
At the upcoming CEDIA Expo Virtual Experience, Hartmann & Forbes will be presenting a training course on "The Business Side of Shades." The session will delve into the lucrative space of luxury shades how to work with designers and how to "go beyond just exposed roller shades," says Grytten. The course takes place Wednesday, September 15 at 6:30 p.m. EDT.