Servicing the local community, Fla.-based integrator AVLT Solutions recently ran into a trio of customers that had different needs that were all met with a single product: Screen Innovations' Zen Motorized Shades.
Outlining its customers' varying requirements, AVLT Solutions says the first problem was an awkward doorway that leads from a screened-in porch to a backyard barbeque grill. The second client issue was a 14-foot-tall glass door with intense afternoon sunshine, and the final customer problem was a hot, buggy backyard.
Summarizing the solutions it provided its clients, AVLT says that Screen Innovations (SI) Zen Motorized Shades were installed into the three homes.
Zen Motorized Shades Solution #1: 16-Foot Motorized Shading Creates a Convenient Pass-Through
According to SI and AVLT, recently in a Florida suburb, after AVLT swapped a section of a screened-in patio with a motorized shade, word of mouth highlighted the capabilities of the custom-installation business.
"The owner wanted a more seamless transition between the enclosure and the backyard—a way to get in and out without having to pull a door handle while carrying a tray of burgers for the grill, for example," explains AVLT owner and CEO Ryan Tallman.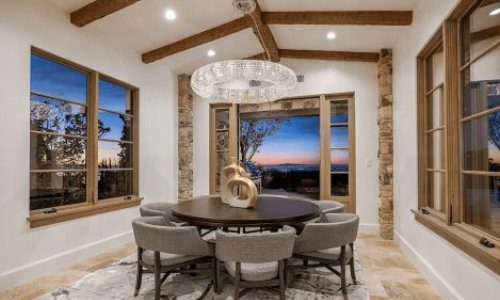 As a custom integrator, lighting is in demand. Effective communication, education and showcasing the value proposition of LED light fixtures in conjunction with integrative control systems are the keys to overcoming challenges and closing sales in this specialized market. Join us as we discuss the future of digital lighting and control with David Warfel from Light Can Help You and Patrick Laidlaw and Mark Moody from AiSPIRE.
Register Now! 
After an analysis of the existing structure, AVLT fabricated custom brackets to mount the Zen housing and established a few presets—up, down, and halfway—for the Zen motor to engage when signaled by a waterproof Somfy remote. AVLT specified a shade that's 16 feet wide and in a fabric that matches the existing screens of the enclosure.
"Zen allowed us to create a larger and hands-free doorway that still looks like a natural part of the screened-in porch and is just plain cool," notes Tallman.
"The customer loved it so much he told his neighborhood friends, some of which turned into customers."
Shade Solution #2: Custom Screen Door Blocks the Sun, but Lets in the Breeze
Proving how word of mouth had spread in the suburbs of Florida, "We had to do a lot of work to the framing of the enclosure, utilizing a wench to put the components in place, so people were naturally interested in what was going on down the street.," says Tallman.
After seeing the results of the clever custom shade install, a neighbor asked AVLT to see how a similar shading system could be added to the sun-soaked door at his front entryway.
"Glass panels on each side of the door were introducing an abundance of sunshine into the house, which the owner wanted to block on occasion," recalls Tallman.
To ensure that this unique Zen installation proceeded without a hitch and met HOA approval, AVLT sent a sketch of the doorway to the design team at SI. In a few days AVLT received from SI a zip track to mount to each side of the doorway and a Zen cassette with a roll of 14 vertical feet of designer fabric inside.
"We killed a lot of birds with one stone on this project," admits Tallman.
"A solution that looks and operates better and is sturdier than a conventional screen door, lets in a breeze, blocks the sun when necessary, and can be opened and closed to different presets from Control4 mobile app or keypad."
Solution #3: Motorized Shades Create Bug-Free, Air-Conditioned Outdoor Space
Tallman says that out of the three installations, the third project may have been the most conventional.
Designing a space that would repel insects from an outdoor living space was the objective, and the Zen Motorized Shades combined with SI's No-See-Ums fabric were able to handle the job for the homeowner's 25-by-15-foot lanai.
The integrator points out the owners typically leave the shades down and the sliding glass doors of the house open to allow air from the AC to cool their new enclosed outdoor area, but all it takes is a tap of a button on a Control4 mobile app or touch screen to create an open-air entertainment space or to open only one side to let the dog out.
"Zen allows the owners to enjoy their lanai comfortably year-round, giving them another space to entertain and add valuable square footage to their home," adds Tallman.
Click here to see more photos of some of AVLT's motorized shading installs!
If you enjoyed this article and want to receive more valuable industry content like this, click here to sign up for our digital newsletters!