With the goal of improving lifestyles for all ages, the recently updated Touch Pure and new Presence Sensor by Loxone are designed to provide automation and intuitive control for environments such as ​ambient assisted living​ ​(AAL) buildings.
Forming the basis of automation, the ​Presence Sensor​ detects motion, brightness and sound in order to trigger controls carried out by other components for lighting, audio, HVAC, security and more. Available in wired or wireless versions, Loxone says the device mounts to ceilings or walls.
Aesthetically, the ​Touch Pure​ is a simple control switch with a smooth glass surface. It contains clear, predefined Touch points that allows users to change lighting, shading, music and more with just a tap. Points can be uniquely defined to fit residents' needs, such as an Emergency Call Button so help can be reached. The product also contains a built-in orientation light as well as temperature and humidity sensors that constantly monitor room climate.
Loxone boasts there is no need to worry about switching off a light, remembering if a window is closed or even forgetting to turn off a stove. All of these functions can be viewed and managed from the Loxone App the company explains.
With a wide range of sensors and components that work together, the system can monitor for ​security​ measures such as a fall, water leak or any potential danger. For example, Presence Sensors can pick up on a change in routine if no presence is detected at a specific area and time, such as making coffee in the morning. So if a fall occurs before making coffee, an alarm will become activated. If the resident does not disarm it, the notification will immediately be sent to defined contacts to take further action.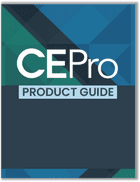 CE Pro's 2022 Product Guide showcases some of the latest and innovative solutions from manufacturers serving the custom electronics industry in a cross-section of categories.
Download the guide now!
Other scenarios the company describes in which the Presence Sensor can help include if a resident leaves the home, a triple-tap of the Touch Pure device can activate an "Away Mode" that turns the lights off, while turning off consumers' power, and activating alarms. If the Presence Sensor detects something unusual Loxone adds, a notification will be sent to the resident's and/or caregiver's smartphone. In case of an intruder, the home will begin flashing lights and blasting an alarm.
Loxone suggests this all-around functionality can create a sense of security in AAL facilities when a caregiver cannot be present.