Through the partnership, Allterco's flagship brand Shelly is launching a line of smart home automation products capable of controlling lighting, climate, shades/drapes, and more.
URC and Allterco Robotics have announced a collaborative partnership to integrate new smart home products under Allterco's flagship brand Shelly. The new line of integrated products will include Total Control, URC's residential and commercial automation platform, and Shelly's powerful WiFi-connected product lines.
According to the companies, this full integration includes major home and office automation areas like lighting, climate, energy management/electrical, shades/drapes and mechanical operation for elements like doors and windows.
The integration is based on MQTT, a standard messaging protocol for IoT, which will provided secure and stable communication between IoT system elements. The standard is designed as an extremely lightweight publishing/subscribe messaging transport that is ideal for connecting remote devices with a small code footprint and minimal network bandwidth. According to the companies, MQTT ensures that Total Control has no delay communicating with Shelly products, even battery-powered devices. In addition, users can easily understand the status of Shelly products, even battery-powered devices, through this technology.
"We are thrilled to partner with URC for full-line integration with Total Control! We are committed to working with the best in the industry to provide open, innovative, and secure solutions for the residential and commercial users. URC's commitment to quality and customer satisfaction is second to none," says Svetlin Todorov, CEO of Allterco Robotics US.
Combining the power of systems and devices creates and new age of smart home and office automation for URC's dealer community and end users. Key benefits include: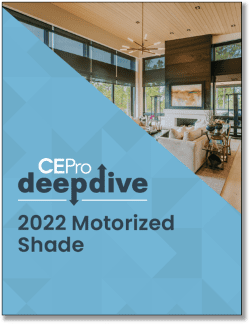 Motorized shading has become a staple of the custom integration industry with an expected 12.6% increase in business next year according to the recent CE Pro 2022 Motorized Shade Report. Motorized shades have proven to be a very lucrative addition to residential integration projects.
Download your copy today!
Simplified Automation Programming – Fast, easy programming using Shelly products and Total Control devices and operating system.
Multi-System Integrations – As part of URC's Unified Modules, automate multiple platforms such as lighting, climate, energy management/electrical, shades/drapes and more.
Create Robust Scenes – With professional programming, launch Scenes that create the perfect environment. Examples include a "Good Morning" or "Goodnight" Scenes that adjust climate, lighting, shades/drapes, energy monitoring and other connected home devices.
Voice/Hands-Free Control – URC's voice commands through Alexa or Google Home allow two-way communication with simple operation.
Control from Anywhere – Control a home or office from any room or, using geofencing, with URC controllers and mobile app
Energy Efficiency – Understand energy usage and ways to reduce costs.
"This full integration across the Shelly product line is a first in the industry and makes smart home or office automation faster and easier for our dealers and peace-of-mind for end users," says Lars Granoe, URC's vice president of product. "This partnership with Shelly includes current and future products and makes set-up and programming seamless."