GE Lighting has rebranded its existing C by GE products as CYNC. The Savant company will begin transitioning the C by GE brand to its new CYNC branding over the coming months, with all previous products fully supported by the new CYNC app. Several new CYNC products have also been announced to coincide with the rebranding, including smart plugs and smart switches.
The new CYNC is powered by the Savant app and is a platform that includes enhanced personalization and control of all past and present C by GE products, as well as present and future CYNC products. According to GE Lighting, the app creates a more user-friendly and customizable experience that enhances comfort, control, confidence and convenience.
It includes functionalities from Savant's Pro technology such as the patented TrueImage feature that gives consumers the ability to preview color and brightness changes using a photo of their room in the app. The app controls the entire CYNC network to create whole-home automation – inside and out.
The app is available for free and downloadable on the Apple Store and Google Play. It works with versions iOS 14 and up, or Android 8 and up.
New Products Under the CYNC Umbrella
Outdoor Smart Plug
The CYNC Outdoor Smart Plug allows consumers to independently control two outlets from the CYNC app or with your voice and Google Assistant or Amazon Alexa. The company says the product is perfect for easily managing holiday lights, pathway lights, pools and more from the comfort of inside the home. It also includes both Wi-Fi and Bluetooth and features a weatherproof design.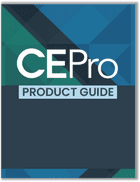 CE Pro's 2022 Product Guide showcases some of the latest and innovative solutions from manufacturers serving the custom electronics industry in a cross-section of categories.
Download the guide now!
The Outdoor Smart Plug carries an MSRP of $29.99.
Indoor Camera
The CYNC Indoor Smart Camera is a connected camera that offers a privacy shutter for peace of mind and a micro SD card port that allows consumers the option to save their data to the card, instead of the cloud, for enhanced data privacy and security. In addition, a subscription cloud service called Cam CYNC gives consumers access to data anywhere easily and costs $3/month or $30/year per camera.
The Indoor Smart Camera carries an MSRP of $69.99.
CYNC Fan Speed Smart Switch
During summer 2021, GE Lighting will also roll out its new CYNC Fan Speed Smart Switch to further expand its line of smart switches for every application in the home. The product allows for control of ceiling fans and provides the ability to control a fan from the CYNC app anywhere inside or outside the home, without the need for a hub. The CYNC Fan Speed Smart Switch can be scheduled to come on/off at specific times, features four fan speeds for dialed-in comfort, and can be grouped with other CYNC/C by GE devices for additional room control.