It might seem odd to start a review about a low-voltage LED lighting fixture with a look at the power supply, but that's exactly where you need to start when looking at the new REVI (Remote Voltage Illumination) line from Environmental Lights. The REVI fixture itself is nothing to overlook — it is also a feat of engineering designed to be easy to install and limit the amount of inventory CE pros need to carry — but the power supply is the workhorse of the entire system.
Indeed, the DMX-based power supply was the starting point for the complete system design, according to Greg Higgins, director of innovation at Environmental Lights. The 1U power supply is physically separate from the fixtures and instead it is rack mounted in the equipment room. Depending on the wire gauge used (either 16/2 gauge stranded and shielded cable, or even 18/2 or 18/4 gauge wire for tunable white LEDs), the power supply can be as far away as 200 feet from a fixture.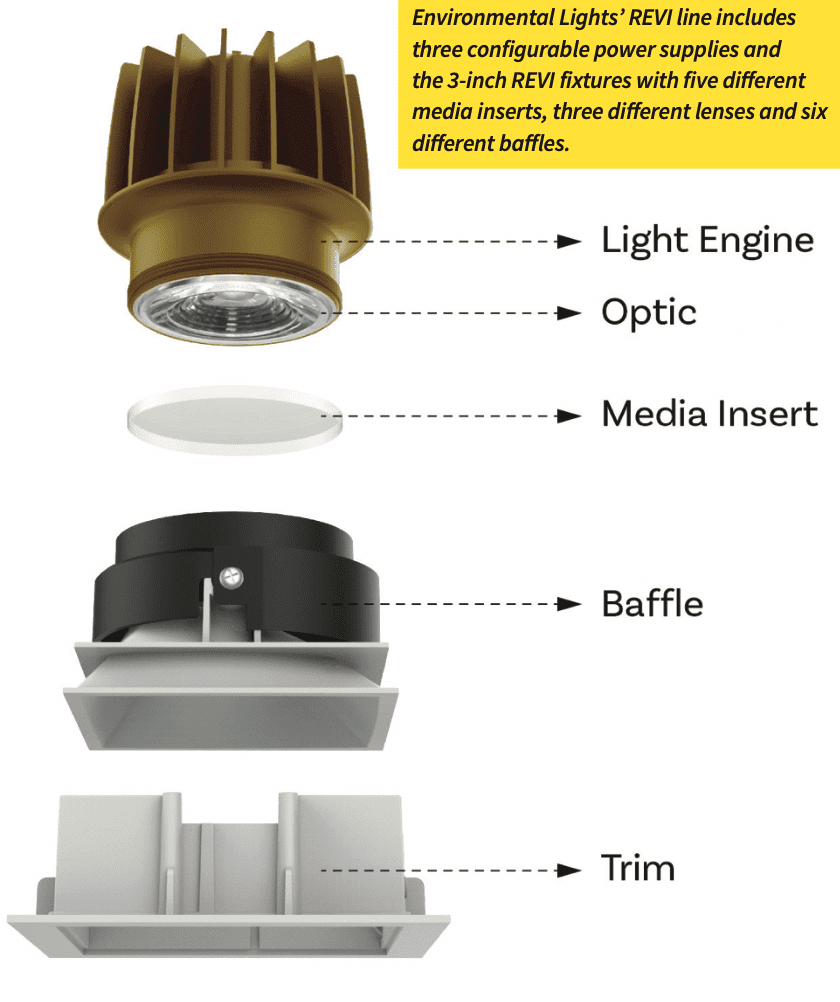 The company makes three versions of the REVI power supply: 4-channel and 12-channel units that output between 200 to 700 milliamps, and the 4-channel REVI XL version that outputs up to 2,100mA.
The flexibility of the power supply is quite prodigious in that integrators can configure the current drive at every single channel. That variability solves a frequent dilemma that integrators face when they order a power supply to specific specifications and then something changes on the jobsite requiring a different lighting configuration. With Environmental Lights REVI, instead of having to order a new power supply, CE pros can simply reconfigure the dim curves or other functions using either a remote device management (RDM) device or the REVI Configuration Key that simply plugs into the power supply and into a laptop via USB. Using the REVI configuration key, the drive current can even be altered 1mA at a time if necessary to match the illumination from various fixtures in a room.
Using the RDM device also allows the REVI system to communicate bidirectionally versus the standard one-way communication in the DMX protocol. That means at any given time the integrator can have access to information like the internal temperature of the power supply, whether a fixture is getting the proper amount of current, or how many amps are being run on any specific channel. That means, for example, a technician can have multiple 3-inch downlights powered on channels 1 through 4, and multiple sconces or pendant lamps from another manufacturer powered on that same power supply. Thus eliminating the need to order a separate 700 milliamp drive current, for example, for the sconces and pendants.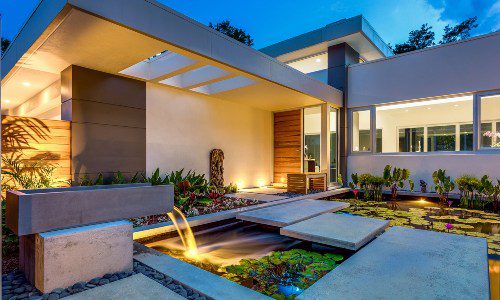 Landscape and architectural lighting create a magical and elegant ambiance for homeowners. The outdoor lighting industry has always been a phenomenal one and continues to grow in popularity. Now is the ideal time to learn more about this rapidly growing and highly profitable industry. Join our panel of esteemed lighting experts that will dive into why it's time for integrators to rethink their role in the outdoor lighting industry.
Register Now! 
The RDM remote capability also comes in handy for integrators looking to ink remote service agreements with clients and not wanting roll a truck for minor adjustments to the lighting. Another solid feature is that the power supplies can be interconnected, so a technician can simply plug into one unit on a project and adjust all of them from the same connection.
Among the other key features of the REVI line is that it is fully agnostic when it comes to controls. It can be controlled by any third-party smart home control system, including Control4, Crestron, Savant, Elan, RTI, URC and others. In terms of rack mounting the power supply, the larger RVI XL, which is designed for high-output fixtures and for commercial spaces like auditoriums, has two built-in silent fans to keep it cool.
That same level of engineering detail given to the power supply was also done for the fixtures. Higgins says the idea was to allow integrators to use the same light engine in multiple applications by giving them the ability to change out the lens, media insert, baffle or trim throughout the entire home. In all, there are five different media inserts, three different lenses and six different baffles, with more coming.
There two lines of REVI fixtures: the Architectural/Residential line and the REVI XL line, both of which can dim down to 1%. The Architectural/Residential line includes configurable 3-inch downlights that give dealers the ability to choose the shape of the trim (square or round) and the beam angles using various fixed or adjustable media inserts for wall-washes, honeycomb, and other effects.
The larger REVI XL fixtures come in four options: including RGB+ 4,000K, Tuneable White, and two monochrome options — 3,000K and 4,000K. The line also includes high-output pendants up to 10,000 lumens.
For integrators looking to "rev up" their LED lighting business, the new REVI line from Environmental Lights is a good starting point.
If you enjoyed this article and want to receive more valuable industry content like this, click here to sign up for our digital newsletters!