Crestron Electronics has announced its Crestron Home software will now integrate with lighting and shade control products from Lutron Electronics.
Through the newly formed partnership, Crestron Home will integrate seamlessly with Lutron RA2 Select, RadioRA 2, and HomeWorks with QS and QSX control systems.  
"Our top priority is to help our dealers deliver the best user experience in the industry to their clients, regardless of what brand of lighting controls and shades are installed," says John Clancy, vice president of residential at Crestron.
 "Crestron Home provides that experience. Because we recognize Crestron and Lutron products are used together so often, we were committed to working with Lutron to develop this special integration."
Crestron Home Helps Ease Deployment of Lighting Systems
Focusing on ease of deployment, Crestron Home will automatically detect Lutron hardware on the customer's network. Once added to the system, Lutron lighting and shading control products will integrate seamlessly with Crestron Home touch screens, iOS, and Android apps, making Crestron Home the only app users need to control all aspects of their home.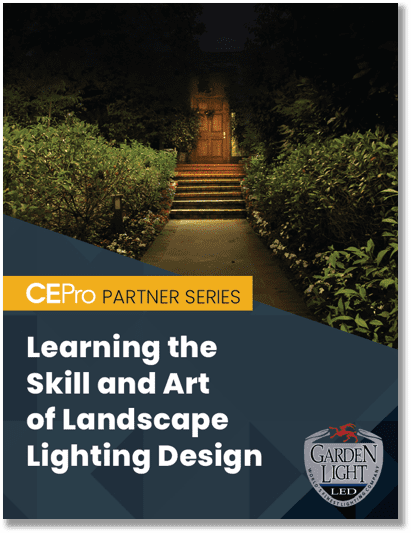 Experts recommend landscape lighting design as an entry point for integrators into the revenue opportunity of home lighting. Check out our new resource for tips and best practices. Download "
Learning the Skill and Art of Landscape Lighting Design
" today!.
Lutron lighting and shading scenes can be recalled in concert with other systems, such as climate, audio, or video to enhance the customer experience. For example, selecting a Movie scene from a Crestron Home touch screen can turn on the audio and video system while simultaneously triggering the Lutron Movie scene to close the blackout shades and dim the lights to the perfect level.  
"The new, seamless integration of Lutron lighting and shading control systems with Crestron Home is a great step forward for the industry and our mutual customers," says Michael Smith, vice president and general manager of residential U.S. Sales at Lutron.
"The integration of Lutron lighting and shading control products with Crestron Home control solutions will create new business opportunities for dealers and provide an enhanced experience for homeowners."