In yet another signal at how integrators are moving broadly into the lighting category, homebuilder D.R. Horton has inked a three-year exclusive contract with Deako to have its smart lighting installed in all its new homes. Integrator Safe Haven, ADT's largest Authorized Dealer in the U.S., will perform the installations.
D.R. Horton, the largest U.S. homebuilder by volume, and Deako have entered into an exclusive relationship to pre-wire all-new D.R. Horton homes with Deako's innovative plug-n-play lighting system. This new offering gives homeowners the flexibility to personalize their lighting in just seconds.
The three-year exclusive agreement brings Deako's lighting system and one Deako Smart Switch to all newly built D.R. Horton homes beginning February 1, 2021. Safe Haven, based in North Kansas City, Mo., is the integrator.
Deako's plug-n-play simple switches will be installed in every switch location in the home. Homeowners will be able to personalize their lighting – adding dimmers, motion sensor and timer switches, and smart switches at any location they choose. Deako works with D.R. Horton's Home is Connected platform, seamlessly integrating with currently included smart products to give homeowners smart home automation experiences.
Known as "America's Builder," D.R. Horton has built homes for more than 40 years. The company's brands include D.R. Horton, Express Homes, Freedom Homes, and Emerald Homes brands.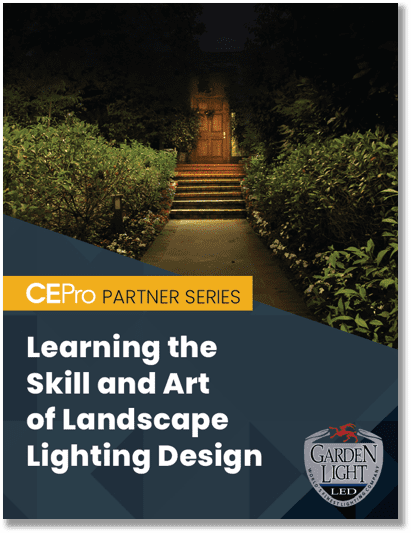 Experts recommend landscape lighting design as an entry point for integrators into the revenue opportunity of home lighting. Check out our new resource for tips and best practices. Download "
Learning the Skill and Art of Landscape Lighting Design
" today!.
"D.R. Horton is constantly innovating to better serve their customers. Their industry-leading 'Home is Connected' smart home program now takes it to the next level with the most flexible, powerful lighting platform available," said Wes Nicol, COO at Deako. "Deako is proud of its relationship with America's Builder to help delight their buyers and make their home lighting more personal."
"Lighting is such an important element of personalizing your home," says Brad Conlon, D.R. Horton's director of national accounts. "With Deako's innovative approach to plug-n-play switches, D.R. Horton homeowners will get to customize their lighting now and for the life of their home."
"This is a game-changer for the industry," says Josh Browne, COO at Safe Haven, D.R. Horton's exclusive Home Automation and Security Provider. "Deako's plug-n-play switches will enable our technicians to offer personalized smart lighting experiences to D.R. Horton home buyers during our scheduled white-glove visit. Secure perimeter smart lighting, convenience packages, and more smart home lighting automation experiences will be available and configured by our team."