The Z-Wave Alliance, the standards development organization dedicated to advancing the smart home and Z-Wave technology, has announced that LEXI, an IoT smart space platform developer, has officially joined the Z-Wave Alliance Board of Directors.
Ratified as a standards development organization (SDO), the Z-Wave Alliance actively recruits smart home and IoT leaders to join, direct, and contribute to the member-driven organization efforts to chart the course of the future of Z-Wave technology. The alliance points out that LEXI joins a growing roster of Z-Wave Alliance board of director member companies that currently includes ADT, Alarm.com, ASSA Abloy, Bluesalve Partners, LEEDARSON, Qolsys, Ring, Silicon Labs, and Vivint. 
"The future is open, interoperable, and flexible – and this is the vision and reality LEXI shepherds into the market and contributes to at a board-level and to workgroup conversations within the Z-Wave Alliance," states John E. Osborne II, COO, LEXI.
"Companies of any size with the right goals, roadmap, and passion can have a seat at these important industry tables. Working together to solve challenges, mutually benefit and draft off one another's experience and ideas, and evolve the IoT landscape for everyone involved is a mission we believe in whole-heartedly." 
Holding positions as vice chairman of the Z-Wave Alliance board of directors and chairman emeritus for the Connectivity Standards Alliance, Osborne recently joined LEXI as chief operating officer (COO). The organization has a deep roster of veteran IoT executives with a product portfolio poised to support the increasing momentum of collaboration taking place across the the custom electronics industry.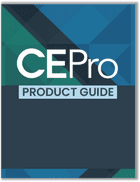 CE Pro's 2022 Product Guide showcases some of the latest and innovative solutions from manufacturers serving the custom electronics industry in a cross-section of categories.
Download the guide now!
"LEXI joining the Board of Directors with John as both their representative and newly appointed COO is a major win for the Z-Wave Alliance," adds Mitch Klein, Executive Director of the Z-Wave Alliance.
"LEXI and Z-Wave share in a critical goal for the smart home—interoperability—and we're thrilled to officially announce and welcome LEXI to the board under the insightful leadership of John, who has been a steward of smart home development for decades."
More news from Z-Wave Alliance: Z-Wave Alliance Introduces Why Z-Wave