Homeowners are looking for their smart home systems to do more than ever before, and Leviton Manufacturing is aiming to accommodate that need.
"Whether it's a new house or an existing house, single-family multi-family home, what we're really seeing out there is that they want a complete system," says Greg Rhoades, director of marketing at Leviton Manufacturing.
He says many consumers have automated individual outlets or even a light or two with DIY technology, which drives them to want more– whether that be automating and scheduling all their light switches or just controlling individual devices like a ceiling fan via voice control from Google, Alexa or Siri, or via a single user interface or app.
Leviton is taking that centralized app control one step further by integrating smart plugs and smart breakers, not just lighting controls so consumers can have an all-in-one system meshed together.
"We call it 'choice of voice,'" says Rhoades.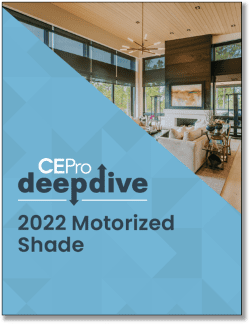 Motorized shading has become a staple of the custom integration industry with an expected 12.6% increase in business next year according to the recent CE Pro 2022 Motorized Shade Report. Motorized shades have proven to be a very lucrative addition to residential integration projects.
Download your copy today!
One other "choice" element that consumers are seeking is personalization, and one key element of that is color choice. Leviton has six different colors for its Decora line of switches with engraved buttons for consumers to peruse.
"Automated lighting is one of the most popular features of today's smart home experience and if your business focuses primarily on low voltage solutions, you may be missing out on a lucrative opportunity. Now's the time to think about intelligence inside and outside of the wallbox by incorporating smart lighting into every job," says Rhoades.
"The reality is that some customers may want smart lighting but prefer a less complicated, less expensive option, that still provides the luxury of automated control. There are three aspects to consider when incorporating smart lighting into a project: compatibility, customization, and expandability.
"It's important that smart lighting controls are compatible with other smart devices such as door locks and thermostats and that they can work with voice assistants such as Amazon Alexa, Hey Google and Apple Homekit/Siri. Each home's requirements will be different; therefore, lighting controls need to be customizable to meet each customer's needs.
"And lastly, think repeat business by specifying lighting systems that are expandable. A customer that today wants automated lighting only on their exterior lights may like automating lighting throughout their entire home in the future.
"Leviton's Decora Smart Wi-Fi lighting controls offer the benefits of a hub-less solution that meets all three criteria, allowing you to orchestrate custom solutions with dozens of devices including dimmers, switches, smart plugs, 4-Button Controllers, and new Anywhere Companions for wire-free multi-way applications.
"Now is the time to think inside and outside of the wallbox," he adds.