Getting out in front of the big news cycle that results from the annual Consumer Electronics Show (CES), Samsung has introduced several new smart-home friendly Bespoke products that includes its new Bespoke Refrigerator 4-Door Flex with Family Hub.
At CES 2023 the global electronics and appliance manufacturer explains that it now provides more refrigerator choices, as well as a new Bespoke AI Oven. Samsung points out that its goal with adding more products to its interior-design friendly Bespoke series of appliances is to provide homeowners an increased ability to personalize their smart home spaces.
"At CES 2023, we are continuing to build on the success of our Bespoke lineup with the introduction of new Bespoke refrigerators and built-in appliances that give consumers even more ways to express themselves in their kitchens," says Junhwa Lee, EVP and head of the customer experience team of the digital appliances business at Samsung Electronics.
"Our goal is to maximize the freedom customers have to pursue personalization and productivity in their kitchens, with new features enhanced with everything from large, responsive screens on our refrigerators to AI-powered cooking assistance. These latest features and products go beyond simply helping users in the kitchen and allow them to truly express themselves through the power of customization for more enjoyable experiences. Furthermore, with the latest kitchen innovations and customizable designs, these new appliances work seamlessly with SmartThings services to provide unmatched convenience and savings at home."
Bespoke Refrigerator 4-Door Flex with Family Hub Features 32-inch Screen
According to Samsung, its new Bespoke 4-Door Flex with Family Hub combines all-in-one communications capabilities with a plethora of home entertainment options.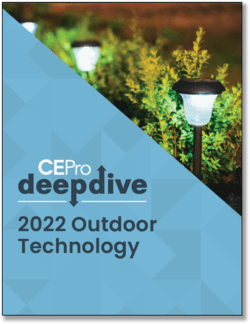 The 2023 CE Pro Outdoor Technology Deep Dive reveals unique set of impediments, including explaining pricing and interacting with outdoor-centric trades.
Get your copy now to take a "deep dive" into the trends and challenges of outdoor technology.
Download the report now!
At the heart of the new refrigerator's communication and entertainment capabilities is a 32-inch bezelless FHD (full high-definition display or a 1920 x 1080p resolution screen) that is said to be nearly twice as large as previous generations. The inclusion of the 32-inch screen is said to facilitate the integration of the refrigerator into company's SmartThings smart home ecosystem.
Supporting the Bespoke Refrigerator 4-Door Flex with Family Hub's home entertainment options is the Samsung TV Plus software that's included with the product. The software offers 190 streaming services, along with the ability to share and display photos, and it also provides picture-in-picture provisions.
Additionally, the company will launch a software update for its Family Hub platform to global markets that include the U.S., Korea, Europe and Latin America.
Some of the other new model Bespoke Refrigerators the company announced include a Side-by-Side model that offers homeowners a flat, minimalist design with a customizable front panels that are available in both glass and stainless-steel finishes. Samsung says that users also have the option to choose from a range of door colors and finishes to help the refrigerator blend into their home environments.
Another refrigerator choice Samsung is offering is its Bespoke Top-Mounted Freezer Refrigerator, which is available in a choice of colors that seamlessly blend with contemporary kitchen interiors. Inside, this model, the refrigerator incorporates Samsung's Optimal Fresh Zone+ and Active Fresh Filter keep food fresh for long while eliminating 99.99% of bacteria.
Further complementing today's modern smart home, Samsung's Bespoke Side-by-Side or Top-Mounted Freezer Refrigerator also offer energy savings through SmartThings Energy's AI Energy Mode. While enabled, AI Energy Mode will optimize the compressor speed and the frequency of the defrost cycle, based on users' usage patterns and surroundings to help reduce homeowners' carbon footprint.
Wrapping up the Samsung Bespoke product announcements, the company announced its new Bespoke AI Oven.
Samsung boasts that its AI Pro Cooking optimizes cooking settings while monitoring food. If the oven is set to cook a recognized dish using the cooking mode, temperature and time the oven recommends, it can help to simply the cooking process for homeowners. The AI Pro Cooking system will also send homeowners warning notifications to prevent food from burning to help to minimize the loss of food.
The new oven employs an internal camera and the oven's Sense Inside feature, which is an AI algorithm that has received appliance verification by UL Solutions.
Samsung adds the new oven is available in Europe and it will launch in the U.S. during the third quarter (Q3) of 2023.
More news from Samsung Bespoke: Samsung Offers Custom Bespoke Design Options
This article has been updated as of 01/17/23 to ensure the validity of information provided.