Over the past several years shade companies like Hunter Douglas have been telling dealers, homeowners … anyone that would listen about the benefits of shade and light controls.
Now through its recent AERC (Attachment Energy Ratings Council) rating for its Duette and Roller series of shade products, Hunter Douglas can now tell homeowners that not only do shades allow users to control the amount of light coming into their homes, but they can also help save on heating and cooling costs.
Wanting to prove that its AERC rating was legitimate, Hunter Douglas sent CE Pro an infrared thermometer and a shade sample to compare heat readings with and without the shade product.
AERC Ratings Means Cost Savings for Homeowners
Using research conducted by the Department of Energy (DOE), Hunter Douglas points out window coverings can account for 25% of a home's annual heating and cooling costs. Those numbers, according to the DOE's research, only go up in older homes as much as 40%.
Proving the validity of the DOE's statistics, I tried the Hunter Douglas test kit in the CE Pro offices.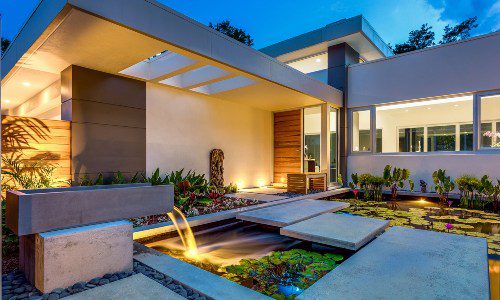 Landscape and architectural lighting create a magical and elegant ambiance for homeowners. The outdoor lighting industry has always been a phenomenal one and continues to grow in popularity. Now is the ideal time to learn more about this rapidly growing and highly profitable industry. Join our panel of esteemed lighting experts that will dive into why it's time for integrators to rethink their role in the outdoor lighting industry.
Register Now! 
Using our office's Wellness Room, I unboxed the infrared thermometer and shade sample on camera to see if there was a difference with the shade in front of the window.
In order to make the video as authentic as possible, I did not try this comparison off camera before running the comparison on camera. Looking at the sparse directions on how to use the infrared thermometer, all I had to do is press a button and wait for the reading.
A few moments after the reading is taken the thermometer will go back to "sleep" to allow users to take new readings.
What I found after taking the respective readings was that without the Hunter Douglas shade sample in front of the window the reading was 70 degrees. With the shade sample in front of the window that number rose to 75 degrees.
The video may not indicate this—I did not realize that when I showed the readings to the camera I was holding the thermometer upside down—but I was pleasantly surprised with the results.
Curious to see what kind of readings I would get at home, I performed the same measurements and got similar results.
One thing I'll add that could give integrators' clients some food for thought is the proposition or choice between new windows or new window coverings.
In my home we recently replaced a bunch of windows with products from Renewal by Anderson. I found the shade sample delivered similar results in my home as the newly replaced windows (we still have a few of the home's original windows).
Could the Hunter Douglas shade products represent a lower energy-savings investment than replacement windows? Ideally, a homeowner should want new windows and window coverings, but it's an interesting proposition to suggest window coverings if the cost savings between replacement windows and window covers is enough to make the choice a "no brainer" type of decision.
The best thing that Hunter Douglas could do now that it has an AERC rating is to give integrators the same sample kit I received and let them show their clients the difference its shade products can make within a home.
If you enjoyed this article and want to receive more valuable industry content like this, click here to sign up for our digital newsletters!