Integrators Boost Revenue, Efficiency Using Crestron Home
Three veteran integrators found moving from traditional Crestron systems to Crestron Home OS 3 to be a breeze and significantly improved the simplicity of running their businesses.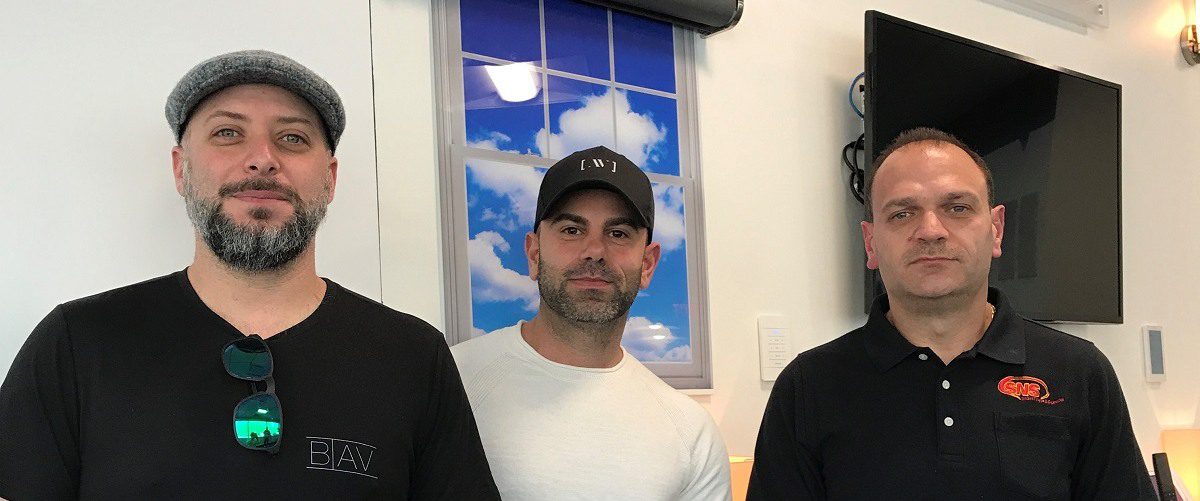 For three custom integration firms, the rollout of Crestron Home last fall has been nothing short of a godsend. The three leading custom integrators — Joe Calise, owner of Sights-N-Sounds in Seaford, N.Y., Mosey Levy, owner of BackstageAV in Brooklyn, and Todd Anthony Puma, owner of The Source Home Theater in Old Bridge Township, N.J. — sat down with CE Pro to discuss their experience in migrating from traditional Crestron systems to the new Crestron Home OS 3, which officially debuted on Sept. 2, 2019.
As principals of their companies, which each range from five to eight employees, Calise, Levy and Puma confront the same challenges that most custom integration firm owners face daily. Primarily, there are simply not enough hours in the workday for them to do everything, including handle sales responsibility, client interaction, project management, system design and programming. Thus, anything that can help them ease any part of that burden is a welcome relief.
Crestron Home OS 3 is providing that relief. For each of them, it has been nothing short of a blessing for each of them, they tell CE Pro in a series of videos. The changes in their business from the new control platform have been remarkable in multiple aspects of the business. The trio reviewed several benefits they have garnered.
Reduced Programming Time
Levy says certain projects that would have taken him two weeks to program in the past, can now be done in just one day… that's a 90% time savings.
"A few years ago I rolled out a system with Crestron DM. I was in the client's house for almost two weeks getting everything dialed in," says Levy. "And recently, we upgraded them to Crestron Home. We pulled out their old processor, put in a new processor, and I finished the entire system. I reprogrammed it from scratch, in one day. So, from two weeks to one day, nothing to dial in. It just worked."
Puma says faster programming time also means higher client satisfaction.
"I remember the days just sitting there getting frustrated, waiting for the programmer just to load a simple AppleTV code. That we would sit there for about three or four hours. You could never predict how many hours are going to be utilized in a day and how much loss there would be on our end because the programmer is sitting behind a computer at his own home while we are on the customer's site waiting for it to be loaded. So for me, my frustration levels have decreased with Crestron Home."
Also, Puma says when a customer sees a system being deployed quickly, it gives them more confidence in the integration company, which ultimately makes them more excited and more willing to invest in the system.
"I would never take on new jobs before the holidays, because I wouldn't want the customer to live through the bugs. If it happens, it's frustrating and it's disappointing for me and I don't want to hand over the customer that kind of experience.
"We had multiple projects this year in December that we closed out within days. Large projects that in the past would have taken us until February to finish, just for programming, setup, and compiling. I got in, out, and got paid. The customers are extremely happy, which means stories are being told and referrals are coming in."
Fewer Service Calls
Service calls that require truck rolls have been greatly reduced using Crestron Home, according to the integrators. "Truck rolls? Oh, the things we used to have," Puma says jokingly. "Truck rolls don't really happen anymore." He adds that, of course, there are still going to be instances where he needs to go onsite.
"It's technology… things happen. We are dealing with a lot of third-party providers. But that's where customer service comes in. It also helps us to upsell more product. So I never want [truck rolls] to go away. I just want the customer's expectations in their experience to go up, which has happened because service contracts are selling more, now we're actually able to pitch them at a lower rate than we ever have before, which is great," he adds.
Expansion in Revenue
Due to the ability to take on larger projects and add devices more seamlessly using the platform, revenues are up. Puma and Calise note that in the past, they might have been hesitant to add on a unique device, like a 2N access control door station, Jandy pool control or BACnet-based HVAC system. With the ease of programming and interoperability with Crestron Home, they say they are adding devices like that to jobs now, resulting in higher revenues per project.
"Numbers never lie. Crestron Home came out in October. From October to December, we increased 13% in our sales. That's not counting our labor and our programming," says Puma "If we calculate it, we're talking about a 48% increase for the whole year of 2020. 2020 is projected to be our most successful year, only because we have Crestron Home."
Higher Client Satisfaction
When the job goes faster, you are on site less time, which is what the client wants.
"They love us, but they don't want us to live with us," quips Puma.
"That's absolutely true," agrees Levy. "I think the clients get sick of seeing you for a few weeks, that you're living in their home to get the system up and running."
The speed of the project gives clients more confidence in their integrator. Puma says the perception from the client for a slow installation is one of doubt and fear.
"They think, 'Maybe I didn't hire the right guy. Why is this taking him so long?' Because in their mind it's not that complicated," says Puma. When he can do an installation faster, it boosts the client's confidence.
"It's just in and out. You look better," he adds.
Calise says the byproduct of that faster installation is that clients will inherently want to add more subsystems to their home.
"It makes them want to do more things," he notes. For example, if Sights-N-Sounds can add an Apple TV easily, then perhaps the client will add more televisions, a media server, motorized shades or even multiroom audio because they see it can be done quickly.
Improved Employee Morale
Calise says Crestron Home has allowed him to let some of his installers do the programming versus him having to always do it. That greater responsibility gives his technicians more confidence in their own abilities, which boost morale.
"My crew has been with me a long time. They're very loyal. They've always watched me do the programming. As we evolved into Crestron Pyng, and then in the Crestron Home, it has given my installers the ability to do the programming. They've learned it, they know it, they could roll out an entire system now. "
He continues, "Now I can concentrate on other things within the business and my installers would be installers and programmers. It allows a company of my size to have more serviceability to our clients. The technicians love it. I gave it to them so they could experience it in their homes, and the more they play with it, the more it makes them want to do more programming for the clients. Clients get excited, and the technicians are excited… everybody's happy."
Improved User Experience
Crestron Home also brings a uniform user interface to every project. Since adopting Crestron Home OS 3 as his go-to solution, Calise has standardized his touchpanel design for every customer.
"I developed my own touchpanels and I had a pretty good layout, but there was always something that was a little different within each system. So if you're troubleshooting with a customer, you've got to remember what the page looks like, what buttons they had, what they didn't have, etc.
"The uniformity of Crestron Home is one of the biggest powers of it, because it's just what people expect. When you walk up to an ATM, you don't need instructions on how to use it. That's the same thing with the Crestron panel. It's very self-explanatory. The interface is easy to use."
Why Switch to Crestron Home?
In conclusion, the trio of integrators recommend other dealers look closely at Crestron Home, which has also allowed them to maintain high margins.
"Crestron Home has definitely changed the game for me," says Levy. "Previous to Crestron Home, I would be doing all the programming. Now I own my own company, I do the project management, and the design, and sales, and the programming. So any programming that'd have to do with take away from other aspects of what I could be doing. It would be days of programming, compared to now, just hours of programming.
"So, obviously, the time saved is tremendous. It allows me to do other things. But beyond that, there's a fit and finish to Crestron Home that is unavailable anywhere else right now. And our clients are really appreciating that. The iOS apps are amazing and the clients realize that, compared to the previous ping app, or other apps that they're using. It's much more modern and we're deploying it faster than ever."
He continues, "From the moment that we saw what Crestron Home was going to look like, we started designing our systems with that in mind. And since we've seen that, we have deployed nothing but Crestron Home-based systems. It's not too hard to design a system for Crestron Home. I barely changed 5% of my design that it would have been otherwise. So for us, we're in that sweet spot where it's fitting all of our systems."
"I don't think there is a box with Crestron Home," says Puma. "I know there are limitations, but only to the person who doesn't know it. So for myself, I've been offering Crestron Home to all my customers. Customers want simplistic. Customers want easy to use. Customers want things just to work. Customers don't know about all the additional features like press and holds, tap, triple taps, etc. More things for them to do is more for them to remember, and it's something that builds an experience, it's more complex.
"At this point, Crestron Home is everything they asked for. They want something that works quickly. They want to press a button and have it to do what it's supposed to do. When there's a problem, they want it fixed. And when there's a problem, I'm can sit in my bed and make a change and have it done instantaneously, within seconds. So my quality of life is better now with this product. So for myself, if it's better, then it's definitely better for the customer experience."
Calise notes that every system he deploys at this point is Crestron Home.
"If we need to go outside the Crestron Home scope, we can, but we haven't really needed to. It basically does everything that everybody's looking to do."