The newly introduced Crestron 70 Series control interfaces ushers in a new era of user interfaces for the decades-old company.
Crestron states that its latest line of touch panels are available in a choice of wall mount and tabletop models, and the products are available in a choice of screen sizes.
"In today's world, with more and more people spending the majority of their time at home, we've seen an increase in demand for the most advanced type of technology control possible," notes John Clancy, vice president of residential at Crestron.
"Crestron's 70 Series Touch Screens were purposely designed with the homeowner in mind in order to deliver unparalleled performance for home control with a sleek, new aesthetic."
Crestron 70 Series Represent a State-of-the-Art Line of Interfaces
Crestron points out that its new touch panels incorporate a number of features such as Wi-Fi network capabilities, and the products can be used for custom programmed systems and Crestron Home projects.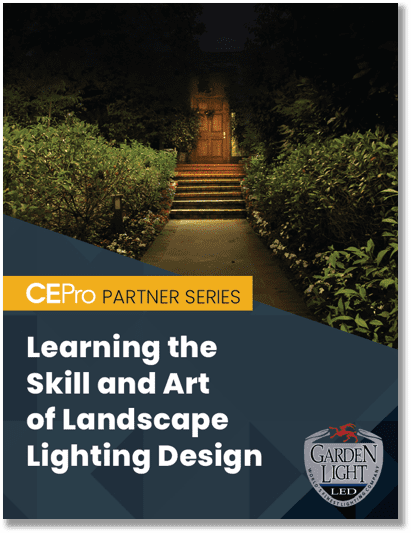 Experts recommend landscape lighting design as an entry point for integrators into the revenue opportunity of home lighting. Check out our new resource for tips and best practices. Download "
Learning the Skill and Art of Landscape Lighting Design
" today!.
According to the N.J.-based manufacturer, integrators can place the tabletop models in locations such as kitchen countertops, coffee tables, night stands or anywhere that convenient system access is needed.
Crestron emphasizes that new features such as integrated proximity sensors will automatically wake up the touch panels when some walks near the products without physically making contact.
Other features the Crestron 70 Series offers include:
The interfaces support legacy and HTML5 custom projects
Crestron 70 Series touch panels provide increased screen resolution and faster internal processing
Integrators will see the new interfaces seamlessly transfer projects from 60 Series products
The 70 Series of touch panels run the new Sonos S2 app for deeper integration into the Sonos ecosystem
Crestron 70 Series wall-mount models are available in 5-, 7- and 10-inch screen sizes. The tabletop models are available in a choice of 7- and 10-inch models
Crestron adds the interfaces will begin shipping on Oct. 31