Smart home technology continues to slim down and get packed into smaller and smaller form factors. Case in point: the new Atom, debuting from Ezlo Innovation and living up to its name in stature.
Roughly the size of USB-type streaming "sticks" from the likes of Roku and Amazon, the Atom is the newest addition to Ezlo's Vera line of products. The brand and device will be showcased at CEDIA Expo 2019 in Denver, Colo., as part of Ezlo's exhibit (booth #1743) as part of the Z-Wave Pavilion in the Colorado Convention Center.
The Atom, which runs just $29.95, represents the next generation of Vera home controllers and it is also the first product released since Ezlo Innovation acquired the company last year.
"We're pretty excited to share what we've got with our audience and customers and dealers," says Roger Gregory, VP of product management, Ezlo Innovation.
Compatible with Many Devices, Available as Bundled Solution Too
"One of the challenges of home automation is that the market is very fragmented, the technology's too complicated, end users are too confused … so one of the things that we wanted to do is how can we get a solution that is not only cost-effective but really super-simple to use," Gregory says.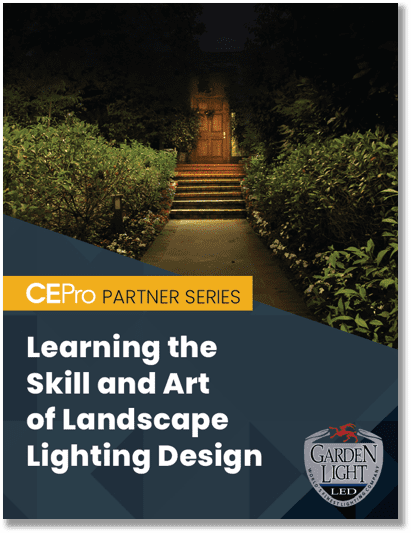 Experts recommend landscape lighting design as an entry point for integrators into the revenue opportunity of home lighting. Check out our new resource for tips and best practices. Download "
Learning the Skill and Art of Landscape Lighting Design
" today!.
"So we're going to introduce the Ezlo Atom; it's a very small device but it has full hub capability, comes along with an app and it really gets you started on home automation in a really simple and intuitive way."
As noted, the Atom supports Z-Wave and Wi-Fi and is compatible with a broad range of different kinds of devices, Gregory says, "but the team that I've been working with have curated a set of solutions so that you can pick a package if you like, or a bundle, and get started really simply and quickly."
He adds that the company offers full back-end support and help to ensure a customer's first home automation experience is truly seamless. That includes control via the Atom of smart-home devices such as lights, door locks, sensors, switches and more, according to the company.
"If you're a dealer and you truly want to find that solution that's accessible for everybody, Ezlo Atom is the device for you," Gregory enthuses.
"It's small, it's powerful … if you want to be able to bundle this as a solution, if you want to be able to sell it and offer a set of services around it, that device is the key device for you to make big headway in home automation."
Ezlo, with headquarters in Clifton, N.J., and offices in Ukraine, Romania and Colombia, has been squarely focused on the smart-home market, bolstering its stable of products with other recent acquisitions of Centralite Systems, Fortrezz and Vera maker MiOS.
"We want to broaden the consumer base for home automation," adds Mark Samuel, CEO of Ezlo Innovation.
"The Atom delivers total home control in a form factor that everyone is familiar with, which makes it more approachable than the traditional hubs that are literal black boxes. And at just $29.95 — less than half the cost of most other solutions on the market — it will open the idea of home automation to many who may not have previously considered it."
Along with its launch for the residential-focused CEDIA Expo, Ezlo notes the Atom is an ideal IoT gateway for businesses. The device runs on Ezlo's MiOS cloud platform, which employs a distributed architecture of auto-scaled microservices for greater speed, performance, and scale.
Leveraging Ezlo's hardware, cloud, and software-based services, businesses can reduce their time to market and quickly evolve their business for a more connected future, the company says.