The ASSA ABLOY Group has acquired 100% of the shares in Bird Home Automation GmbH, the makers of the popular DoorBird video doorbell. The aim is to further expand and scale the business in the coming years in view of changing market requirements. Terms were not disclosed.
ASSA ABLOY already has a dominant position in the smart lock space, with its Yale, Kwikset, Baldwin and August brands holding four of the top five market share spots in the 2022 CE Pro Brand Analysis. DoorBird is the No. 3 most-used brand of video doorbells in the study, with 36% of CE Pro 100 companies using it. Only Amazon Ring and Snap One/Control4's Chime video doorbells are more used.
Sascha Keller, CEO of Bird Home Automation, comments, "Having founded DoorBird in 2014 and continuously developed it since then, we have had an incredible journey and built a very successful business. To continue to grow and scale the company, we concluded that it was time to find a new owner to take the company forward and help it thrive in the years to come. ASSA ABLOY emerged as the best candidate to acquire DoorBird. They bring a wealth of technology, resources and capabilities to support the continued success of our business."
"I look forward to welcoming DoorBird and their employees into the ASSA ABLOY Group. DoorBird is a strategic technological addition to the ASSA ABLOY Group and will reinforce our offering with IP door intercom and provide complementary growth opportunities, " says Nico Delvaux, President and CEO of ASSA ABLOY.
ASSA ABLOY has the size and scale to further invest in the relevant market sector and further expand the DoorBird brand as part of its smart home and access control offering.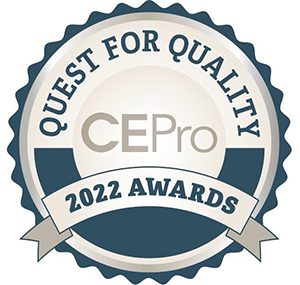 CE Pro urges integrators to recognize their suppliers that go above and beyond to deliver premium support and service. Cast your vote today to recognize the services (not the products) from your favorite manufacturers and distributors.
Cast your vote today!
Bird Home Automation develops and manufactures high-quality IP-based video door intercoms, access control devices, indoor stations, and accessories under the trademark "DoorBird." The company's headquarters and production plant are in Berlin, Germany, with a sales office in San Francisco and Jacksonville (FL).
Being part of the ASSA ABLOY Group offers both companies the opportunity to better serve their customers and develop new opportunities for the future through the complementary capabilities of both companies.