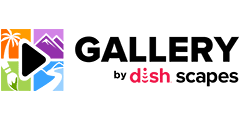 The new Gallery by DISH scapes Premium Add-on Pack launched this month and features over 100 different scenic nature videos and explores places you've always dreamed of visiting, from beaches and mountains to waterfalls from around the world. With many of us at home during this trying time, we could all use a little more peace in our lives. As consumers continue to prioritize well-being and as the home wellness trend continues to grow, Gallery by DISH Scapes is a welcome addition to any home. Gallery by DISH Scapes breaks through the noise of traditional TV and is available on channel 198 for just $5 per month, with new content added monthly!
To add Gallery to your client's account, contact the DISH CI Concierge Team at 844-806-6886 or customintegration@dish.com.
To learn more about DISH scapes, go here.