4K On DISH – December Content
New 4K titles are available in the DISH OnDemand library on channel 300, complimenting live 4K content on channel 540! On top of that, there are hundreds of 4K and 4K HDR titles available through the integrated Amazon Prime Video and Netflix Apps on Hopper 3! Remember, you can find Amazon...
DON'T MISS A STORY Want
FREE

Unlimited Access Every Day?
Create your free account:
---
By registering to become part of the CEPro community of readers, you gain FREE access to all of our articles and help our editors customize your experience. By giving us your email you understand that you may receive commercial email communications from CEPro (Emerald X, LLC).
---
Already
Signed Up?
CE PRO'S FEATURED TOPIC:

CEDIA
FEATURED RESOURCE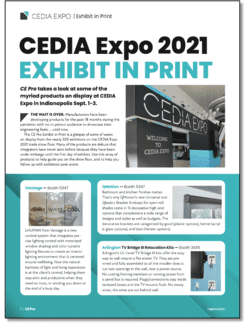 CEDIA Expo 2021 Exhibit-in-Print
We have information on new products that were under embargo heading into CEDIA Expo 2021!

VISIT THE CE PRO HUB PAGES

CE PRO'S CONNECTED BRANDS