Breaking into the AV and systems integration industry is no easy task, with tons to learn about multiple disciplines. For Millennium Systems Design, of Orlando, Fla., using system design specialist Modus VR not only facilitates project proposals via its VR software, but has helped team members quickly get up to speed on AV and design.
Millennium, an Azione Unlimited group member, brought on board technician Austin Crouthamel, who received a crash course in what his job would entail on the first project president Mike Barry assigned to him – a golf simulator room.
Not the traditional home theater-type setup that Crouthamel was familiar with, he leaned on the Modus VR system to help him visualize the room, his objectives and the various components needed, Barry explains. The project would employ virtual reality to turn an open canvas into a real virtual golf course, so to speak – a simulation room to practice swings and maximize entertainment.
"We've mastered the Modus VR software for designing and presenting our clients a realistic visual representation of home theaters, but golf simulation rooms are more challenging, given their size and scope," Barry notes.
"It's difficult to envision how they can fit into a home without completely overtaking the space … until you put on the Modus VR headset."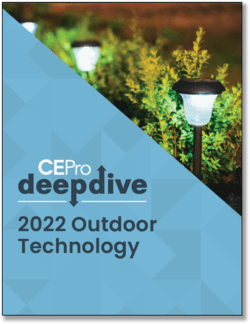 The 2023 CE Pro Outdoor Technology Deep Dive reveals unique set of impediments, including explaining pricing and interacting with outdoor-centric trades.
Get your copy now to take a "deep dive" into the trends and challenges of outdoor technology.
Download the report now!
360-Degree, Real-Time Designs Impress Customer
The new Millennium installer hit a hole in one his first time out. Using Modus VR, completely from scratch, Crouthamel built the floor, added ventilation, hung a projector and screen — showing everything to scale so the owners could fully embrace just how exciting, dynamic, and engaging their new space would be, without infringing on nearby rooms.
"He was able to show the clients in a 360-degree view and in real-time what their entire space would be like. Also, he showed them how to walk outside the simulation room to the media room, family room, and kitchen, to help make the new addition feel like a natural extension of their home," Barry says.
"The client had a total 'a-ha!' moment, which helped us sell the entire project, and more quickly than we ever could have done by producing traditional 2D or 3D renderings."
This is a huge benefit that's boosted Millennium's bottom line not only by converting leads into sales in minutes but by streamlining workflow significantly. Before investing in Modus VR, Millennium often hired outside architects to create 3D renderings of projects — at $3,500 apiece.
Not only was it a costly endeavor but one that hindered collaboration between Millennium and its clients in real-time, Barry explains.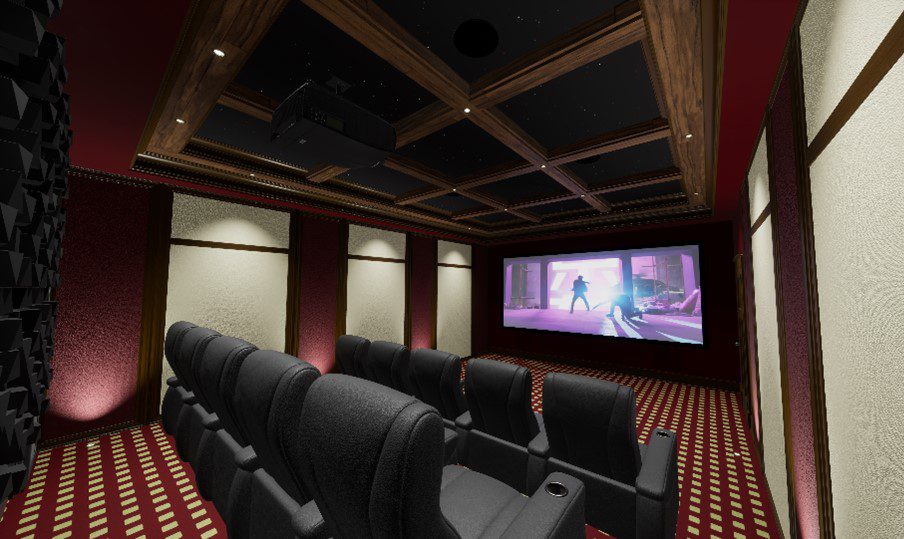 "Our customers would look over the renderings, try to visualize the solutions in their own homes, and usually came back with many questions, clarifications and modifications that added to the time and total project cost for either updates or a totally new set of revised drawings. And, because it wasn't done in real time in the actual space, client's never 'saw' their room until the actual installation. By that time, questions and changes are too late or even more costly," he says.
"I figured by the end of the first year, we'd be able to cover any costs associated with the Modus VR technology and software. I was wrong. We made the money back in two months – it's the single best investment I've made all year."
Millennium System Design Trade Partners Appreciate Swiftness of VR Platform
He notes that Modus VR's virtual reality, Modus Photo or Modus 360 presentations have resonated well with builders, architects and designers, generating additional buzz and business for Millennium.
"When we can show our trade partners what certain rooms look like before they're constructed, it's a win-win for everyone," Barry relates. "We had a builder recently ask us to design a project for a customer who asked for our firm. Without telling him, Austin designed the entire space. When he came in and saw it in Modus VR, he dropped his mouth wide open and said verbatim that this was the best sales tool he had have ever seen."
As for Crouthamel, leveraging the software continues to help him push design boundaries for Millennium customers.
"I love getting very creative with it and then showing a real room or area to people with all the products in it — even artwork. It's exciting work, being able to transform concepts into actual rooms with the tech, furniture and other elements."