iPoint Email and Lead Tracking Tools Now Available
Newly announced iPoint email and job lead tools support dealers' ability to communicate and generate new business opportunities.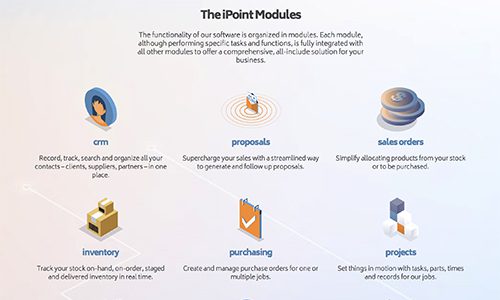 Making new enhancements to its business management platform, the new iPoint Email module and lead tracking tools help integrators communicate with clients and generate new business.
iPoint explains that its Email Marketing tool allows users to send personalized email marketing messages to clients using data that's been collected by iPoint.
According to the company, integrators using the iPoint Email Module can set up multiple email lists, and they can use the module to create email templates and messages. Dealers can configure their marketing messages using the module's automated options to send emails based on specific triggers.
iPoint also emphasizes the entire email creation process is easy through the module's drag-and-drop features.
Other features bundled into the email module include bulk email options that help integrators save time when creating customized marketing messages. These messages can include topics that range from welcome notes and monthly newsletters to promotional sales.
Once the emails are sent, iPoint will track and calculate metrics to provide information on the success rate of integrators' email campaigns.
iPoint Deals Feature Enables Job Tracking
Helping integrators to organize important information related to prospective customers, iPoint's "Deals" feature provides a means to gather and track data before converting deals into jobs.
iPoint states that when a new lead comes in the tool creates a new "Deal."
Users then gather information from the client such as contact information, estimated budget and potential closing date.
The tool facilitates the ability to setup pipeline processes with statuses, including assigning the deal to specific salespeople, client contact, scheduling site visits; creating and revising proposals and winning or losing a deal.
iPoint's software provides professional integrators with an easy way to see where leads are coming from, and through this ability, integrators can adjust their marketing efforts based on where these leads are coming from.
Another key part of the "Deals" tool is its Deal Dashboard that lets dealers view and track user goals.
Other features include a pipeline report that allows managers to see potential revenue that exists in each of the customized deal statuses before proposals are approved and converted into a sales order.