3 Key Trends to Turn Clicks into Clients
Get digital marketing insights and trends from Netsertive's network of hundreds of AV integrators.
Content from our Sponsor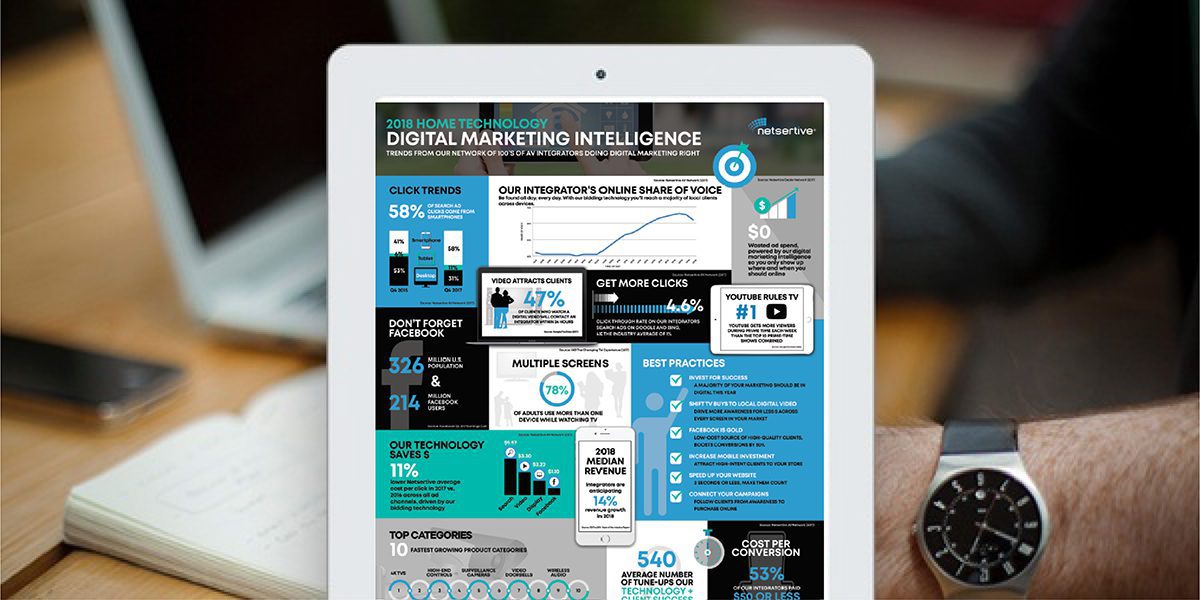 You can't do it alone. Marketing trends for the home technology industry are moving too quickly. Netsertive has analyzed and compiled data from hundreds of marketing campaigns that we've deployed for our brand partners and local integrators. Here are the top 3 key insights from the 2018 Home Technology Digital Marketing Intelligence Report.
Video Attracts Clients
47% of clients who watch digital video will contact an integrator within 24 hours. Is digital video apart of your current strategy? If it isn't, it should be. By 2019, video content will be the driving factor behind 85% of search traffic in the US. According to HubSpot 81% of businesses are using video as a marketing tool in 2018 — an 18% increase year over year. Today's consumers watch videos for just about everything from cooking, sports highlights and product comparisons. In fact, more than 72,000 YouTube videos are watched every second.
Video advertising is crucial for an integrators marketing strategy from here on out. Now is the perfect time to experiment with video to see what your clients engage with.
Digital is King
87% of clients use search engines and websites during their path to installation. Pull out your phone right now and do a few searches for your top brands and services. Is your business showing up at the top of the search results or are your competitors? If you're not visible here, you're giving away clients to your competition. Why? Because 85% of installation ready clients will click one of these top 3 ads when they're ready to schedule a consultation.
You Have 3 Seconds to Make a Good Impression
Plain and simple, your online presence has to function perfectly on all devices or customers will find another site that better meets their needs. In fact, a recent Google study revealed that 53% of people will abandon a mobile site if it takes more than three seconds to load. So, it's imperative to have a mobile optimized website that not only looks great but loads quickly on all devices. Check your site speed with the free Google Speed Test.
Get more digital marketing best practices to help you turn more clicks into clients in 2018 and download the full report.