As lighting fixtures have quickly become the hottest new product category for integrators in their mission to "own the ceiling," there is one other often-forgotten lighting fixture that can also be part of the solution: smart ceiling fans with incorporated lighting fixtures. There are about 12 million ceiling fans sold every year in the United States — many of them that double as both a fan and a lighting fixture — and smart home control manufacturer Olibra thinks the time is right for integrators to become big "fans" of the smart ceiling fan market.
The company conducted its annual survey analyzing the desired features of more than 100,000 ceiling fan users of all major brands that are using the company's Bond IoT platform for connectivity. According to the survey results, convenience and voice control are the two leading reasons for users to add smart ceiling fans to their home. Other important elements consumers desire in their ceiling fans/lighting fixtures are human-centric lighting control, Wi-Fi connectivity, and energy management feedback.
Broad Array of Smart Ceiling Fan Brands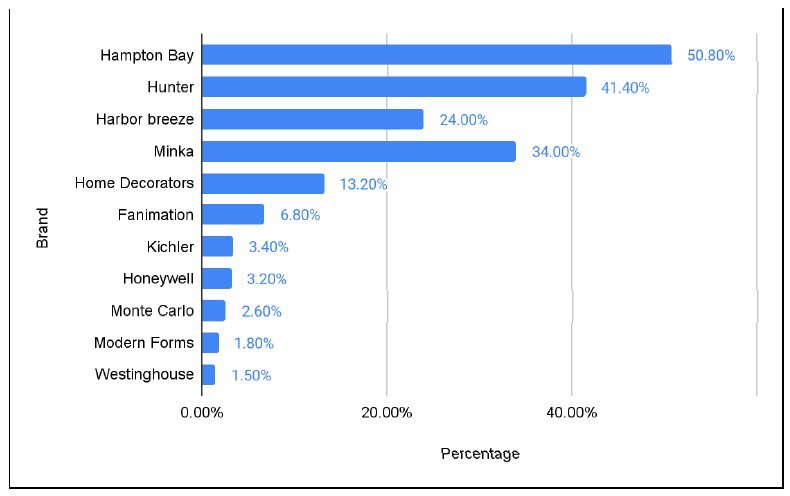 The study shows that 2021 was yet another year of neck-breaking growth in the smart ceiling fan space as more brands and more end users embrace having units with embedded connectivity. Olibra uses the study every year to learn from end users about their preferences and incorporate their needs into new product designs.
The Cresskill, N.J.-based company currently works with the majority of the brand names in ceiling fans. Hampton Bay, Hunter and Minka are the top three brands of smart ceiling fans. In all, users identified more than 30 brands they have in their homes.
Price, Features, Privacy Are Key Concerns/Desires
About half of all ceiling fans sold in the U.S. are below an average price of $145. Most of the lower cost ceiling fans are sold in big box retailers vs. the more expensive ones sold through lighting stores and showrooms. It means that price sensitivity influences the majority of ceiling fans.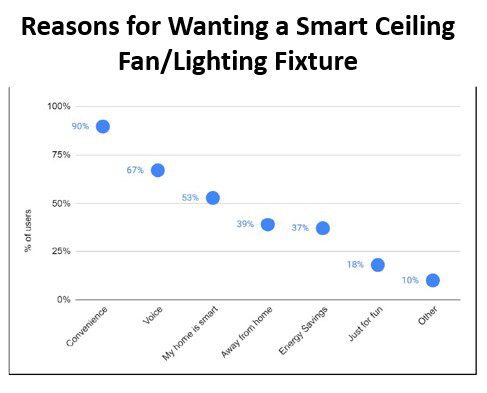 The research reveals that in 2021 there was a clear increase in the willingness to pay for smart features by the users. Indeed in 2021 nearly double the percentage of respondents (84%) say they are willing to pay between $40 and $99 to add Wi-Fi connectivity to a ceiling fan compared with 44% in 2020. The willingness to pay above $100 for connectivity also increased in 2021 relative to 2020. Olibra speculates that the strong increase in the desire for Wi-Fi-connected smart ceiling fans is likely related to the increase in consumers' appetites overall during the pandemic for wireless connectivity to all IoT devices in the home.
Many IoT platforms powering home appliances are considered to be cloud first, meaning the device cannot operate without internet connectivity. This approach reduces the development cost of such a platform, but opens up many issues related to privacy, security and reliability, according to the study.
Olibra survey respondents sent a very clear signal about the need to have a local control via Wi-Fi and their phone app. Users want to enjoy the benefits of smart home but without the strings attached to having cloud connectivity at all times. The company's Smart By Bond ceiling fan connectivity platform isolates the fan manufacturer from the need to worry or certify for processing user personal information. The company says it does not share user PII with shade manufacturers or any other third party.
The data clearly shows a strong consumer attitude toward registering the product through an app. Users look for convenience and, at the same time, value registering their product automatically when they turn their ceiling fan on. Offering product registration in the app can be a differentiator for a fan manufacturer. This brings value to the user and can be used as a marketing tool and data analysis for product development with end-user consent.
Color-Temperature Lighting Control Highly Desired
Many ceiling manufacturers are launching fans with Correlated Color Temperature (CCT) controls that ranges from mimicking daylight hues to bright white. The motivation behind the feature is to allow a ceiling fan that is centrally located in a room with additional ceiling lights to match the color of the other lights from the ceilings. There is also a wellness factor related to CCT when coupled with smart lighting control which is also growing fast.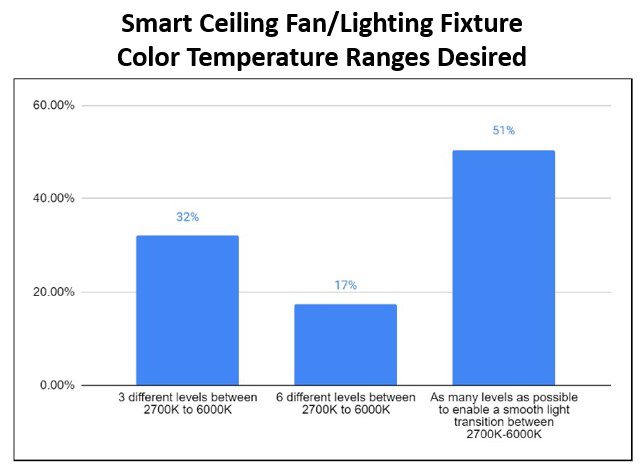 According to the survey, it is clear that users have a strong preference for as much control as possible of the color temperature of their ceiling fan with more than half (51%) reporting they want their ceiling fan lights to be controllable with "as many light levels as possible between 2700 Kelvin and 6000 Kelvin. That is hard to achieve with a remote control but it naturally lends itself to a ceiling fan that is controlled by voice, an app or third-party control system. The user preference toward CCT control granularity could be driven by granularity of CCT control enabled by smart speakers.
Below is an example for what default utterances Google Assistant is supporting:
2000K Candle Light
2500K Ultra Warm White
3000K Soft White, Morning White, Reading White
4000K Cool White
5000K Day Light, White
6000K Floral White
7000K Cloudy Day Light, White Smoke
8000K Blue Overcast
9000K Blue Sky
Energy Use Information, Thermostatic Control for Smart Ceiling Fans
Recent media coverage of extreme climate events brought the subject of climate change into the forefront. A smart ceiling fan can be used in conjunction with an air conditioner or instead of an air conditioner can provide significant energy savings over time. As homes become more connected, end users can get a better handle on their energy usage and adjust their consumption habits accordingly.
A smart fan can easily provide feedback about the energy usage in real time to the end user or directly into a home automation system. Nearly half of end users (46%) are interested in getting energy usage data about their ceiling fan/lighting fixture and use their smart home control systems to manage it and save energy.
Thermostatic control was always an area of interest for users of ceiling fans. As appliances in homes become more connected, users expect better granularity of control and automation. It is true that a ceiling fan is a lighting appliance, but it is also perceived as part of the home HVAC system. And as such, thermostatic control is a real boon for users.
Smart fans can be triggered to respond to a temperature threshold set by another device such as the Nest thermostat. However, most smart thermostats are distributed in the home based on the location and number of HVAC zones. Ceiling fans are not necessarily located in proximity to a home thermostat. According to the study, the desire for thermostatic control is strong, with nearly 70% of consumers deeming it "important" or "very important."
Scheduling, Wi-Fi Connectivity 'Very Important'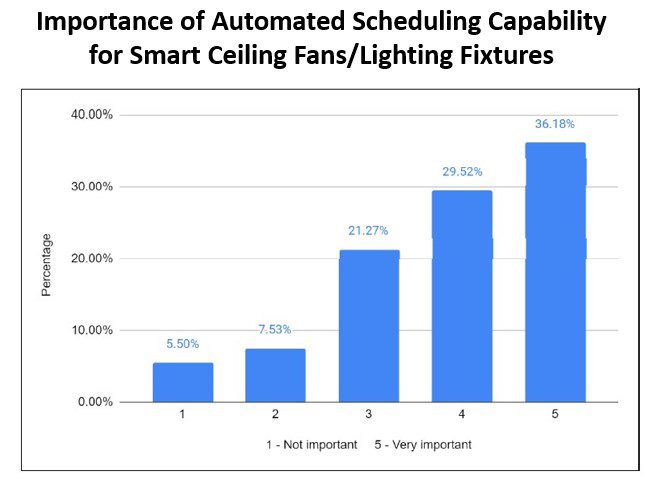 The use case of putting a ceiling fan on a schedule is clear, with 65% of users valuing the ability to put a ceiling fan on a schedule. For example, a smart ceiling fan can be programmed to be on until 4:00 a.m. but then stop at that time. Users also take advantage of this feature to set multiple ceiling fans in different rooms on the same schedule. In terms of features, Wi-Fi connectivity is strongly desired, with 65% of users expressing that is "very important." Only 4% do not think Wi-Fi integration is valuable.
The overall trends that are driving the adoption of smart appliances and smart ceiling fans have not changed significantly between 2020 and 2021. Olibra concludes the survey reinforces the increase in the value that customers get out of using smart fans as homes become more connected and smart, while also ensuring privacy of their IoT devices. Olibra's Smart by Bond IoT platform, which recently was recognized as a winner in the 2021 CE Pro IoT/Connected Products Awards for the Best Control Interface, is designed to meet these evolving needs of the industry and end users by eliminating the exposure of ceiling fan manufacturer to end user PII and also providing a layer of software and security that enables many of the digitization aspects of connected ceiling fans.