Portal.io, a proposal software & product/pricing database for integrators, announced it has expanded its public API to allow for integration of its proposal tool with other industry software solutions. The first partner to launch a full proposal integration is iPoint, a complete business process software tool for integrators. The integration is available now for iPoint dealers. iPoint dealers can now win a job in Portal, push all the products from that job into iPoint, and then manage the project to completion.
"We're excited to expand our API to give dealers more options when it comes to software tools for their business" says Kirk Chisholm, founder and CEO of Portal. "It's so important today that software plays well with others, otherwise you're holding back your customers. Dealers have been begging us to connect our proposal tool to other industry software and we finally decided to do it."
In 2014, Portal released a limited public API, integrating their product catalog with several partners, including D-tools, iPoint, ProjX360, and Simply Reliable. Portal's API expansion allows dealers to win a proposal in Portal, and then easily push those proposals into projects in other tools.
"Dealers really like how iPoint thinks about business process for our industry," added Kirk. "Our dealers would grow their business, and although they loved Portal, they needed tools like iPoint to solve other pieces of their business process. Before today, it was difficult for these dealers to make the transition to iPoint, as they did not want to give up Portal. This integration solves that problem. After one phone call with Brooks at iPoint, he got it instantly."
iPoint is an end-to-end business management platform empowering dealers to manage every aspect of their company. Already one of the first integration partners for Portal's product catalog, iPoint's addition of proposal integration allows dealers to import a Portal proposal to iPoint. They can then leverage iPoint's features to install, manage and service the project.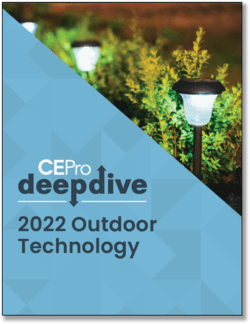 The 2023 CE Pro Outdoor Technology Deep Dive reveals unique set of impediments, including explaining pricing and interacting with outdoor-centric trades.
Get your copy now to take a "deep dive" into the trends and challenges of outdoor technology.
Download the report now!
"Portal's been focused on doing one thing really, really well – Proposals," says Brooks Swift, CEO and founder of iPoint. "It seems like we're competitors, but we're much more complimentary. At the end of the day, dealers benefit from software companies working together. We're thrilled to be the first software company to leverage Portal's proposal integration to build even more value for iPoint and Portal dealers. "