Recently, a ruling by the U.S. Federal Trade Commission (FTC) thrust the topic of negative business reviews into the spotlight. The whole debacle started with an online fashion retailer refusing to publish negative revies on its sight and has now officially ended with that same retailer owing $4.2M in fines while also being barred from blocking any more customer reviews.
I think we all get it: nobody likes receiving a negative review. It can be disparaging to one's own confidence, and it can negatively impact business in the event of a particularly scathing review.
However, if this case and Barbara Streisand are anything to go by, I think trying to hide, suppress or draw focus away from criticism ends up doing far more damage than the criticism itself ever would.
According to one study, 97% of consumers say they actively read company responses to reviews. Being a consumer myself, I can attest to this, having spent more time than may be rational pouring over reviews of mountaineering and hiking gear.
Negative reviews, whether it's for a product or business, are guaranteed, no matter how perfect the recipient is. And the more reviews that product or business accumulates over time, the more likely it is that someone may be upset with the service and leave a poor rating.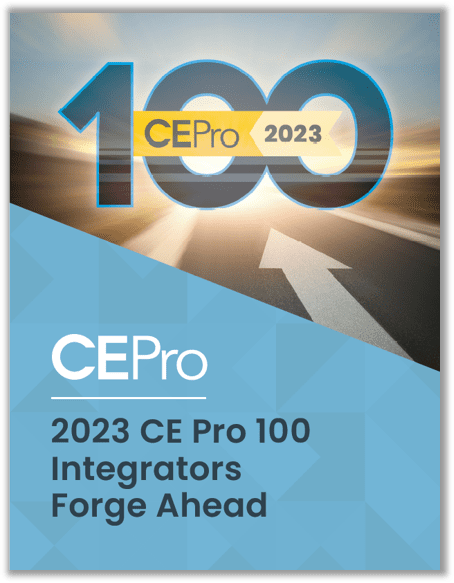 Which companies in the custom integration market made CE Pro's 24th annual CE Pro 100 list?
For a while, it was common practice to include something like a 'Non-Disparagement Clause,' within a client or customer contract. While not nearly as bad as suing someone over a poor review, under the 2016 Consumer Review Fairness Act (CRFA) including a 'Non-Disparagement Clause' or anything similar preventing a client or customer from saying anything negative is still considered illegal.
Pulling from the law's text, anything that inhibits the "ability to share honest opinions about a business's products, services, or conduct, in any forum, including social media," is considered illegal.
Beyond that, provisions such as these are always held in bad faith by the client. As the argument goes: something like that wouldn't be needed unless there was a likely chance that the client would have something negative to say about the company.
This may be anecdotal evidence, but I rarely ever see articles being written about bad reviews left on business pages. However, if there is one thing I have seen time and time again, it is articles highlighting the worst responses businesses have ever given to bad reviews, usually in the form of review suppression or lawsuits.
So: how do you handle someone leaving a negative review for your business?
The Value of 'Taking it in Stride'
While I cannot speak as a business owner, I can speak as a consumer and someone who comes from a field where proper handling and delivery of criticism is paramount.
In writing and editing, the road runs both ways. Improper delivery of criticism can frustrate and anger clients and collaborators, leading to them being less willing to work with you in the future, and improper handling of criticism will ensure the exact same result when it comes to writing.
On top of that, you're denying yourself the opportunity to learn and grow from potential mistakes, which, as humans, those are bound to occur.
Whether positive or negative, a business review should be welcomed as an opportunity to celebrate success, find growth and built trust among current and prospective customers.
This should hold especially true for integration where client relationships and public perception make up the backbone of any successful business.
When customers have access to honest and fair reviews and they see businesses responding respectfully to negative reviews, that shows good faith. It shows that the business is willing to be open and transparent about their shortcomings, which in this day and age is more valuable than diamonds to consumers.
The FTC describes it as an opportunity to acknowledge concerns, apologize for any mistakes and illustrate the value customer feedback has to the business. By responding promptly and with that in mind, businesses can then use these reviews to build trust and reputation among prospective customers.
If customers notice a negative review with no response from the company, they could interpret it as disinterest in the concerns of customers and clients.
Most customers (roughly 80% according the same study mentioned earlier) don't have eyes for anything older than three months. About 60% of 18–34-year-olds consider any review older than two weeks as irrelevant, but anything glimpsed during that time will have a tremendous impact on their perception of a business.
That's certainly not to say all negative reviews should be welcome. Those that can be interpreted as abusive, vulgar or threatening can be harmful to more than just a company's reputation.
Something like a review that reveals sensitive business information or uses inappropriate language like racial epithets are not protected under the CRFA as they can wind up doing immense damage to employees within the business as well as business operations at large.
Most reviews likely won't lean towards that angle, however. More likely you'll have someone that was dissatisfied with a particular service, or perhaps they thought an employee was being a little brusque with them over the phone.
These are simple fixes and with the right attitude can be approached as tremendous opportunities for business.
Also, don't forget to respond to the positive reviews as well. A simple thanks following such a welcome compliment can do wonders for customer loyalty in the long run.
Make Sure It's You Customers Are Talking To
It's just as important to know where your customers are leaving reviews. After all, you can't address their concerns if you have no idea they have concerns in the first place.
The FTC advises that companies and businesses be thorough with their business profiles on platforms. LinkedIn, Twitter, Facebook, all of these are locations where customers could be leaving reviews of all sorts, and they also serve as locations where you can more easily respond to such reviews.
It will also ensure that all feedback is actually receiving a response from you and not from someone else a customer might think is you.
You can also direct customers to leave reviews on the Better Business Bureau's website, as the organization personally vets every review and complaint that is sent to them to ensure only the most valid, credible and constructive reviews and feedback make it onto the site.
Most importantly, don't be afraid to reach out for a direct line of contact to the customer. Reviews are important, yes, but when addressing concerns and trying to work through issues, so much more can be accomplished through a one on one conversation than through a series of messages online.
That, and a personal conversation is perhaps the best way to showcase how much you value setting things right with customers and clients.
If you enjoyed this article and want to receive more valuable industry content like this, click here to sign up for our digital newsletters!