"An ounce of prevention is worth a pound of cure." That old saying has never been more apropos than it is for integrators today, and these real-world situations that have been encountered by integrators across the country are proof:
A California integrator heard from a big client that their network was hacked and important data was taken and destroyed. They wanted compensation!
A Florida integrator was being blamed because their client's new custom $50,000 front door didn't work with the smart locks they spec'd? Who covers that cost?
A New York integrator was being held responsible for the costs of delays caused by equipment not showing up on time. Is he responsible?
In any of these cases, are the integrators responsible? Nope! In all these cases the integrators did NOT have to shell out extra expense because they were properly covered by a strong, accurate Terms & Conditions agreement.
These days it's important for dealers to be covered in writing with their clients with a proven Terms & Conditions (T&C) document like one from MC Group, which has spent more than 30 years working with hundreds of integrators, large and small. The process of serving these companies has enabled MC Group to create a "best practices" collection of protective and workflow docs.
T&C documents are not intended to complicate your life; quite the opposite. T&Cs are carefully written to capture and clarify the responsibility details of your projects for you, your clients and your contractors.
Whether you work on new construction or on renovation projects with a General Contractor (GC) or other subcontractors, you must protect yourself. Proper Terms & Conditions cover a custom integration company throughout the life-cycle of the job. Well-done T&Cs ensure that clear responsibilities are set, expectations established, and even clarify fees for all involved. Getting this done upfront is not just good business practice, it's necessary. Having these topics covered in writing is often the difference between making money or losing money on a project.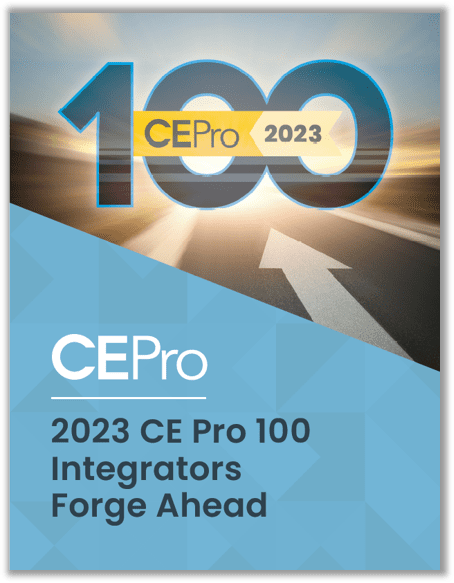 Which companies in the custom integration market made CE Pro's 24th annual CE Pro 100 list?
Key Provisions of Terms & Conditions Agreements
Among the key provisions of a MC Group's T&C agreement are:
Section 1 — General Contract Provisions – Change Orders, project management, acts of God, notifications, fees, site prep (such as conduit/trenching), warranties, loaners and special orders.
Section 2 — Jobsite Requirements – Delays, scheduling and fees,
Section 3 — Network Administration – Network latency, third-party equipment, diagnosis fees, liability, data security and email accounts
Section 4 — All System Notes – Covers what you provide and what's provided by others (for example, when installing an access control system, you do not mortise doors or concrete posts). It covers security, surveillance, access control, network, lighting, motorized shades, pool/spa controls, AV, control and head end.
Section 5 — Essential Completion – Definitions, Break-In Period, Performance Plans.
Important T&C Forms to Include
Some of the key components of a good T&C agreement are:
A Responsibility Chart that clearly defines who supplies what on a jobsite. It includes columns for the General Contractor, electrician, customer, and the low voltage expert. The columns define who supplies, installs, and approves each item. A more subtle benefit of the Responsibility Chart is that it provides a great example of your organizational skills and professionalism to your GCs and to your customers. Once the job is signed, you have a tangible, visual chart that you can hand out to the trades on the job – clarifying what is expected of them.
A two-page Project Payment Contract that focuses on specifying payments, liabilities, and defaults that the integrator and the customer sign to make the system proposal a legally binding agreement.
The Completion Form, which is a sign-off form to be used at the essential completion of a project. This protects the integrator and the client – with the customer agreeing in writing that the original project scope is done and anything after that point is either billed at your normal rates (as specified in the form), or they need to go on an RMR Support/Maintenance plan. The full Master Set of T&Cs from MC Group comprises 12 pages of carefully worded requirements and limitations. The company now has a T&C resource set up just for integrators.
Remember the integrator from California at the beginning of this story? He was fortunately protected from the cyberattack liability with the T&C docs from MC Group. He notes, "The Master T&C Contract is comprehensive and well-thought out. I especially like that I can choose to use as much or as little of it as I need to cover the scope of the project. It's in Word so it's easy for me to make whatever changes I want."
Protecting your company legally is probably the last thing any custom integrator wants to think about. Just thinking about these legal liabilities probably makes your head spin, but these topics need to be covered for your safety.
These tools make it easier to be smarter with your contracts/agreements. When you make the right moves ahead of time, you literally ensure that you, your team and your business are protected.
Richard Frank is principal of Frank Marketing and a member of the CE Pro Masters. He can be reached at rfrank.fma2@gmail.com, or 949-637-0700.
If you enjoyed this article and want to receive more valuable industry content like this, click here to sign up for our digital newsletters!