At just 44 years old, Jason Pair has owned and operated his own business for more than half his life; "I did one semester of college and it was not for me," he says. "Nobody ever taught me how you run a business. There are a lot of things I wished I'd learned earlier on."
But education in the school of life and lessons learned running an integration firm have provided a veritable business degree for the owner of Greenville, N.C.-based Pair Electronics.
The company has a well-recognized name with a long history serving eastern North Carolina. This year it earned a spot (No. 73) in the CE Pro 100 for the first time, piling up a remarkable $4.9 million in revenues in 2021 from a mostly rural area. But as Pair points out, the company must continue to evolve.
His biggest lesson might be the one he's willed himself to accept over the past year in particular…he has learned to get "out of the weeds" and delegate, put others in decision-making roles, and rely on processes more than trying to continue wearing all the hats. This, he says, has resulted in a better integrator business model.
As someone who realized success in a lawncare business before turning to custom integration, Pair has figured out how to take care of the weed situation and put Pair Electronics in a rosy position for the future.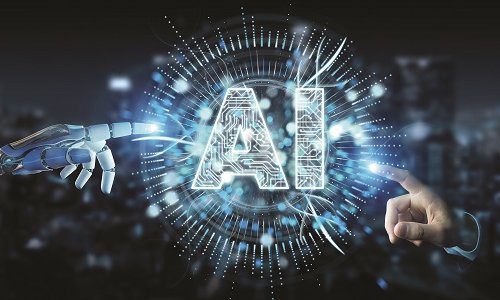 In an era where crime continues to evolve, relying solely on AI-based solutions proves insufficient in preventing sophisticated threats and false alarms. The webinar will emphasize the paramount importance of human judgment and intuition in tandem with AI technology to create a truly complete security solution. Our session will explore how Deep Sentinel's revolutionary approach combines the best of both worlds—advanced artificial intelligence and the presence of highly trained human guards. Together, these elements create an unparalleled level of protection for residential and commercial properties alike. Join our panel of esteemed lighting experts that will dive into why it's time for integrators to rethink their role in the outdoor lighting industry.
Register Now! 
Family Tradition with a Plot Twist
Pair considers himself "old school," which is unsurprising given Pair Electronics' rich family history and his hard work ethic instilled by his father and grandfather, who started the company more than 50 years ago.

Pair's grandfather Percy was in the parts supply business "when back in the day you had small companies that sold parts and capacitors, picture tubes and things like that.
He worked for an electrical supply house in the Southeast," he says. In 1969, Percy Pair decided to break off and begin a business with a half-dozen reps on the road selling those types of electronics.
The original Pair Electronics was like a distributor or wholesaler in the video business, Jason Pair says. "We had reps that called on the small mom-and-pop stores — they needed to repair picture tubes, get your TV back going, put on an antenna."
After Pair's father got out of high school, he added what turned into a successful hi-fi division of Pair Electronics, fueled by the golden days of home stereo consoles, turntables and reel-to-reels of the 1970s, and into tape decks, CD players and car stereos of the 1980s.
From about 1975 to 1995, the stereo shop expanded next door to the original Pair Electronics. "Back in the day you had Rotel, Bose 901s, JBL, Marantz… he sold so much JBL with those L100s," Pair says. "It was a neat thing."
But in the mid-1990s, a technology shift had begun impacting Pair Electronics and Jason's granddad was stubborn about changing tunes, he recalls. Eventually, it led to an exit strategy in which the family business transitioned into Jason's hands.    
"What happens like in many businesses sometimes is you have one person that's the patriarch of the family, and it's his decision or the highway. Unfortunately, in the mid-1990s, my grandfather was stuck in a time where [tech] was passing him by — it was on the cusp of Cat 5, telecom, networking and he could not get it in his mind [to adapt]," Pair says.
He cites specific examples including the company's hi-fi side of the integrator business model being the first VHS movie rental store in eastern North Carolina, but his grandfather did not recognize the potential… before Blockbuster hit it big. The company also missed an opportunity with U.S. Cellular in the early days of mobile phones.
"This is why I say you have to stay up with the times," Pair says.
By 1996-97, with his father, an uncle who was in the business, and his grandfather unable to agree on the best direction to take it, Pair says, they all decided to go their separate ways. That breakup occurred just as Jason, who had helped out working there while in high school at the time, was ready to step in.
"My grandfather was kind of tired out and I was ready to go into the business," Pair says. He notes that in his family, though, the keys to the store weren't simply handed to him; but he had worked hard to save for when the time came.
"In high school I had a lawncare business that I started in my grandparents' neighborhood cutting yards in the summer. I sold that for $5,000, bought my first van for $2,000, got the copyright for the name of the company and I rolled from there."
Providing Extensive Portfolio for Entire Region
Fast forward a quarter-century and Pair has gone from "me doing it myself to now we've got 22 employees and we're trying to hire five more," he says. Pair Electronics is indeed staying up with the times, and that has involved significant steps on the operational side of the business over the years, especially during the company's growth spurt in recent times.
On the technology side, too, Pair Electronics continues to explore ways to add more services. The company has as its major brands Anthem, Paradigm, Yamaha Aventage, Sony ES, Samsung (it's a Platinum Program dealer), Origin Acoustics, Klipsch, Monitor Audio, and the Snap One portfolio including Control4 automation and panelized lighting.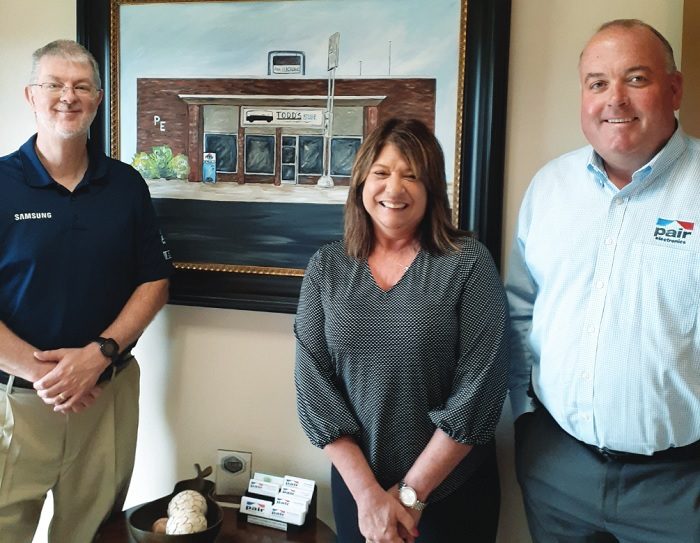 It installs Screen Innovations shades and has been taking Lutron training to add more lighting and shade options.
Pair Electronics has also made a foray into Dish Networks fiber and Dish Concierge program, successfully doing its first project for a multifamily property in town.
Pair Electronics has established itself as the dominant brand in eastern North Carolina, but not being a true metropolitan area has forced Pair and his team to somewhat carry on the old road warrior tactics of his grandfather's original business to meet customers where they live rather than the customer coming to them.
"East of I-95 is really a small area. You had Audio Advice there in Raleigh with Leon [Shaw, its founder] doing a great job, and that's where you go if you want premium audio, everybody knows it," Pair says.
"But there's nothing [for competition to Pair Electronics] on our side of the state. It's like the armpit of North Carolina."
Greenville might be best known as the home of East Carolina University, but it's not a highly populated area, and Pair Electronics takes pride in servicing a 120-mile radius up and down the North Carolina coastal and inland rural locales to fill its busy workload.
"Greenville's a small tobacco town. Greenville could not support everything we wanted to do, so what we've had to do is diversify," Pair explains.
"We've got trucks that go to Wilmington on Wednesdays, we're in Morehead four days a week, Elizabeth City, New Bern. We've had to make it with every grit of our hands, because we're just not in a metropolitan area."
That includes getting hands-on with many equipment rack messes over the years, Pair says.
Having lost a couple of competitors, especially in the late 2000s the integrator did a lot of cleanup work that comprised 20+% of revenues and created satisfied customers over people who felt like "they'd been burned" by technology contractors, he adds.
Commercial, Security Work Step Up
New Bern is a quaint, historic riverfront city where the evolution of Pair Electronics has led to a greater presence. This year the company opened a second location there, run by Ed Taggart, who Pair hired with veteran experience from another audio company to move there with his family.
"New Bern was untapped, so we just opened a store there that's just a vignette, to try as a design location where you come in and you have a TV room, a Frame TV and cozy setting and a conference room," Pair says.
"We've had to make what we've had to make with every grit of our hands, because we're just not in a metropolitan area." — Jason Pair, Pair Electronics
It's a change of style from the more industrial primary headquarters in Greenville, which includes offices and a team meeting space, a large warehouse side to stage projects and load trucks, with enough inventory for 30 days out, and a small home theater demo room.
Pair Electronics moved into the location in February 2020 — just before COVID-19 hit — from its 50-year home on Trade Street to this more corporate setting that's closer to the highway bypass ramp where the company can more conveniently access routes to its various eastern North Carolina jobsites.
Pair says the integrator's average projects range between $5,000 and $20,000 (he says two years ago he hired on someone from the Raleigh area who was quoting six-figure projects weekly), which for a long time brought the company $1.5 million to $2.5 million in annual revenues.
The past few years, however, have seen a surge going from $2.4 million in 2019 to $3.1 million in 2020 and $4.9 million in 2021, helping Pair Electronics crack the CE Pro 100 for the first time.
Pair Electronics' revenues break down to about 70% residential and 30% commercial, but Pair says the company is working to add around 10% more commercial/resimercial business to the mix.
One segment that's aided that effort is commercial security and surveillance, thanks to a savvy move Pair made in 2016 to buy out one of the two brothers (Steve and Ralph West) who owned Wesco Security, one of the oldest security businesses in Greenville.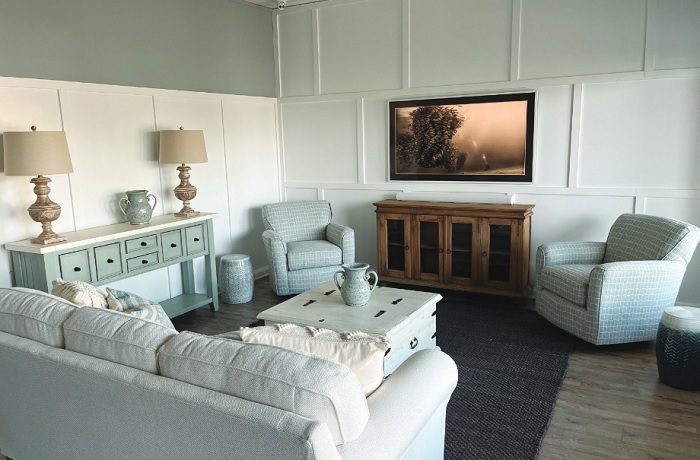 It's now a separate division in addition to the AV and automation division under the Pair Electronics umbrella.
"I was subcontracting them for several years when I didn't have my security license at the time. They were looking for an exit plan and I offered one for them," Pair explains.
"Out of the two brothers, [Steve] is still working with me and all of their guys are working for me.
We brought their 30 years of clients into the organization, and now we're really pushing commercial security and residential security and surveillance. It's worked out really well."
The company relies on the Alarm.com platform for security projects and also deploys DSC, Qolsys and IC Realtime as chief brands.
Among its many clients, Pair Electronics' security division handles a lot of ABC Stores, which are the state's liquor retailers under the auspices of the North Carolina Alcoholic Beverage Control Commission, as well as pool access gates for neighborhood HOAs and several boat dealerships.
With several markets in proximity to the water, Pair Electronics has also done its share of marine installs, for which the company has used Control4 in 55- to 75-foot boats on average. Pair says they recently converted a European-based lighting system as part of a big Control4 project on a 175-foot sailboat in Beaufort.
Personality Profiles Part of Processes Overhaul
Spurred by the Wesco merger and then by the bump in home tech demand during Covid, Pair's integrator business model has expanded over the past several years — both financially and with personnel more than doubling — to the point where he knew he couldn't be the same multiple-hat-wearing owner he'd always been. "I've realized I can't do it all anymore, I've reached capacity," he says. 
So last year, Pair made a key hire to force changes.
"In order to grow the people, you've got to know the people. So I needed to know them from that perspective and to communicate with Jason's style." —William Lanier, who helped Pair Electronics institute personality profiling
He brought in William Lanier as operations manager for what essentially amounted to a one-year consulting gig for Pair Electronics, as Lanier was with the company from June 2021 to June 2022 and in that time helped revamp its processes, efficiencies, communications, and accountability.
Lanier ran an IT business for 22 years and after that did consulting for a company, during which time he says earned an award as "chief change agent" despite being there only a short period.
"The CEO said it's been hardest year of my life, but we couldn't have done it without you — I said to the boss, 'Your job is to work on mission and values and delegation, not to be nailing boxes to the wall,'" Lanier says, when interviewed before his departure.
When he became available, Pair Electronics hired him on and he served to foster similar results. "I became his heartache, but his help," Lanier says of his role working for Pair. "I started doing leadership training, and processes and procedures, and really just started looking at it from an outside perspective."
One area that became resourceful to Lanier — a John Maxwell Leadership Certified Coach — in gaining more insider insights into Pair Electronics was conducting personality assessments on all personnel using the popular DiSC Profile.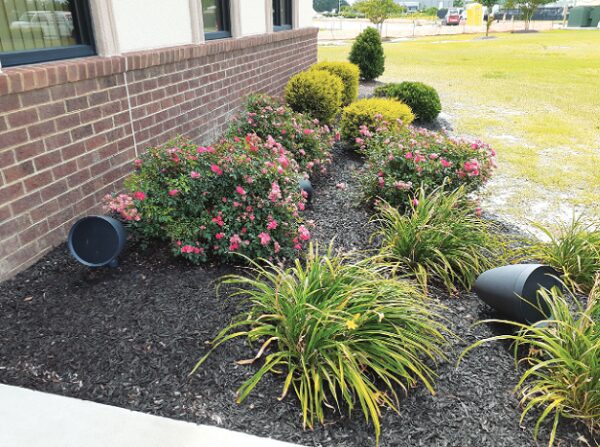 In the DiSC model, personality types are broken into four categories: D (dominance), who are confident and focused on bottom-line results; I (influence), focused on relationships and persuasion; S (steadiness), who value cooperation and sincerity; and C (conscientiousness), who are all about details, accuracy, and quality.
"After doing personality tests, it's amazing, you can find out who are the Alphas, who are the doers, and who can get the jobs done," says Pair.
"I'm a D personality, I'll get it done till the very end, but others, they like processes, they like it done a certain way. It's worked out great, it's been lively."
Lanier says the personality profiling has enabled better communications among the staff as they began embracing new operational directives and providing him and Pair with more input toward company goals.
"In order to grow the people, you've got to know the people, so I needed to know them from that perspective and tell them how to communicate with Jason's style," Lanier says.
"I had to learn Jason's style vs. a bunch of C 'detailed' people and he was a 'high' D … but the D can't deal without the C, so I had to bring them together and keep them on the same page. It was just building the team, the culture is what I was tasked to do."
Meetings Carry More Meaning
Pair Electronics also instituted leadership training for technicians and other staff, and Lanier worked with individual team members to survey for feedback while building processes. Every quarter he would go back with an evaluation sheet and checklists to take their ratings assessments on how particular areas were progressing … and surely enough, numbers would be higher he found the next time he came around.
"The efficiency is showing," he says. "One of the things we've found is everyone has to follow the process. Whoever doesn't follow it is your weakest link. I'm looking for bottlenecks, single points of failure, what would cause Jason financial loss or hurt, liabilities; or what's going to save us $50,000 if we budget our accounts receivable better?"
Quips Pair, "They said I was the bottleneck. I was doing it one way and wasn't looking at other ways. The new people I've been hiring, they look at it differently — they're more tech oriented, they want to see the blueprint instead of me, how I'd go to every job and walk it one time as an introduction. Now they're telling me they want me to be there to greet (the customer) and say, 'Thank you for using us.'"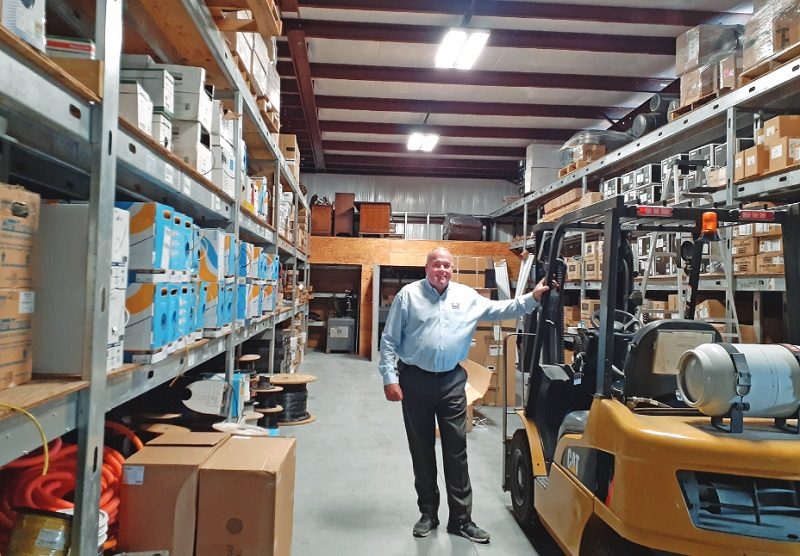 He adds that relinquishing control of duties that he's held for 20+ years has not been easy in all cases, but it's been necessary.
He says, "I haven't looked back" after adding David Pearson as warehouse manager, despite doing the ordering for all those years ("I always negotiated the best prices," he adds). 
Meanwhile, one of Pair Electronics' top technicians, Kevin Daniels, is moving into the project manager role that Pair has filled de facto.
The new processes call for dedicated project meetings, post-mortem meetings and checklists for technicians and service crew to follow, color coded (green is a project that's a go, blue is for when customers have the blues and need repair service). 
"It's going to be hard taking a valuable person out of the field," Pair says of Daniels' transition. "We never had [project meetings], it was always, 'Jason what do we need to do,' and I'd spit it out like Rain Man. I was on every job, I'd walk it, I was on the road all the time."
Along with project meetings, Lanier set up a weekly cadence of leadership meetings. Pair Electronics set up a "war room" for its huddles, with whiteboards lining the walls and highlighting the company's values and mission. Participants include Pair, Lanier, Steve West, Taggart, and respective AV/automation and security division office managers Kathy Harrelson and Melissa Froelich. 
Related: How Integrators Can Effectively Tackle the Efficiency Dilemma
"We go over issues and agendas, figure out 90-day goals to get accomplished, set up different tasks for different people. Say we're implementing a new phone system, OK, who's going to start doing the research, who do people go to with questions?" Lanier explains.
"If issues come up, it's no holds barred, everything's on the table. People could speak their mind, and that was a challenge because they weren't used to that kind of environment. Jason's done very well, he's been very open." 
Local Endorsements Big to Bottom Line
With a local name in AV for 50+ years, Pair Electronics certainly has built up equity with Greenville natives and the east of I-95 corridor. He says the home theater demo room at the office has only been used a couple of times; people value the company's reputation and trust Pair and his team's tech recommendations.
The company processes and value proposition, plus accountability, go hand in hand. Pair Electronics sells packages, Pair notes, because it has to be confident it can warranty every piece of gear it installs.
Technician accountability on the parts department has meant realizing that even though a customer might say, "Well, I just got that surge protector," Pair Electronics likely won't work with it because it's not part of the total system.  
If a technician doesn't use all the parts prepped for a jobsite, he or she needs to explain why with a call back to the office; it's another box to check off in the project steps.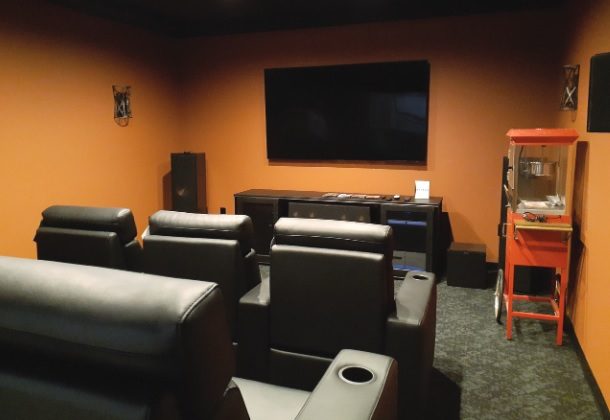 The accountability and repeatability of the process has helped mitigate cash flow problems and opened up new revenue streams for Pair Electronics.
Pair is actively working on the logistics, pricing, and legalities of adding service contracts, it's a priority to implement by the end of the year, he says. 
On the front end, the company recently started charging consultation fees of $100 and mandates half of a project's cost be paid as a down payment upon commencement of the job.
Pair estimates if he counts 50 potential customers only five might walk away because they don't want to pay a consultation fee, so there are plenty of opportunities.  
Usually, the sales process starts with a phone call and vetting questions at the front desk, where office manager Harrelson has even joined the sales ranks. Her interview will lead to an appointment in person or over Zoom, often at the customer's house; Pair says Harrelson has stared conducting sales consultations onsite.
Pair says most prospects hear about the company via word-of-mouth. Pair Electronics has revamped its website and added traffic tracking capabilities, so if it's being pinged by a Raleigh IP that likely means someone is buying a beach house and looking for technology.
The company is working on building up its YouTube prowess, enlists Constant Contact for newsletter outreach, and has gotten serious mileage from radio ads and a longtime local radio personality, Henry Hinton, who endorses Pair Electronics.
Pair has joined Hinton for "Talk of the Town" segments to discuss new technology trends, and the integrator has done several jobs for the host.  
"He tells his listeners, 'I trust Jason — I've given him the keys to my house,'" Pair says. "We get a lot of calls and people will say, 'Is it true Henry gave you the keys to his house? What do I need in my home?' During the [2020] election, a lot more people were listening."
If you enjoyed this article and want to receive more valuable industry content like this, click here to sign up for our digital newsletters!