Catering to a market of hi-fi enthusiasts is vastly different than to an audience of clients who are looking for the creature comforts of a complete home automation system. The same can be said for selling home tech products retail versus custom design and installation. They are usually different animals in terms of approach, client expectations, and design, installation, and service, but not at Audio Breakthroughs in Manhasset, N.Y.
"We combine the audio/visual experience with the best of custom installation and design," says Bruce Clark, founder and owner/president of the 47-year-old company, which was No. 60 in the 2021 CE Pro 100.
Now throw in basic TV mounting, sprinkle in a few soundbar installations, and top it off with wireless whole-house audio and you've got what some would consider a precarious mix of business initiatives.
It's a level of diversification uncommon to the home systems integration community, yet for Audio Breakthroughs, covering every base imaginable is a key ingredient of its success.
It's kept the business operating through some very "dark times," says Bruce. "The store closings in 1989, the recession of 2008, and today's pandemic could have had catastrophic results. But we were able to survive them all, lay off no one, keep our existing customers happy, and capitalize on trends shaping the market."
In this updated Wage & Salary Report, you'll find out results for salaried occupational categories broken down by 14 regions of the U.S. & Canada. Uncover valuable information about where your company stacks up when it comes to paying your important people by
downloading your free copy today!
Hi-Fi Roots Cultivate New Business Opportunities
Audio Breakthroughs' story is much different now than it was in 1975 when Bruce began business as a two-man retail shop. At that time, hi-fi was big.
Listening to music was the main mode of home entertainment, and tube TVs were just starting to take off. It was an opportune time, Bruce surmised, to launch a career devoted to helping people enjoy a two-channel listening experience in their own homes.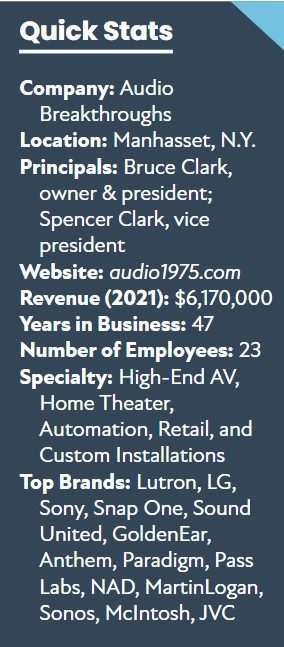 "Music was my passion and hi-fi my hobby," he says, "so why not build a business around it?"
He and his then business partner would leave no stone unturned, stocking, displaying, inspiring, advising and selling components to customers from a storefront that welcomed visitors to stay awhile and test gear.
Alongside fellow hi-fi enthusiasts, Bruce demoed equipment and discussed at length the virtues of turntables and tube amplifiers.
"There were nights I stayed very late because someone would want to talk music and listen to the cutting-edge product of the day," he recalls.
"We developed quite a cult following as a result of our shared enthusiasm and best-in-class product selection." The co-owners took this as a cue, quickly expanding Audio Breakthroughs to two more retail locations in Huntington, N.Y., and Manhattan — "virgin territories back then with a lot of potential," Bruce says.
From Setbacks to Silver Linings
Unfortunately, Audio Breakthroughs experienced its first setback when the economy collapsed in 1987. "We closed the Huntington location and then the Manhattan location, and concentrated on our original Manhasset store," Bruce says.
"In hindsight, the store closings led us down a path toward greater success," he adds. "Keeping everything in one location allowed us to stay close to every aspect of the business and step up our game."
As it scaled down its physical footprint to a single store, Audio Breakthroughs scaled up its product offerings, highlighting the beginnings of home theater, which would be an important part of the business going forward as the company helped to truly usher in the category in the custom electronics world.
As time went on, Bruce's son, Spencer, joined the business after graduating from business school. "I had always envisioned Spencer tackling Wall Street after graduating and making a lot of money," Bruce says.
"Instead, he decided to apply some of the business lessons he learned to Audio Breakthroughs' operations [Spencer is now vice president and partner]. He gave me the nudge I needed and a solid strategy to place us on a trajectory for incredible growth and protect us from future hardships akin to what we experienced in 1987."
From then on, Audio Breakthroughs focused on much more than AV to become a full-service systems integration firm. Naturally, father-son disagreements ensued during the transition. There to smooth things over, as she still does, was Michele — Bruce's wife, Spencer's mom, and resident peacemaker and bookkeeper for the business.
Embarking on a New Home Tech Journey
It was a bold move, certainly. But one that Bruce, Spencer and the rest of the Audio Breakthroughs team embraced whole-heartedly. With everyone on board, Spencer and Bruce set out to break through (pun intended) the hi-fi comfort zone to exploit promising new home tech categories.
The overarching goal: reset and realign its company mindset and culture, build and maintain a remarkably varied product inventory, expand and train its programming and installation team, and establish new business practices to build a broader customer base without losing sight of Audio Breakthroughs' hi-fi legacy and Bruce Clark's quest for perfection. His audiophile mentality of settling for nothing but the best serves as the mantra for Audio Breakthroughs' entire operations, from the products, to the installation, to support.
"Our goal from the start was employing technicians with the expertise and products with the performance features to deliver a 'Carnegie Hall' listening experience, a cinematic viewing experience, and an unparalleled level of simplicity, comfort and convenience," he says. "Audio Breakthroughs would do it all … and do it all extremely well."
Diversification Puts Audio Breakthroughs on Path of Its Own
Spencer notes that one of the most important lessons he learned at business school was the importance of diversification. "If one category of the company suffers, other categories are there to pick up the sales slack," he explains of the lesson that is still proving beneficial today.
Even the pandemic couldn't break Audio Breakthroughs. Sure, it slowed some aspects of the business, but categories like home theater and networking compensated. Diversification also helped Audio Breakthroughs establish a unique and even stronger reputation among existing and prospective clientele.
"We are one of the last true hybrid establishments, offering home tech solutions through both retail and custom integration channels," Spencer says.
Into the Audio Breakthroughs' tried-and-true line of audiophile gear from McIntosh, Bowers & Wilkins, Pass Labs, all Sound United products, GoldenEar, Anthem and Paradigm, Spencer has rolled home automation systems from Crestron, followed by Savant, Control4 and Lutron lighting solutions, for instance. The home control variety and willingness to integrate ample subsystems is just another example of Audio Breakthroughs' commitment to diversity as a business-building strategy. They also make sure to educate their clientele on new ways to engage with those myriad subsystems, often highlighting the advantages of single app and modern voice control methods.
"We have young clients visit the store looking for a stereo system for their dorm room who come back later after they buy their dream home to outfit it with all the home automation bells and whistles," Bruce says. "No matter what a customers' needs or budget, we have the products and people to support it."
Adds Spencer, "More jobs, whether it's hi-fi or home systems, equates to more positive word-of-mouth recommendations. This is how we've excelled in the marketplace."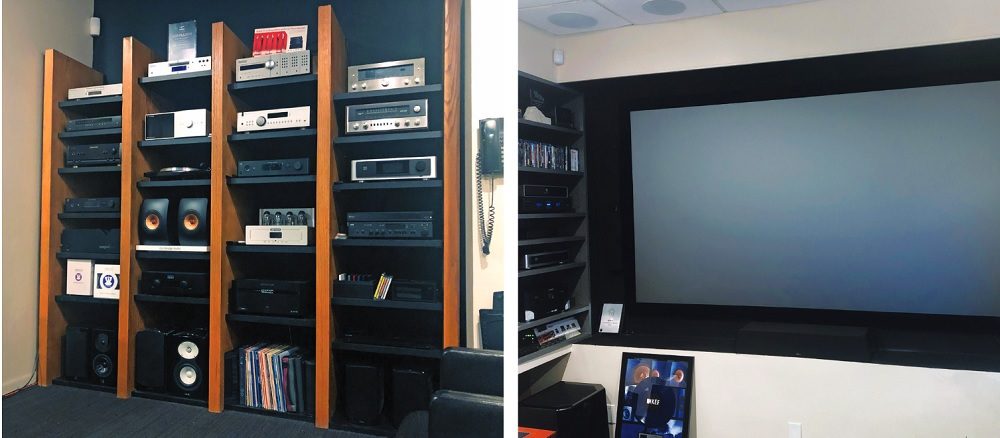 No Job Too Big or Too Small
Another uncommon Audio Breakthroughs' business philosophy is to never discriminate large projects from small jobs or entry-level turntables from six-figure home theater systems. Plus, the small jobs can certainly turn into larger projects, as the company has realized.
"We fire on all cylinders here, handling every technological aspect in the home, from the biggest to the smallest and everything in between," Spencer says. "If someone wants a $5,000 Sonos system, we do it. If they want a $700,000 home theater, we do that too. We'll hang TVs, prewire, sell AV equipment off our showroom floor and deliver it, and of course, set up amazing hi-fi audio systems."
That's not to say Audio Breakthroughs never turns down jobs. "Although it may seem counterintuitive, saying 'no' can be the best decision. Many automation projects are long term endeavors, a commitment to work with the contractor and client for years. If you don't feel good about working together it might be best to not get involved. Poor projects can derail operations causing you to lose focus on your business and more significant clients."
Another misguided notion in the home systems industry, according to Spencer, is that clients dislike being upsold. The company has capitalized on its sales savvy and hard-earned reputation to confidently steer customers toward better solutions.
"Just because a client says he isn't an audiophile doesn't mean he wants bottom-of-the-line speakers. Nor does a client's request for a simple automation system mean you should skimp on aesthetics," he suggests. "We are continually surprised at how often projects grow simply by presenting customers with better options."

Traditional Processes with a Modern Twist
The near-50-year evolution of Audio Breakthroughs touches the back-end of the business, as well. Modern software, systems, and procedures have long replaced hand-written quotes, contracts, change orders and other documentation.
"Portal was a game-changer for us," says Spencer. "We can put together good, better, best options to review together with our clients and make changes to the design and budget on the fly that they can see in real-time." Spencer refers to Portal to compare elements of winning proposals against the proposals of less successful jobs. The analysis allows Audio Breakthroughs to better determine what works and what doesn't, and replicate winning templates for future bids.
Design documents, meanwhile, are handled largely by Bluebeam. Used mostly by construction contractors, it allows Audio Breakthroughs to collaborate easily with builders, architects, and designers.
"It's been particularly helpful to us for lighting plans. Our installers and contractors can all work off the same document and use an iPad app to modify designs," Spencer says.
Related: Why Custom Integrators Shouldn't Sell Based On Price
As for customer service, Bruce and Spencer enjoy fielding occasional phone calls to maintain personal contact with clients, but thanks to Snap One's OvrC cloud-based remote management platform, they are no longer tied to phone as they were 15 years ago.
"Before implementing OvrC, service was a nightmare," Spencer recollects.
"We were on the phone dealing with questions and issues and rolling trucks to homes to fix what usually boiled down to resetting a cable box. Being able to troubleshoot remotely has allowed us to scale up or business without having to add more staff."
Also key to helping the company meet its own high level of expectations is keeping everything in house and outsourcing nothing. Programming, installation, design, service — it's all handled at the Manhasset location by Audio Breakthrough employees.
"We maintain control over every aspect of a project. We take responsibility for everything, from the foundational wiring to equipment maintenance and service," says Spencer.
"Service combined with keeping the entire operation in house is a big part of our success; when you sub out the work, often the referral doesn't come to you. Of course, this means you need an excellent team. We are very fortunate and appreciate all their efforts every day. With the lack of training in our industry it can be difficult to get new employees up to speed, especially during the pandemic. Keeping our team together through the pandemic was a priority and we are thankful for all the hard work through these difficult times."
Core Values Carry On
During all of the challenges, changes, refinements, technological advancements, and market shifts throughout Audio Breakthroughs' storied history, one thing has remained intact: Its personal, family-focused business approach. It's the foundation on which Audio Breakthroughs bases everything it does — from the products it carries to the people it serves and employs.
Just as he did from the very beginning, Bruce Clark still works with customers on the show floor, still gives demos, which now also includes home automation and home theater setups, and still answers phone calls.
"We still deliver products from our retail space to homes just as we always have, and our although our staff has grown, many or the originals are still here, our first customers still come back, and now their kids and grandkids have become clients," he says.
Adapting quickly to business and market trends keeps Audio Breakthroughs on top, but it's the traditions that keep customers happy and coming back.