In today's world, the need for businesses to take action on climate change has become increasingly urgent. As we strive towards a more sustainable future, achieving a net-zero carbon footprint has become a critical objective for companies of all sizes.
By reducing their greenhouse gas emissions and offsetting those they cannot eliminate, businesses can play a significant role in mitigating the effects of climate change. Not only does this demonstrate a commitment to corporate social responsibility, but it can also lead to cost savings and improved reputational benefits.
For small and medium-sized businesses (SMBs) in particular, adopting a net-zero approach is essential, as they account for a significant share of global emissions. Here are  some tips for SMBs to start their journey towards net-zero and contribute to the global goal of achieving carbon neutrality by 2050.
Conduct a Carbon Assessment: Start by understanding your company's carbon footprint. Just like financial accounting, tracking your emissions will help create an action plan for reducing it.
Define Science-Based Goals: Set specific objectives to effectively fight against climate change. The Science-Based Targets Initiative (SBTi) provides criteria for reducing greenhouse gas emissions and avoiding the worst impacts of climate change.
Create a Carbon Roadmap: Develop a net-zero carbon roadmap built from achievable, incremental steps. Involve your teams and maintain morale with small, achievable wins along the way.
Optimize Ways of Working: Review current ways of working to optimize with a net-zero approach. Consider your emissions across all 3 main scopes, including the emission rate of your website, remote working options, and tracking progress towards sustainability.
Focus on Value Chain Mitigation: Analyze suppliers' environmental impact, as most of a company's emissions come from its value chain. For SMBs, talking about scope 3 emissions, it often accounts for between 70% and 95% of it. (even 99% is not so rare)
Remember, there's no such thing as a net-zero company. Instead, all businesses have a responsibility to contribute to the world's collective transition to net-zero. SMBs, as the ones making up the larger share of emissions, should focus on their journey towards this goal.
Starting your transition needn't be hard. Treat carbon accounting like financial accounting, build it into everyday operations, and adopt a rigorous approach. By taking these steps, you can efficiently contribute to the net-zero target and help tackle global warming.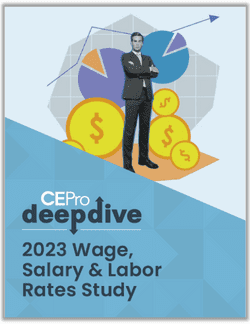 Discover the drastic difference a year can make when it comes to wage, salary, and labor rates in the custom integration industry.
Alexis Normand is co-founder and CEO of Greenly.
If you enjoyed this article and want to receive more valuable industry content like this, click here to sign up for our digital newsletters!