It's often difficult for small businesses to commit to a rebranding effort. The move takes a lot of time, money, and some careful consideration of the target audience and how best to present the businesses as a refreshed version of itself, instead of an altogether new business. Deborah Smith of marketing specialist Deborah Smith Group recently profiled Bob Poynter's company Ovation that recently underwent a rebranding effort, but also has an insider's perspective on how the company has reshaped its image in the Indianapolis metro area via a successful round of re-rebranding via careful use of colors, creating a new tagline, and much more.
CE Pro reached out to ask about that process:
CE Pro: How did you go about the first rebranding effort for Ovation?
Deborah Smith: We started out with an edgier, rock-and-roll kind of brand personality with a neon green logo color and some bolder type faces. All of the initial Castleton (previous location) branding and marketing revolved around the image of a headphone-wearing chimp thoughtfully listening to music (Bob found this image early on and we bought the rights from the original artist). Tag lines and themes included "O-O-Ovation," "Rockin' Indy" and "Music Matters." 
CE Pro: How did that change when Ovation made the move to Carmel?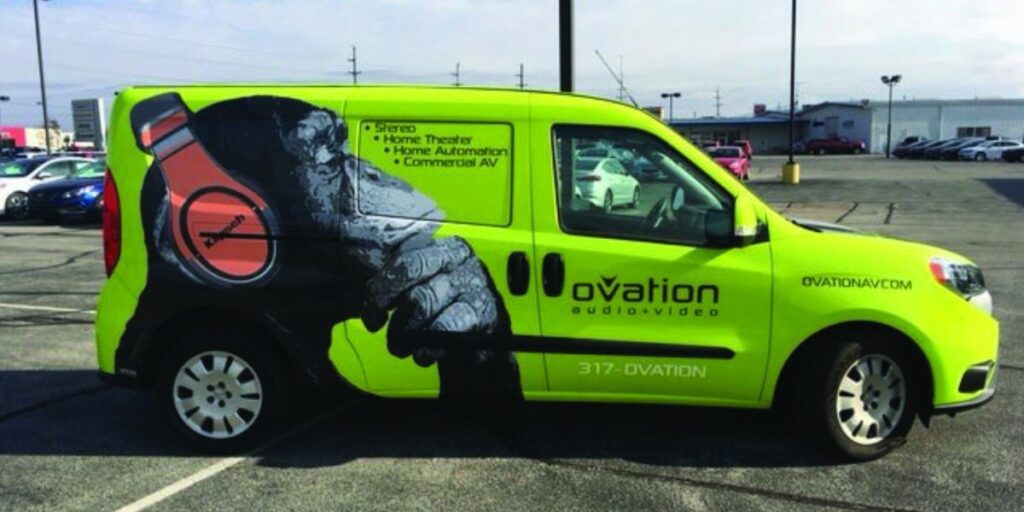 Smith: The move to Carmel called for a fresher, simpler brand look designed to appeal to a more affluent clientele. We changed the neon green logo color to a more tasteful orange and gray palette and retained the chimp, but screened him back to focus on more of a lifestyle message — a combination of "Have More Fun at Home," "Hide and Chic" and "Smart Home Made Easy" — still retaining a "Music Matters" theme when possible. The new website was designed to create a total lifestyle feel, more akin to Crate and Barrel than Best Buy.
The goal is to attract the right customers who can afford what Ovation wants to sell with a lifestyle site and home décor images they can easily relate to (the design, colors and fonts are deliberately more Midwestern in sensibility than New York or Los Angeles). So then, when customers from the website come into the store, they are pleasantly and sometimes wildly surprised to encounter such a fun and exciting showroom experience.
CE Pro: Where did you develop your branding experience?
Smith: Early on as VP Marketing at Tweeter, we had an in-house agency, so with 20 stores it was imperative to keep the brand message fully aligned across print, radio and TV in four markets. In fact, it really was the TV campaign that put Tweeter on the map and it has been terrific fun for me to re-assemble the old Tweeter team to make new TV ads for OvationAV and OvationTG.
However, my real brand education came through PARA when I had to create an entirely new brand image for each year's management conference with a fresh logo, colors and fonts — and then carry that look across all conference materials from registration packets and nametags to drink tickets and PowerPoint templates. 
CE Pro: What advice would you give to help other custom companies improve their brand presentation?
Smith: In our industry, many companies may have the installation and service aspects of their business down pat, but their logo, marketing message, business cards, showroom, website and truck graphics can be a hodge-podge of disparate elements that confuse their upscale customers and undermine their ability to establish themselves as luxury service providers.
When a brand lacks consistency and cohesiveness, customers feel uneasy. Though they can't always articulate why, the lack of brand alignment makes them feel uncomfortable and sends mixed messages that diminish their trust in your company.
 Most integrators simply don't realize that every single part of their business is a reflection of their brand. The upshot is that great brands don't happen by accident and they don't happen overnight. To begin, someone in your company needs to step back and take a fresh look at everything from business cards and vehicle wraps to what people wear so you can determine what it will take to re-imagine certain marketing elements — and then tie them all together to create a more complete brand experience for your customers.
Click here to see lots of examples of Ovation's past and present marketing materials!