At long last, CEDIA is celebrating the arrival of its new global president and CEO. On November 29, 2021, the association welcomed Daryl Friedman on board with open arms. You've probably heard some buzz about Daryl so far: He's a well-respected association veteran who is versed in the needs of technicians. But you might be itching to know a little bit more about him and what he's bringing to the table for CEDIA members.
Look no further; here are five facts to help you get up to speed on CEDIA's new leader:
#1: He's no stranger to the association world, and he's ready to advocate for you.
He has spent more than three decades in nonprofit leadership roles, having overseen membership, advocacy, industry relations, and the technical wing for the 25,000-member Recording Academy, which famously oversees the GRAMMY Awards. At the Recording Academy, the association representing technical and creative professionals in the music industry, Daryl has stood by the technicians, musicians, and artists in the community as Chief Advocacy Officer.
In addition, Daryl has significant leadership experience managing member engagement and driving advocacy, as well as overseeing government and industry relations while collaborating closely with the board of trustees. He has worked to grow and modernize the Academy's membership, leading initiatives to update recruitment practices so that the Academy's membership would better reflect the industry's diversity.
As the role of the CEDIA community continues to evolve and face new legislative and market pressures, Daryl will be integral in pushing new initiatives forward that best serve our members.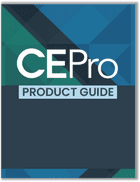 CE Pro's 2022 Product Guide showcases some of the latest and innovative solutions from manufacturers serving the custom electronics industry in a cross-section of categories.
Download the guide now!
#2: No surprise here, but Daryl's heart is in the arts – and the technicians that make it all come together.
Preceding two decades of experience at The Recording Academy, Daryl's history in the arts dates to graduate school, when he followed his passion in nonprofits and advocacy to obtain a M.A. in arts management from American University.
Soon after, he joined Wolf Trap, the National Park for the Performing Arts, where he served as an executive managing public-private partnerships, government relations, and communications. The combination of these experiences uniquely set him up to understand the needs of the sound and visual arts sector, the technicians on the front lines that make it all come together, and what it takes to support the members of an organization that offer a craft like the connected home.
He also plays the violin, though after years of working with GRAMMY winners, he's reluctant to refer to himself as a musician.
#3: He knows his way around the audio sector, with fresh eyes on the smart technology.
The advancements in sound technology are one of Daryl's favorite parts of the audio industry, and he's ready to dive deeper. In fact, he's already worked firsthand with the CEDIA channel and the technology that helps define it: At the Recording Academy, Daryl wet his feet by leading the endorsement of CEDIA's High Resolution Audio Training Program for Home Technology Professionals in 2013.
Having represented audio professionals for most of his career, from the stage to the living room, he has a deep understanding for the importance of CEDIA's work in championing immersive audio experiences in the home. Nevertheless, Daryl also realizes that the capabilities of a CEDIA integrator span well beyond just home audio. While he shares that his own "smart home" consists of 6 Sonos audio zones and surround sound in his media room, along with a smart thermostat, smart TV, and other assistants, he's fascinated by the synergy and connectivity that the modern-day smart home delivers.
As he dives deeper into the industry, he's looking forward to talking with members about just how much smarter his home can get.
#4: He's kicking off his tenure with a listening tour.
What better way to learn about the industry than in the field? Daryl will spend his first 90 days of his time at CEDIA on a listening tour, meeting members and other industry members, and hearing all about their needs and challenges, what CEDIA is doing well, what the organization can improve on, and more.
In these conversations, his plan is to embark on a major qualitative and quantitative research project with existing and prospective members to help the association understand what value people see in CEDIA membership and how that value can be enhanced through new offerings, changes to existing programs, certifications, and education. Hearing first-hand from the industry will be integral in planning what's next for CEDIA.
#5: Speaking of what's next, Daryl knows the next five years will be crucial.
Daryl knows that creating that plan from the feedback CEDIA's leadership, members, and industry stakeholders is a big undertaking, but will reap tremendous fruits. This is an inflection point for the industry: People have realized the central role their homes will play in their lives, and they're primed to make significant investments. CEDIA has an incredible opportunity to change lives for the better, and a strategic plan that's aligned with the industry's needs and capitalizes on this historic moment where the home has become an essential technology hub will make all the difference in CEDIA's impact.
In cumulating the feedback received during the listening tour into the plan, Daryl hopes to hone all that is great at CEDIA and elevate the value of the CEDIA member.
On behalf of CEDIA and our members, we're thrilled to welcome Daryl to our team.
---
Jessica Guyon is a content manager working for CEDIA.